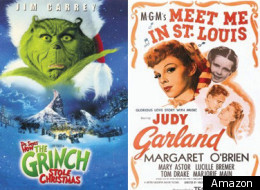 Looking for Christmas names for your holiday-season babe? Well, you can forget about those old chestnut choices like Noel/Noelle, Holly, Natalie, Eve, Merry, Carol and Claus. A much more original idea might be to look at some of the classic and current Christmas movies for interesting character names that would do the job more subtly. But don't worry -- we're not suggesting Ebenezer or Clarence.
Alonzo was the name of both the father and the brother (both called by nickname Lon) in the Smith family in this "Have yourself a merry little Christmas" flick, Meet Me in St. Louis, starring Judy Garland. This dashing Latinate name, which has always ranked in the Top 1000, is ready for wider use. Don't like Lon? You can call him Al.

In the 1985 movie, Santa Claus, starring Dudley Moore, Mrs. Claus's first name was Anya. This Russian pet form of Anna instantly turns the blander Ann and Anna exotic. It was also Audrey Hepburn's name in Roman Holiday, and played a part in Buffy, the Vampire Slayer.

Arthur is the son of Mr. and Mrs. Santa in the recently released 3-D animated film, Arthur Christmas, and Arthur is a name that has made a surprise return visit to nurseries, first in Britain and now in the US, where it's begun to regain some of its old chivalrous King Arthur shine.

Audrey is the young daughter of the Griswald family, played by Juliette Lewis, in National Lampoon's Christmas Vacation, the third of the series starring Chevy Chase. This name has been enjoying a new wave of popularity, thanks in large part to the lasting glow cast by the radiant image of Audrey Hepburn.

Mayor Augustus May Who might not have been the most appealing character in How the Grinch Stole Christmas, which was based on the TV special which was based on the Dr. Seuss book. But though his name might sound a bit imposing, parents are beginning to warm to it, along with cousins August and Augustine, in part because of the friendly nickname Gus.

Two of Hollywood's handsomest and most charming leading men, Cary Grant and Denzel Washington, played Dudley, a Christmastime visiting angel in the 1947 movie, The Bishop's Wife, and its 1996 remake, The Preacher's Wife. Also the name of a Harry Potter character, Dudley is totally cuddly.

Another member of Santa's variously named extended family is the older brother of Nicholas, played by Vince Vaughn in the 2007 film, Fred Claus. After a long sabbatical, Frederick is coming back, joining other somewhat quirky classics like Henry. The nickname Freddie is very popular on its own in Britain.

Another 1940's vintage yuletide fave is Christmas in Connecticut, in which the charming hero character's name is Jefferson Jones. Boys' names ending in son (aka patronymics), are currently riding high--as in Jackson, Anderson, Harrison, Edison, and the now unisex Addison. (btw, there's another Dudley here in Connecticut.)

In the 2003 megahit, Elf, starring Will Ferrell as Buddy Hobbs, another featured character is the small but non-elfin, Miles Finch, played by Peter Dinklage. Miles is a cool and confident name with a jazzy veneer, now ranking at its highest point ever, Number 162-- a current favorite along with cousin Milo.

In the 1998 animated version of the jingle every kid can sing by the age of three, Rudolph the Red Nosed Reindeer's mom goes by the name of Mitzi, a spunky German pet form of Maria. Upbeat names like Mitzi and Fritzi could well join the softer nickname names like Millie and Addie on future birth certificates.

Watching the nostalgic 1983 comedy, A Christmas Story, has become a holiday tradition in many homes -- ours included -- as we follow the exploits of Ralphie Parker in desperate pursuit of his longed-for Red Ryder BB Gun. Ralph is a mid-century name that is finally shedding its Ralph Kramden weight. Some A Christmas Story names to avoid: Scut and Flick.

The memorable young daughter of Jimmy Stewart in the eternally moving It's a Wonderful Life is called Zuzu, which is actually a nickname for Zuzana, a Slavic form of Susana -- but most likely in the Bailey family a nickname for Susan; Zuzu has a lot more pizzazz then the usual Susie. Celebrity chef Tania Peterson named her daughter Zuzu Audrey.
Follow Linda Rosenkrantz on Twitter: www.twitter.com/@nameberry