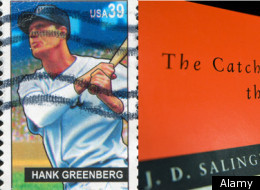 If you're shopping for New Year's baby names, there are several possible ways to go. You might choose January, à la Ms. Jones, or Eve à la New Year's. Or you could pick a name whose meaning celebrates the hope brought by a new year, like Nadia or Esperanza -- or Hope. Or one that suggests the dawn of a new year, such as Aurora or Oriana -- or Dawn. But you could also go down the namesake path, paying tribute to a notable bearer of a name you happen to like, one who entered the world on New Year's Eve or Day.
Whether Betsy Ross really did make the first American flag is up to question, but the myth lives on -- and at the very least she did make tents and repair uniforms for the Continental Army. Her Elizabethan nickname has given way to more modern sounding ones, but Betsy retains a certain retro freckle-faced, wide-eyed energy, along with others like Patsy and Polly.

Dana Andrews was a subdued, understated star of the 1940's and fifties, featured in such films as Laura and The Best Years of Our Lives. He and, later, Dana Carvey have been two of the best known male carriers of their unisex name, which hasn't been on the boys' list since 1997, but remains viable for baby girls.

First baseman Hank (born Henry Benjamin) Greenberg, aka "Hammerin' Hank" and "The Hebrew Hammer," was the first Jewish superstar in American pro sports. Hank is one of the midcentury regular guy nickname names coming back, used by Sara Gilbert as the middle name of her boy Levi, and Kendra Wilkinson for her son Hank IV.

Matisse, the great French Fauve painter, actually came with a triple-barreled name: Henri-Émile-Benoit. Modern parents looking for a stand-in for the mega-popular Henry could consider one of the foreign variations: in addition to Henri, there are Enrico (Italian), Enrique (Spanish), and Hendrik (Dutch).

The iconic and reclusive Catcher in the Rye novelist J. D. Salinger was born Jerome David, and known to his family as Sonny and intimates as Jerry. Jerome -- also the birth name of Jerry Seinfeld -- and the name of the brilliant patron saint of scholars, peaked in the late 1930's, but is starting to sound more modern than those other Jerrys, Gerald and Gerard.

Lorenzo de'Medici was the Florentine Renaissance merchant prince and great art patron known as Lorenzo the Magnificent. A magnificent baby Lorenzo could follow Leonardo as an attractive Italian import and sexier namesake for a Grandpa Larry. It also boasts Shakespearean cred (The Merchant of Venice), and the lively nickname Renzo.

OK, this one was chosen more for name than namesake. Mercury Hayes is a former pro footballer, a star of the 1992 University of Michigan Big Ten Champions who won the 1993 Rose Bowl. In today's anything-goes baby-naming climate, even the most extreme Greek and Roman god and goddess names are ripe for consideration, from Atlas to Mercury to Zeus.

The French novelist known as Ouida -- born Marie Louise -- contributed one of the few names in the database stemming from baby talk; it was a mispronunciation of the name Louise -- in spite of which it manages to project an exotic and mysterious air. A similar example is Ouisa, a main character in John Guare's Six Degrees of Separation.

Paul Revere, the silversmith-turned-First Alerter of approaching British forces, surely needs no further introduction. The simple, somewhat serious, stalwart name Paul, with its rich saintly and papal religious background -and later Beatles connection -- has never been off the popularity lists, though it is now far from the Top 20 choice that it was for decades.

Sophie Okonedo is the London-born actress nominated for an Oscar for her critically acclaimed work in Hotel Rwanda. While her name hasn't caught up with the ubiquitous, more sophisticated, Sophia in the U.S., it has been the top name in Scotland for six years running. The livelier, more down-to-earth Sophie was the baby name choice of Bette Midler, Luke Perry and Gary Sinise.

Another New Year's-born baby was the colorful Cuban-raised bandleader Xavier (born Francisco) Cugat, who was influential in promoting the rhumba, sama, mambo, and other Latin dance crazes from the 1940's on. The name Xavier has been making a surprise comeback, now at Number 71, and chosen for their sons by Donnie Wahlberg and Tilda Swinton.
Follow Linda Rosenkrantz on Twitter: www.twitter.com/@nameberry