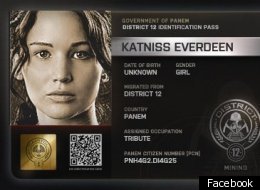 Yes, "The Hunger Games" may well bring in a billion dollars at the box office, but at Nameberry the bigger question is, how will it affect baby naming? Will it, like the "Twilight" franchise, spur the revival of classics like Edward and Bella? Or bring to the fore some more unusual names like Beatrix, Lavender and Luna as "Harry Potter" did?
"The Hunger Games" has quite an eclectic mix of names -- with lead characters called Katniss and Peeta and a guy named Gale, a Coriolanus and a Plutarch, exotic botanicals, and unlikely pairs like Glimmer and Gloss.
Here are the Nameberry picks -- from the names of characters who made the leap from book to screen -- for the most likely to succeed in Babynameland.
The dynamic narrator and heart of the story, Katniss's name has provoked a lot of attention, but we wonder If many parents would choose one so singularly associated with the Suzanne Collins creation. Though it sounds made up, Katniss is actually the name of an edible aquatic plant also known as Sagittaria, Arrowhead and Duck Potato.

Effie Trinket, played by Elizabeth Banks, is one of the most flamboyant characters in the film, in the role of Katniss's 'escort'. And Effie could emerge as one of the surprise "HG" name hits, sharing in the popularity of other such girls' nickname names as Ellie and Allie and Addie and Evie. Effie evolved as a nickname for Euphemia -- but we won't be going there.

Primrose is the beloved little sister of Katniss. The ubiquity of Rose as a middle name has led parents to look at more substantial Rose-related names for first place position, such as Rosemary, Rosalind, Rosalie and Rosamund. Primrose is a quaint addition to the group, already gaining some attention from Berries.

The character of Rue is a resourceful 12-year-old tribute in the "HG" constellation. Both a word name (regret in English, street in French) and that of an aromatic evergreen shrub--as well as a one-time "Golden Girls" portrayer -- Rue could take off as an intriguing middle name.

Octavia has attracted a lot of high-profile attention since Octavia Spencer's Oscar win for her role in "The Help," suddenly being seen as a more distinctive alternative to the mega-popular Olivia. Originally given to the eighth child born into ancient Roman families, Octavia also has pleasant musical overtones.

Seneca Crane is seen as the powerful figure of a Head Gamemaker in "The Hunger Games" books and movie. This name of a Roman philosopher, dramatist and statesman, and of a Native American tribe, has a lot of appeal for either gender.

Flavius is another colorful character -- especially with his orange hair and purple lipstick -- who becomes Katniss's stylist for the games. His name is a Roman appellation meaning 'blond' and has the distinction of appearing in both "The Hunger Games" and as a "Harry Potter" wizard, Flavius Belby.

Portia comes with strong Shakespearean cred, associated with the brilliant, independent-minded lawyer in The Merchant of Venice -- a great role model for feminist-oriented parents. Notable namesake Portia de Rossi actually started life as Amanda/Mandy. Just don't spell it Porsche.

Clove, the piquant spice name of a female 'tribute' could get a bounce from its "Hunger Games" association. Other spice and herb names, like Sage and Saffron and Cinnamon -- as well as Juniper and Rosemary -- have found fans in the past and present; and Clove is also related to the newly popular Clover.

Cato has the advantage of combining two current trends: ancient Roman statesman-like names (most of which end in us), and boys' names with an energetic final 'o'. The venerable Roman known to history as Cato the Elder was called that in tribute to his sagacity and political expertise, as Cato means 'all-knowing'.
Follow Linda Rosenkrantz on Twitter: www.twitter.com/@nameberry