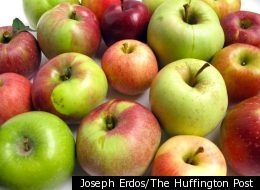 Kathleen Parker's op-ed piece in The Washington Post this week describes "The Sweet Tooth that Spawned an Epidemic." The column seemed spot on until the last paragraph, where she writes:
... eating with such attention to the glycemic index ruins your life. You won't have any friends. You'll spend all your time alone weighing four-ounce cuts of fat-free meat, sautéing spinach and picking flaxseed out of your teeth -- and your children will hate you -- but you'll be thin.
That's crazy talk! It's super easy to eat healthy food. Check out some scrumptious choices in this slide show. Each has a low glycemic index (under 55 on a scale of 100), indicating high-quality carbs that won't skyrocket your blood glucose levels. They'll keep you, your kids, and your many friends healthy, happy, and thin.
Yum or Yuck? 10 low-glycemic food choices
Start your day with a peanut butter on toast (GI 51) and a banana (also GI 51). Peanuts, like other members of the bean or legume family, have a very low GI. This breakfast helps keep you satisfied until lunch.

Most breads have a fairly high glycemic index. To lower the GI of bread, bake or buy ones with added fruit, bran, or bean flour, like this Sweet Raisin Flatbread from Wildly Affordable Organic.

Lettuce contains so little carbohydrate that it can't be tested. Liven up a green salad with other low-GI foods, such as beans and fruit. Take five minutes to whip up a GI-lowering strawberry vinaigrette, so easy and affordable to make at home.

No need to weigh tiny bits of fat-free meat. Beans are nearly fat free, cheap, and satisfying. Make them the foundation of a low-GI diet. The researchers at the University of Sydney write: When you add legumes to meals and snacks, you reduce the overall GI of your diet because your body digests them slowly. So make the most of beans, chickpeas, lentils, and whole and split dried peas. Try the easy recipe for Cuban Black Beans to get started.

Toss whole-grain pasta with a quick Thai-flavored peanut sauce. Mix in the best vegetables of the season for a complete meal. Researchers at the University of Sydney write: pastas of any shape and size have a fairly low GI (30 to 60).... A cup of al dente pasta combined with plenty of mixed vegetables and herbs can turn into three cups of a pasta-based meal and fits easily into any adult's daily diet.

Load up on leafy greens, which researchers say: have so little carbohydrate that we can't test their GI. Even in generous serving sizes they will have no effect on your blood glucose levels. My friends come back for seconds of Steamed Collards with Lime-Peanut Sauce. Collard skeptics, please try the recipe before saying yuck.

Serving potatoes cold instead of hot reduces their GI by more than a third. Toss them with a vinaigrette dressing for further benefit. Adding acidic foods to your meals slows your digestion. Choose colorful and flavorful sweet potatoes (GI 44) instead of white potatoes (GI 54).

Apples have lots of soluble fiber and a GI of 40. Oats have lots of soluble fiber too. Put them together in apple and oat muffins (GI 44).

Even though the GI rating doesn't change no matter what the portion size is, eating more will increase your blood glucose response. For the sake of your waistline, budget, and health, eat smaller portion sizes. Bake Ginger-Glazed Carrot Cake as cupcakes to reduce the temptation to cut big slices.

Low-glycemic foods spread their goodness within a meal and even to the next meal. So you don't feel guilty about having a slice of Sweet Heart, Strong Heart Cake after a meal that includes beans and greens. It's cholesterol free and vegan too, but that's another slide show. Although cake with frosting has a lot of sugar, it also has a lot of fat. Frosted chocolate cake made from a mix has a GI of 38.
Thanks to the University of Sydney's excellent Glycemic Index site for the GI ratings and facts. The food featured comes from my book, Wildly Affordable Organic, or my website, Cook for Good.
Follow Linda Watson on Twitter: www.twitter.com/cookforgood