I'm a cheater and a liar, and good lord I need some frizz-ease. Let's go back.
When HuffPost Style asked me to go a full week without getting ready in front of a mirror, I thought, heh, jokes on them. This is going to be a breeze! My normal morning routine is completed in 15 minutes--a no frills up and at 'em that includes a shower, a pair of jeans, a clean shirt, and some blush.
I consider myself laid back, natural, and not one to overthink my outfit or appearance. Well, I should say I considered myself that way. It took about 4 hours to change everything.
Monday December 6th, 2010
8:30am: Suckers! I washed and dried my hair the night before and had laid out an outfit that I thought would be fool proof. Black sweater, black jeans, black flats. No mirror, no problem. Hair was done. Outfit was chosen. Out the door I go.
Noon: And I'm screwed. I want to put on make-up. I have a meeting at 1 and I want to feel a little more put together than my outfit, and if I'm honest, my attitude, suggests. This is 7th Avenue after all, and the fashion industry can be a little, hmmm, how can I say, a little, uh...judgey. OK, very judgey.
And if you're judging me right now because I'm not using the word "judgmental", I get that. Anyway, mascara, concealer, powder, matte lip-stick, eye-brow pencil and eye-liner: these are my buddies. And I didn't realize how much I relied on my old pals.
Make-up can make me forget about the Gap coupons with which I bought my sweater. Make me feel more professional, alert, confident, and ready. But how do I...without a mirror?
12:30pm: I cheated. Me of laid backedness, me of naturalness, me of not caring too much about my look. I put on make-up at my desk without a mirror (to the shock and horror of my office-mate) and then...buckled. I had to check. And I fixed it up. And I went to the meeting.
2pm: I lied over lunch. A friend, knowing my assignment, asked how I was fairing. I said that everything was going fine! What an interesting experience! I feel so free! I'll have the burger with a side of lies, please. Fries! I meant fries.
Truth is I felt embarrassed and self-conscious. I didn't want to admit to myself, nor my friend, that I was finding it truly difficult. Difficult? Who am I kidding, impossible. I couldn't do it! I used a mirror for make-up. The getting dressed part was OK, but the make-up made me crack. So what does that say about me?
Listen, I don't want to jump in here and say things like "without a mirror I could really see myself" and "my inner-reflections are what really matter." Not yet at least. This is day one of seven. Maybe the mirror is more of a habit I couldn't break, not an ethos.
7pm: My coworker took my picture. Good lord I need some frizz-ease. And a little more pizazz. Is the DVF sample sale this week?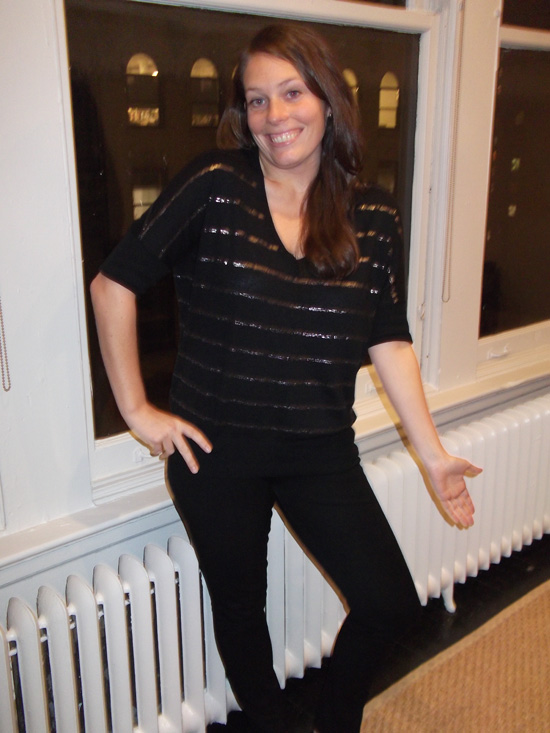 10pm: Writing this little recap made me realize that tomorrow is not going to be easy. I'm having dinner with someone I want to impress, someone who could help my career; a career in an industry where looks and style are important. No more cheating, either. Let's do this.