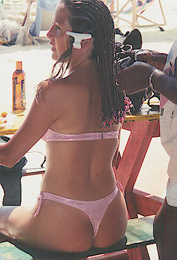 style="float: left; margin: 0 10px">When it comes to hairstyles, I've never experimented much with color, cut, or style. For 24 out of 25 years it's been brown (there was an ill-advised blonde adventure sophomore year of college), it's always been long, and it's always been curly. I generally wear it up at work so I can see what I'm doing, and down at play to show it off. I don't want to cut it because I like the length and I don't want to color it because I'm too lazy to deal with the upkeep, but I do want to give it a little panache. A non-permanent panache, that is. Panache that just might be so out that it's in.
During a layover in Charlotte, NC I saw a family with three young girls. Each was deeply tanned, most likely returning from a cruise or a week in St. Thomas, and each bore the unmistakable Caribbean tourists' maker's mark that can be spotted, and possibly heard, from miles away.
Hair-beading: tiny little strips of braided-hair with colorful exclamation points. Now, so in. Of course there are numerous cultures that hair-beading has played a significant role in for centuries, from India to Africa, from the West Indies to the Far East. It's a beautiful art that can also bear spiritual or religious meaning. But strictly speaking from an aesthetic stand-point, I very much appreciate its playful exuberance and I think the right amount of bead-to-braid ratio can add a quixotic romance to anyone's normal, everyday hairstyle.
So spice it up! Something that was once a tourist's stigmata and something that once screamed "I just got back from Sandals Jamaica!!!!" can now be washed of its tacky vacationer's connotation. Beads are back, baby. Venus and Serena know what I'm talking about, but I wouldn't recommend taking it that far if you're a beginner. "The Office"'s Michael Scott is also in the beaded-know, and although he was laughed at, and indeed had just returned from Sandals Jamaica, you can't blame a guy for trying.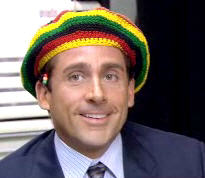 And try this fall we should. As beaded clothing and beaded necklaces make their way into fall fashion this season, I don't see why hair should be left out. And what better way to show support for your favorite football team than team-colored beads. Ok, that might be going a little too far, but with beading anything's possible. That's part of the beauty.
For me, on a hot night out on the town, I like three or five braids that are on the thicker side, about three centimeters in width, with brightly colored beads placed up and down the braid, not to exceed three per section. Having fun with it is the best part, though. First rule of hair-beading: there are no rules. Drawing inspiration from hippies in the sixties all the way to Indian bridal hairstyles opens up a time-travel's worth of ideas. And with some beads costing about 5 cents, you can really go wild.
So look under your bed for that bead-box you had in elementary school, pick up those round ones you see on the street, heck even get yourself one of these Girl Crush Hair Beaders, just make sure to bead all you can bead. Oh, and careful with those tiny rubber-bands; those suckers can hurt.