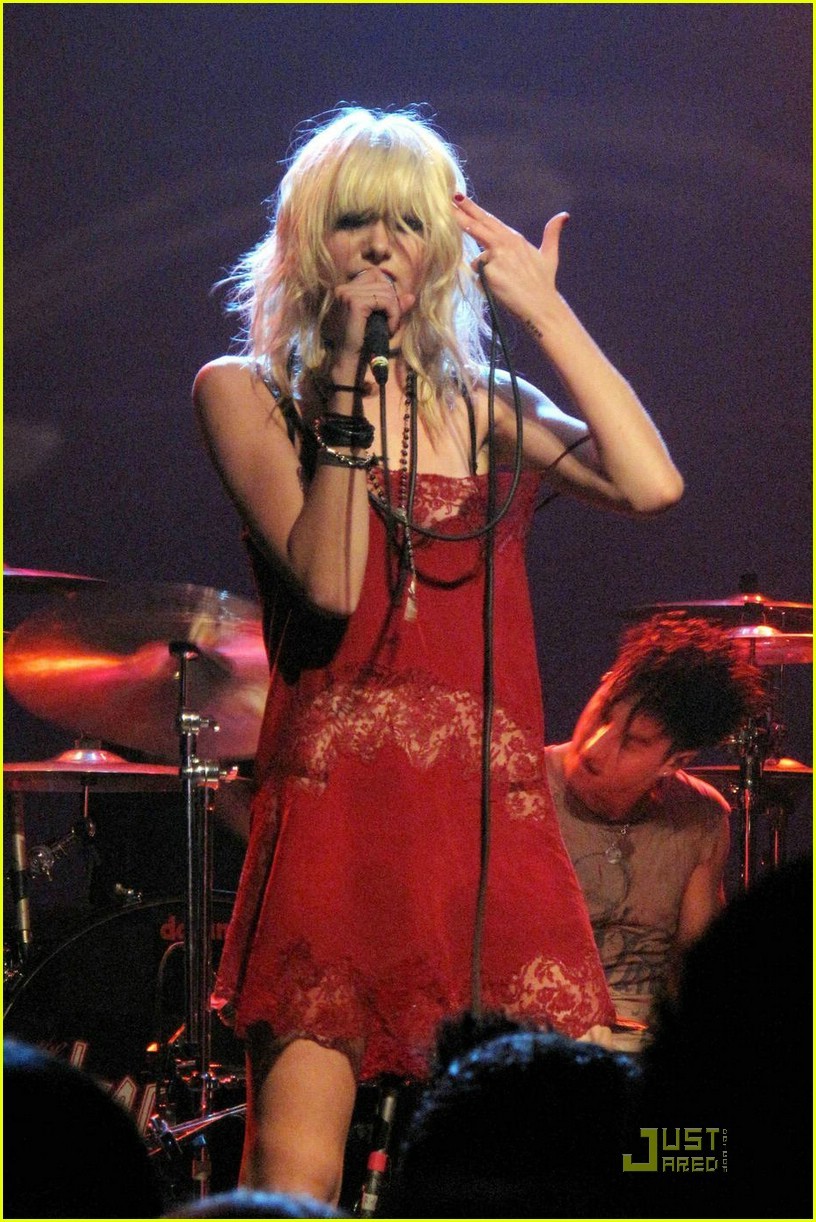 I recently celebrated my 27th birthday. Despite becoming ever more aware that I will soon no longer qualify as an official Young Feminist, I joined a friend -- and an audience that included many excited teenagers -- in attending The Veronicas concert in Hollywood. I find these 20-something sisters to be a whimsical outlet in dealing with heartache, heartbreak, and the drama of growing up "girl." Plus, it rocks my world that Lisa marched in my fair City of West Hollywood to protest the California Supreme Court decision upholding Proposition 8. Their concert was the ideal way to celebrate my new year.
The Pretty Reckless opened for The Veronicas. Led by Taylor Momsen -- best known as "Jenny Humphrey" on Gossip Girl -- this band was well-received by young women in the audience. Momsen's lyrics about "manipulative boyfriends" and "being bad" struck a resonant chord with many in attendance. Her Courtney Love-esque style was bold and daring. The finger-gun was a common motif throughout her performance. It appeared she was singing a language that the teenage audience spoke fluently.
Admittedly, I had difficulty facing the reality that teenage girls could relate so well to Momsen's angst. I grew up in a fairly sheltered environment, privileged to attend private schools and protected from many of the experiences of abuse that young women often face. My high school relationships were violence-free, and I had the uncanny self-confidence to avoid "manipulative boyfriends." I am sure some of my friends struggled through physical violence in high school relationships, but silence also comes with privilege. (Cue Rihanna and Chris Brown.)
When members of Hollywood High School's Young Feminist Club talk with me about dating violence in their high school experience, my heart breaks. They identified unhealthy relationships as the number one issue that young women face. In one conversation, some students said they could relate to global problems like self-immolation because they had friends who began cutting their own bodies to escape the pain of emotional abuse.
I am sure my inability to personally relate to these extreme realities accounts for my profound disturbance in discovering that Taylor Momsen is only 15 years old. Pictured as she was that evening, Ms. Momsen marched around stage in a lacy red slip, revealing the strings on her panties. I felt completely ancient.
I was horrified at my realization that our culture not only encouraged this package but also sold it as young feminism personified. The "empowered" 15-year old female can belt risque lyrics, flaunt racy lingerie, and flirt with suicide to be sexy and appealing. While I had read Ariel Levy's Feminist Chauvinist Pigs, it was altogether different to consciously witness teenagers buy into this "sex-is-power" model.
But this is not my feminism.
The feminist movement seeks to advance and empower women. While we strive for equality, we recognize that focusing on sexuality as a means to empowerment misses the mark entirely, reducing women to our body parts instead of embracing our personhood. We realize that it is a patriarchal culture that encourages women to seek empowerment and independence through sexual appeal in service to men.
There is no question that young women struggle to find our own voices amidst conflicting messages about feminine sexuality from our culture. Once the mantra of the feminist movement, sexual liberation lost its thread, making way for the Momsen image instead of focusing on our ability to own, respect, and love our bodies for our own enjoyment. Young women have an especially difficult time being comfortable in our ever-changing physical forms. Feminism gives young women the opportunity to develop and mature in a climate free from judgment or shame about their sexuality and without the requirement for men's approval.
Every young woman explores and (hopefully) comes to embrace her sexuality in her own way. Perhaps Momsen herself walks off-stage, takes off the makeup, loses the lingerie, and hangs up the whole act for her next tour stop while enjoying her youth. But her image -- emotional torture as glamorous; self-worth defined by sexual desirability; and manipulative behavior as the height of empowerment -- continues to pervade our culture. It is likely that Momsen has not considered her ability or desire to be a role model, and I am not interested in making her one. I am equally uninterested in chastising her for behavior manufactured by a patriarchal culture. What does interest me is the ability for young women to be agents of their own destiny -- in control of their bodies for their own success and satisfaction.
Young women in high school have better things to do than hope someone will ask them to be his/her girlfriend. Maybe it is prudish of me to think that 15-year-olds should not be publicly dancing in lingerie. I admit that I too may be "out of touch" with an emerging generation defined by sexual prowess. Perhaps these are just the thoughts I will continue to have as I approach the end of "young" in my feminism. But I hope that I will not lose my opportunity to connect with young women in high school because I believe that they deserve better than Taylor Momsen as an example of empowerment and independence.
SUBSCRIBE TO & FOLLOW ENTERTAINMENT
HuffPost Entertainment is your one-stop shop for celebrity news, hilarious late-night bits, industry and awards coverage and more — sent right to your inbox six days a week. Learn more