The Bubbly Secret To Spring Cocktails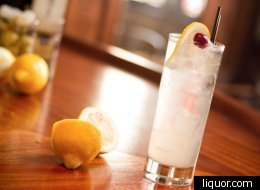 There's one sure-fire way to make any cocktail cool and refreshing: Add a little carbonation. Whether it's simple club soda or classy Champagne, a splash of something fizzy is the secret to making a lovely springtime drink you'll want to sip all afternoon long.
Read on for some of our favorite bubbly warm-weather concoctions. Cheers!
The Bubbly Secret to Spring Cocktails
It doesn't get much more traditional than this summertime gin sipper, which dates back to the early 1800s. It was most likely invented by Stephen Price, who worked at London's Garrick Club. View recipe: Tom Collins

Even robust Scotch becomes summery when mixed with both ginger ale and club soda. The combination is effervescent but not too sweet. This recipe also works wonderfully with spicy rye whiskey or gentler bourbon. View recipe: Presbyterian

Tropical rum is often paired with sweet fruit juices, but this tipple reveals its lighter side, thanks to refreshing mint and cucumber, floral St-Germain and of course club soda. The recipe was created by top bartender and Liquor.com advisory board member Jim Meehan. View recipe: Kew Garden

Ever tried authentic sloe gin? The sweet-and-tart berry liqueur has plenty of uses beyond the guilty-pleasure Alabama Slammer. Bright lemon juice and club soda both help make this cocktail extremely quaffable. View recipe: Sloe Gin Fizz

No matter if you love or hate vodka, you should try this cocktail, which is a distant relative of the Mojito. Our recipe is courtesy of top barman and Liquor.com advisory board member Dushan Zaric. View recipe: West Side

Tequila and Champagne? Sounds strange, but trust us: This elegant variation on the Paloma proves the two were meant to be together. View recipe: The Dove
Follow Liquor.com on Twitter: www.twitter.com/Liquor