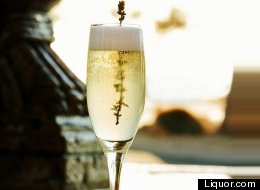 For more than a month now, we've been subjected to the full holiday sensory experience—baking, lights, tinsel, shopping, music. Now it's finally time to sit back and enjoy the season. And how better to relax than fixing a round of delicious cocktails?
Here are five drinks to accompany your most beloved holiday traditions. (And you can find even more recipes for elixirs and baked goods in our Holiday Entertaining Guide.)
Merry Christmas!
Cocktail Your Way Through Christmas
Get ready for the holiday by whipping up a creamy Hot Buttered Rum. The secret to the rum-based drink is a batter that includes ice cream, butter and spices. A few sips of this concoction and you'll be assured of a sweet Christmas.View recipe: Hot Buttered Rum

There's nothing better than waking up early on Christmas morning and opening presents with your friends and family—unless you mix up one of these delightful morning brews, too. A little Grand Marnier and brown sugar syrup in your cup of Joe will make things even more festive!View recipe: Grand Coffee

You've opened the presents and had some spirited coffee, so now what? You brunch! Christmas calls for something more memorable than a mere Mimosa, so enjoy this combination of vodka, St-Germain, agave nectar and lime juice. Top off the flowery sipper with some sparkling wine and let the feasting begin.View recipe: Elderflower Fizz

A light and fruity tipple will do just fine for a lazy Noel afternoon spent snacking on gingerbread cookies and catching up with the family. Rum, sugar and club soda balance out a flavorful mixture of grapefruit and lime juices, cardamom pods and orange bitters. Go ahead; have a second one. It's Christmas, after all.View recipe: Cardamom and Pop Punch

For a drink as sparkling as your holiday attire, throw together this simple punch from top mixologist and Liquor.com advisory board member Jacques Bezuidenhout. A twist on the classic Italian aperitif the Negroni, this recipe calls for bubbly instead of gin, mixed with Campari and sweet vermouth. And our version makes a whole punchbowlful! Throw in some seasonal citrus fruits and garnish with a bit of cinnamon for a true yuletide treat.View recipe: Negroni SbagliatoWatch Bezuidenhout demonstrate the Negroni Sbagliato in our How to Cocktail video.
Follow Liquor.com on Twitter: www.twitter.com/Liquor