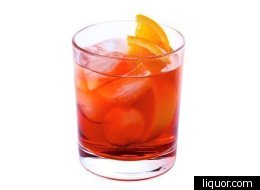 Now that the new year is here, it's time to get serious about your drinking. As you ease into 2012 and refine your list of resolutions, we have five more important ones you should consider adding. Let's make this a truly spirited year!
Drinking Resolutions for 2012(CLONED)
While Americans may have invented the cocktail, we have a lot to learn from Europeans about enjoying one. On the Continent, many people fix an appetite-stimulating drink before dinner, like a Negroni (pictured above); a digestif afterwards, like the Fernando; and then at the end of the evening, a nightcap, like the Cruzan Flip. At least once this year, try this classic style of imbibing.

Not that long ago, it took some work to find a good cocktail. Now, it seems that another dozen craft-cocktail bars open across the country every few days. So, in 2012, whether you're in your home town or traveling, go out of your way to check out the latest establishments. (Pictured above is Liquor.com advisor Allen Katz's recently opened spot, The Shanty, in Williamsburg, Brooklyn.)

We hope you're already using fresh fruit juices in your tipples. But you should also be grating whole spices. The difference between the pre-ground stuff and doing it yourself is huge. Don't believe us? According to top Washington, D.C., bartender Derek Brown, it's the secret to making great Eggnog.

As we reported a couple of months ago, bars and distillers are experimenting with new technologies, like cocktails on tap. No doubt the trend will become more common; we suggest giving these high-tech concoctions a chance. The keg of Negronis we tasted at Jasper's Corner in San Francisco (pictured above) was delicious. Photo courtesy Eric Wolfinger.

Over the last decade, there's been an outpouring of excellent historical books about cocktails and spirits that you should read. If you don't already have them, some of our favorites are Liquor.com advisor David Wondrich's Imbibe! and Punch: The Delights (and Dangers) of the Flowing Bowl, Liquor.com contributor Wayne Curtis' And a Bottle of Rum: A History of the World in Ten Cocktails and Daniel Okrent's Last Call: The Rise and Fall of Prohibition.
Follow Liquor.com on Twitter: www.twitter.com/Liquor