Celebrate Spring With A Floral Cocktail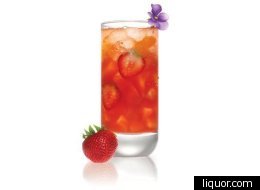 The sun is shining, the birds are chirping and the trees are in bloom: Spring is definitely here. And that means it's time to switch from drinking warming Manhattans and Hot Buttered Rums to more refreshing concoctions that are appropriate for warm weather.
In honor of the end of winter, fix these tipples that call for a range of floral flavors. They're so good you may drink them all year round. Let's drink to spring!
Celebrate Spring with a Floral Cocktail
Crème Yvette is a fruit-and-violet liqueur, which you can now find on store shelves again after it disappeared for decades. Here, it brightens up a bourbon and ginger concoction sweetened with an anise-spiced tea syrup.View recipe: Ginger Rabbit

Delicate elderflower blossoms grown in the French Alps are harvested for the sweet liqueur St-Germain, which pairs beautifully with dry sparkling wine or just about any type of spirit. Mix it with gin, lemongrass syrup and lavender bitters to create a truly seasonal cocktail.View recipe: Spring's First Bloom

This tipple from top bartender and Liquor.com advisory board member H. Joseph Ehrmann calls for not only the organic and floral Square One Botanical but also an easy-to-make lavender honey syrup.View recipe: Lavender Honey Cream

You might be familiar with orange flower water from Greek and Middle Eastern pastries, but the potent liquid -- more floral than citrusy -- is also used in a number of cocktails. This frothy tipple is a classic eye-opener popular in New Orleans.View recipe: Ramos Gin Fizz

As you've seen, there are a few ways to add floral flavors to drinks, but this is one recipe that actually calls for a real flower. The edible pansy garnish makes the refreshing strawberry concoction even more of a springtime treat.View recipe: Ginger Rogers
Follow Liquor.com on Twitter: www.twitter.com/Liquor