Spring's First Fruits -- For Cocktails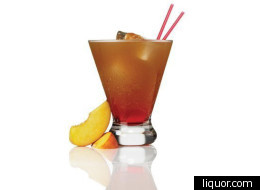 Now that spring is in full swing, the first of the season's fruits are showing up in farmers' markets and grocery stores near you. But these sweet treats are good for far more than just pies, tarts and cobblers.
In fact, cocktails get a huge flavor boost from fresh fruits and herbs, especially when they're ripe. (That's one of the key reasons why drinks at top bars taste so good.) Take advantage of this year's early harvest by mixing up some of our favorite delicious recipes.
Cheers!
Spring's First Fruits%mdash;for Cocktails
The traditional Caipirinha recipe calls for lime, sugar and Brazil's national spirit, cachaça. But for a spring twist, try making this strawberry and cucumber variation. We think those two ingredients are far too often overlooked by home mixologists. View recipe: Strawberry Cucumber Caipirinha

Peach is often praised for its intense sweetness, but it also has a sour note. That unique combination works beautifully in mixed drinks. And in this tipple, the fruit is paired with rum and grenadine to create a simple tropical cooler. View recipe: Pyrat Passion

Spring weather is brunch weather. And in addition to fixing Bloody Marys and Mimosas, try this raspberry take on the bubbly classic the Bellini from talented bartender Charlotte Voisey. View recipe: Raspberry Bellini

It's not just fruit but also herbs that are now in season. Harvest some fresh mint for this elegant sipper, which tops a traditional Mojito with Champagne. No mint? Try basil, cilantro or rosemary instead for a completely unique and savory cocktail. View recipe: Old Jamaican

Prepare for summer by committing this fantastic recipe from star New York bartender Phil Ward to memory. The sweet-and-spicy creation combines watermelon, cayenne pepper, lime juice, rum and a bit of refreshing club soda. View recipe: La Estrella
Follow Liquor.com on Twitter: www.twitter.com/Liquor