5 Great Things To Do With Top-Shelf Tequila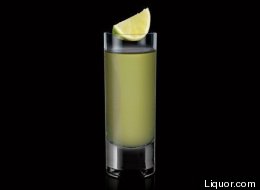 By now, you're probably aware that the tequila scene is a lot more about "artisanal" and "100-percent agave" and a lot less about "Tequila Sunrises" and "shooters with a beer chaser" than it was a few years back. That said, while high-end brands like Patrón, Partida, Don Julio and the like make for great sipping on their own, we always like to mix things up a bit.
That's why we have compiled this list of five great tequila drinks in which using the good stuff really makes a difference. Tequila is a robust spirit, and a good cocktail should enhance its characteristic flavors -- while not requiring a souvenir shot glass from Señor Frog's.
Cheers!
5 Great Things To Do With Top-Shelf Tequila
As blues is to rock n' roll, this simple little cocktail is to the array of drinks that currently fall under the name Margarita. It's the crucial precursor; after all, "Margarita" is just Spanish for "Daisy." We recommend using Partida Reposado, going light on the Grand Marnier and not even looking at your blender. (Seriously, maybe put it in the other room or something. We don't want you to get tempted.)View recipe: Tequila Daisy

This complex taste of literary wordplay should be a key part of any tequila lover's summer arsenal; it's a spice thing, a context thing. The muddled jalapeño and basil complement the agave in a desert-y, Southwestern, "but it's a dry heat" kind of fashion, while the watermelon cools things off and sweetens the deal. It's a bold, eloquent combination of ingredients -- more Atticus Finch than Boo Radley -- but we think it enhances rather than muddies the Patrón Silver.View recipe: Tequila Mockingbird

Mayahuel is the Aztec fertility goddess associated with the agave plant, and if there's anything we know about Aztec divinities, it's that they're rather... demanding. And while this cocktail is a truly delicate balance of flavors, we think you'll do just fine if you remember one thing: It's all about the agave. Be generous enough with the agave syrup and tequila that the mint and citrus elements don't take center stage. Goddesses can be very temperamental about such things.View recipe: Mayahuel

As ornery plants of the hurts-if you-fall-on-one variety, we think agave and pineapple are the perfect partners in crime for this summery little caper. Here's how it's going to go down: The tequila is Don Julio Añejo (chosen for its light sweetness and vanilla flavor profile) the pineapple, lime juice and rosemary are fresh, and the glass is tall and cold.View recipe: Piña Perfection

If the Tequila Daisy is the distilled essence of the Margarita, then this is the purified, sanctified version of those bite-the-lime, lick-the-salt shots you used to throw back in the moments immediately prior to making bad decisions. Here's how it differs from your freshman-year hijinx: The tequila is smooth Don Julio Blanco, a dash of agave nectar sweetens the mix and this time, there's no salt. We never thought we would utter the phrase "the thinking man's tequila shooter," but there you go. Life is full of surprises.View recipe: Agave Drop
Follow Liquor.com on Twitter: www.twitter.com/Liquor