The L.A. River has the potential to offer the citizens of Los Angeles another reality, a piece of time out of time.
As a student, I spent many hours walking the Philosophenweg, a well-traveled foot path along the Neckar River in Heidelberg, Germany. Historically a favorite of poets, philosophers and the general university population, this path has remained a popular place for contemplation and thoughtfulness.
In some strange way, I consider the L.A. River in a similar manner.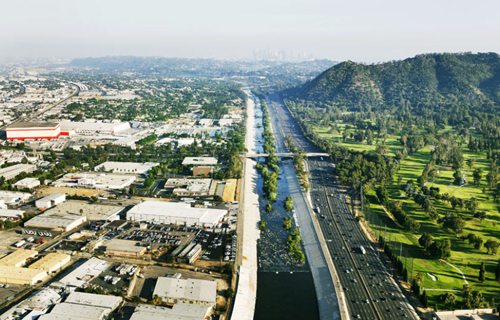 Lane Barden, The River Turns South, Leaving the San Fernando Valley and Entering the Glendale Narrows 2007. Image courtesy of the artist. @2010 Lane Barden
I see its role in my life related to the days as a student along the Neckar in its ability to evoke contemplation.
As short-lived as they may be, I calibrate L.A.'s seasons by spending time at the river. I am familiar with and recognize the birds of the river. I can see their changing populations as they migrate across the continents and I observe water levels and plant materials. And, of course I hear the perpetual drone of traffic and observe desuetude, detritus and graffiti.
Leo Limon, L.A. River Catz. Image courtesy of the artist. ©2010 Leo Limon
But, because I'm an artist, I take inspiration from the river, its movement and ever-changing light and it's garbage.
Lisa Adams, The Probability of Imminent Events 2008, oil and spray paint on panel, 72 x 48 inches. Image courtesy of the artist and Cb1 Gallery, Los Angeles ©2010 Lisa Adams
The psychological benefit of a river running through a city can never be underestimated. A river is a place where people can ponder their lives and dreams, where artists can find inspiration and where we can all simply be still while the river does the running.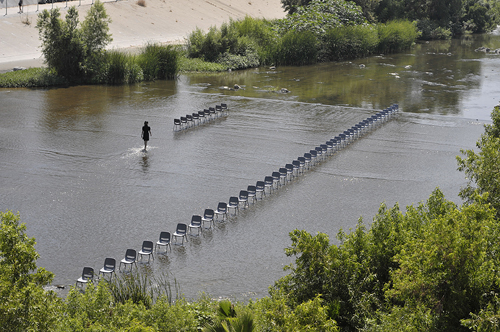 Vlatka Horvat, This Here That There 2010, 8-hour performance in the L.A. River presented by Outpost for Contemporary Art, Los Angeles, California. Image courtesy of the artist. Photo: Vincent Alpino. ©2010 Vlatka Horvat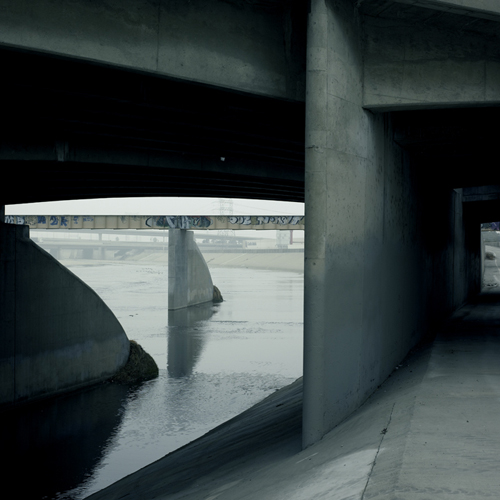 Douglas Hill, Rosecrans Boulevard Bridge and Pipeline 2005, digital print. Image courtesy of the artist. ©2010 Douglas Hill
Developers have a very different idea of what the river might do for them with their master plans for shops, residences and public use access. Screw the developers, I'm thinking about the river's ability to offer a haven for thoughtfulness and a deeper way of considering one's transitory time here on the planet.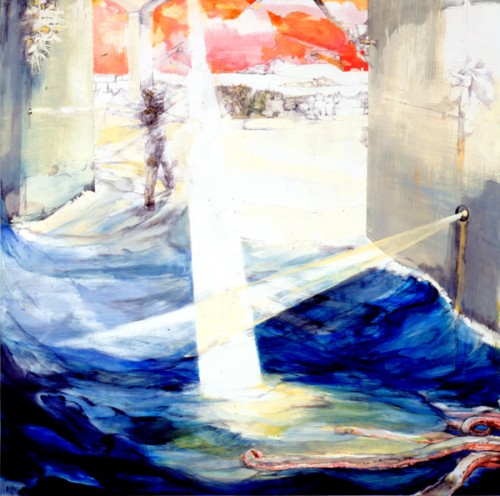 Kelly McLane, L.A.R.P., Almost Beautiful (Brine) 2005, oil and graphite on panel, 36 x 36 inches. Image courtesy of the artist and Angles Gallery, Los Angeles. ©2010 Kelly McLane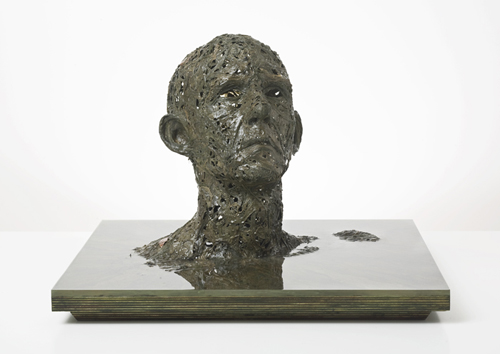 Ross Rudel, Green Man Resurrection 2008, Los Angeles River algae and resin on wood base, 14 x 20 x 20 inches. Image courtesy of the artist and Jack Shainman Gallery, New York. ©2010 Ross Rudel
The reclamation of the L.A. River for artists and other sensible people wouldn't take much: just the excavation of the manmade concrete channel so that the un-developed natural life that preceded us, developers included, can once again grow as spontaneous and free as it does in the few areas where the concrete has broken and/or washed away.
Los Angeles River, Image courtesy of the artist. ©2010 Jayme Odgers
The way in which nature reclaims an area is one of the fundamental dynamics of the planet and I, for one, would like to keep it as pristine as it once was.
Additional art work inspired by the L.A. River:
SUBSCRIBE AND FOLLOW
Get top stories and blog posts emailed to me each day. Newsletters may offer personalized content or advertisements.
Learn more