As a gallery, museum, and public artist with 30 years of professional experience who has benefited greatly from municipal patronage, I took an especially keen interest in the issue as to whether Los Angeles should close their community art centers.

Last month, as the result of a massive call that went out over the blogosphere to debate the closing of nine cultural centers and theaters throughout Los Angeles, I attended the first community meeting at City Hall.

At this meeting the public - and hopefully, artists and art professionals - could voice their concerns over the proposed action to the Committee on Arts, Parks, Health and Aging.

Conceived by former Councilman Joel Wachs, the money to operate the art centers came from a Transient Occupancy Tax (TOT) paid directly to hotels by visitors to the city of Los Angeles. 1% of the 14% surcharge - which amounted to $9-10 million per year - was earmarked for art center operations.
Those of us who requested to speak filled out a card. As it happens, my name was the first one drawn. Yikes! I listed the reasons why I thought closing the art centers was a huge mistake. In the course of one crammed minute, I argued that art centers gave emerging artists experience in working with curators and other museum professionals and, in general, taught artists how to become professionals eager to contribute to the cultural enrichment of Los Angeles.
As it happened, I was part of a very small minority. Though the meeting was packed - standing room only and people out in the hall - only four of the 42 community members who spoke described themselves as "independent artists."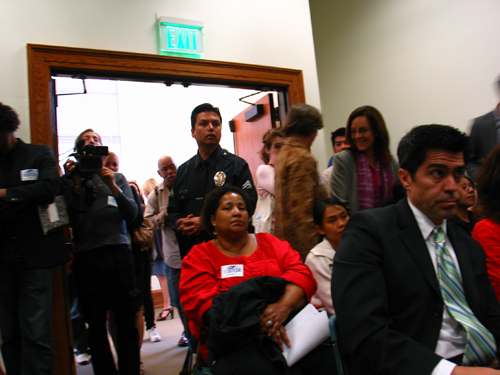 Sure, 10am on a Monday morning, you might have better places to be but I bet if you're an artist you'd be pressed to find a more important place. You'd think that in a city that abounds with working artists we could muster many, many more than four speakers on behalf of agencies that in some small measure helped foster our early careers. I was shocked and disappointed. I bet more artists routinely go to a Dodgers game. Maybe this would have played out far differently had it occurred in New York.
I listened carefully to the assembled speakers, mostly those employed by or somehow affiliated with the various arts centers. I heard how the community art centers offered art classes to children, adults and seniors; how these programs helped to reduce gang related incidents, reduce the amount of medication taken by seniors and, in general, introduce the public to art-making skills.
Though I agree these services are important, no, make that essential, as I sat there something continued to nag at me. For three hours I heard nothing about the art center's exhibition programs. Whatever happened to those historically significant, at times groundbreaking exhibitions organized by visionary curators and/or artist-curators, accompanied by catalogues that educated the public and documented the art on display?
To my relief the last part of the meeting became a session to brainstorm solutions to keep the centers open. The word "privatize" was thrown around a lot. I'm not exactly sure what that means. Does it suggest the city finds a corporate sponsor or else a private donor to foot the bill? I walked away confused.
I couldn't attend the second meeting at which the Committee on Arts, Parks, Health and Aging made their recommendations to the City Council and it's just as well. It was decided to raid monies from the Public Art Fund, valued at approximately $19 million per year, from which the city hires artists to create public art for new construction. Paid by developers to the city, this surcharge amounts to 1% of all new construction costs.
So, correct me if I'm wrong, but does this mean that some of the money that normally would go to artists to create public art for new construction is now going to be used to keep the art centers open? Does this in turn mean that not only will fewer artists be hired to create public art but that the money earmarked for the sustenance of the community art centers will, in effect, come, indirectly, potentially, from their own pockets? (What about the TOT?) As I understand it, artists are now supposed to sacrifice their professional careers so that art classes can continue to be offered to the public. But what about the artists and their work who make it possible in the first place?

By all accounts, Los Angeles is one of the world's major art centers. Is this how our city officials have chosen to honor, respect and support their artists?
Follow Lisa Adams on Twitter: www.twitter.com/lisamakesart