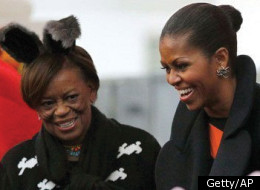 Nadya Suleman, who you probably know as the Octomom, is now getting paid to teach you how to be a good parent. That sums up so much of what is backwards in the world, doesn't it?
Why are all the WRONG people stepping up with advice?
Khloe Kardashian has a Mommy Blog. "Real Housewife" Alex McCord has written a book. ("This should be a book as to what not to do," one Amazon reviewer snarked, but, alas, McCord was serious.) At least Lynne Spears had the sense to scratch her book plans when her daughter Jamie Lyn (aka Britney's sister) had a baby at 16. (Perhaps Jamie Lyn can get her own parenting talk show next?) But still, she'd thought about it.
The Suleman announcement got me thinking. It's clear who should NOT be in this "let-me-tell-you-how-to-do-this" business. But who really should be adding their voices to the parenting conversation?
Here's who I'd like to hear from:
Leah Adler has given interviews describing her son's childhood, but I want more. Did little Steve watch movies when he should have been doing homework? Did he alienate his playmates (or make friends) by constantly shoving a camera in his face? What did his mother do that allowed her son to grow into an adult with a child like wonder at the world, but no drug habit?

We haven't heard from her in far too long, since a flurry of post-inaugural interviews when she said she was happy to be in Washington, but missed Chicago. And we haven't heard anything at all about how parenting looks through her eyes. We know from her daughter that the Robinsons kept a household together on the salaries of a secretary and water plant pump worker -- and somehow sent two children to Princeton. But how? Did Michelle ever run with the wrong crowd? How did Robinson help her daughter through the college years, when Michelle has said she was not comfortable on campus? Do First Mom and First Grandma ever disagree on parenting choices now that they are all raising the girls under one roof?

Not because they raised really rich children. But because they each had a conversation where that child announced they were dropping out of college to follow a dream. I'd like to know how to be the parent who handles that well. Even relatively well.

The parents of David Hickman, who was the last U.S. soldier killed in Iraq after American involvement was officially declared at an end. There is a lot for all of us to learn from parents who share their children with the nation in a time of war.

Actually, Henry's mother, Laurie Strongin, has already written a book, about the lengths to which a parent will go to save their child, and the way knowing that your son won't live long crystallizes and distills life and parenting. At first the tale might not seem like a parenting advice book, but it's what an advice book should be.

After her senior year in high school, Maggie, who was raised in the suburbs of New Jersey, headed off for a summer long adventure and decided to stay. Now all of 25, she built (literally, though not alone) and runs the Kopila Valley Children's Home and Primary School which together house, feed, nurture and educate hundreds of children. She's created The BlinkNow foundation to help her do this. I want her parents to write down how they raised her to want to.

This fall Brianna was named homecoming queen at Pinckney Community High School which, traditionally, happens during half-time at the homecoming football game. She accepted her crown wearing her pads and uniform -- Brianna is also the first girl to ever make the Pinckney varsity football team. Then she got back on the field, where, 'natch, she kicked the winning field goal. Yes, she did both things herself, but her parents must know a thing or two about instilling confidence. They can call their book "Raising The Kicking Queen."
Whose book or blog would YOU read? (And yes, you can name your own mother. Or not.)
Follow Lisa Belkin on Twitter: www.twitter.com/lisabelkin