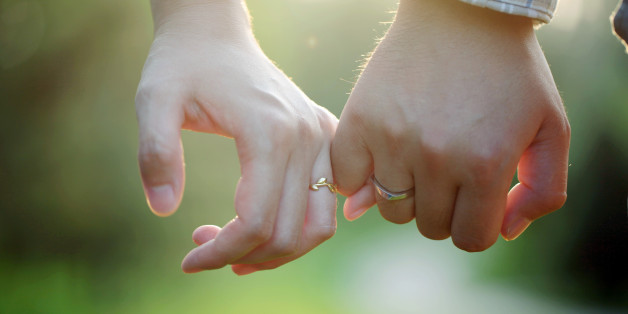 What is love? How will I know that I'm in love, and when will I know that he's the one? And, as Whitney Houston once so poignantly said, "How will I know if he really loves me?"
These were all questions I wondered as a little girl while I sat in my baggy tulle skirt and mock wedding veil and pushed around my Barbie and Ken dolls in their neon pink motorhome.
When I fantasized about love while growing up, I always envisioned getting married young, busting out five or so children and living in a sprawling home as a fat and happy stay-at-home mother who juggled the job of writing bestseller after bestseller.
Now, at 28 years old, I'm unmarried and without children, but I am almost three years in with my boyfriend. (He hates being named, but let's just say that it rhymes with "Whillip.") Sure, I am in love and in the midst of writing what I hope will be a bestseller, but my projected timeline has gone to sh*t. Because of this, I've learned that you can't plan and you most certainly can't define.
Since I sometimes resort back to wondering, exactly what is love?, I thought I'd share what I've learned so far, and why "Whillip" has proved to be my steadfast teacher.
Love is...
watching him sit on the sofa and suddenly fear that he's in the midst of a seizure... only to realize that he's frantically losing at South Park on Xbox and shaking the controller. (This is the point when I'll typically go back to Pinning about Bichons and super-tiny, gluten-free cupcakes baked in condiment cups.)
having him take me by the shoulders (even in public) after I've uttered something disgusting about another female and telling me: "You know I think you're beautiful, but I don't think you're beautiful when you cut down others in front of me."
realizing that, after almost three years of dating, I'm no longer ashamed of releasing my morning farts. This is all.
letting me stick my cold toes under his legs to keep warm, even in the summer. Sometimes, I'm allowed to stay. Sometimes, I get shoved over to the other side of the bed with consequential rug burn to show for it.
knowing that love is never an insult-slinging battle, but more of a "you really p*ssed me the f*ck off in this situation" argument, through angry tears, thrown alarm clocks and marathons of sad breakup movies.
reassuring me, when I need it the most, that he truly does love me and that he will never leave me, no matter how anxious I may get about being left. "The heart wants what the heart wants," he'll say, "and there are times why I'm confused why the heart wants such an exhaustive pain in the a**."
(him) going gluten-free because of my food allergies, in addition to going without most red meat, pork and seafood due to my preferential tastes.
forgiving me when the inevitable, but accidental, purchase of septic-safe, one-ply toilet paper has been transacted. Twice in a row. (Toilet paper dingleberries are real, friends.)
pulling one of my long, black hairs out from between his toes. And from his beard. And out of his workbag. And off of his dinner plate. And out from the seat of his boxers. And, somehow, Whillip has resisted the urge, every time, to go at my full mane of hair with his electric razor.
knowing that compromise is not alternating Spartacus man movies between The Vow and Mamma Mia. It's knowing that compromise is when he purchases me my own TV to watch in the bedroom, so that I never have to miss an episode of Entourage (On Demand) again.
Even as an adult, I'm still learning what love is. But I have got to say that Martin Luther King, Jr. puts it best: "I have decided to stick with love. Hate is too great a burden to bear."
To my six-foot-five boyfriend who doesn't want to be named in the press or in my writings: Whillip, my love for you just is. Sometimes a burden (Roll Tide!), but always a pleasure.