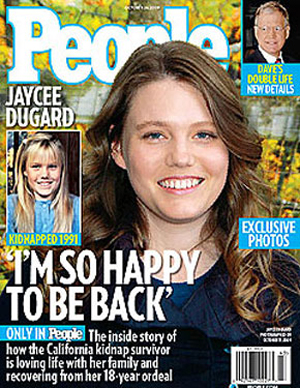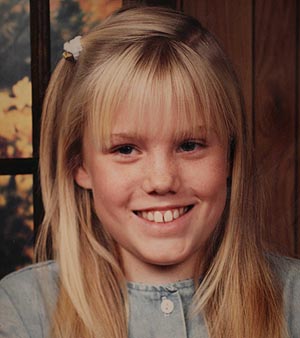 Blond, beautiful Jaycee was abducted off her bicycle 18 years ago while on her way to school. Blond, beautiful six-year-old Etan was abducted 30 years ago, walking the two short blocks to the school bus stop, on his own for the first time.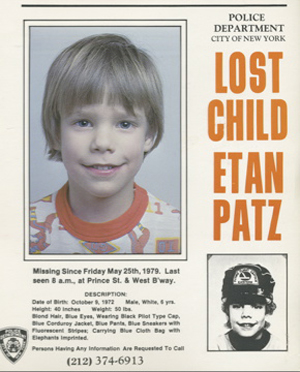 Jaycee's stepdad was considered a suspect for years, as was Stan Patz, Etan's dad.
But then there are those important differences in the two cases: unlike Stan and Julie Patz, Jaycee's folks didn't sustain their marriage through such tragedy. And unlike Jaycee -- Etan never came home.
There's been so much talk about how Jaycee and her two daughters will adjust to their shattering new reality. By this week's account, it's been miraculous. But I've also been wondering about how this bombshell is affecting Jaycee's other family - her mother and stepfather, and her younger sister Shana, who was just a baby when Jaycee disappeared.
Over the years, the Patzes had a lot of contact with other families of missing children. So much about their circumstances is singular and simply can't be understood except by another family in the same straits. It's like a terrible, exclusive club no one wants to be a member of.
In 1984, five years after Etan disappeared, Julie took her younger son, then seven-year-old Ari, on a very unique retreat organized by psychotherapist Gary Hewitt. At the time, Hewitt's since-shuttered Center for Missing Children specialized in working with the families - and especially the children - left behind.
Julie hoped the retreat would be helpful for Ari. He had come to her on his seventh birthday to express relief that he'd made it through the scary age of six, but a year later he was still suffering the effects of his brother's loss. He'd recently spent hours up in the night weeping after a particularly bad nightmare. Now he would celebrate his eighth birthday at a lakefront resort in upstate New York, in the company of trained therapists and siblings of other missing children.
On the first night, some 60 strangers sang to Ari, then shared his birthday cake after a buffet dinner at Keuka College, 212 gloriously green acres in the Finger Lake region. Gary Hewitt presented the boy with a newly-minted coin set for his collection and hoped the familiar birthday ritual would help break the ice at this somber, awkward gathering of 14 families. But it would take more than cake and party balloons to chip away at their sorrow. Julie doubted whether some of these people had smiled or laughed once since their child had disappeared.
At the first working sessions, the adults were split off from the children, as everyone divided their time between group therapy and play. Parents talked to parents, kids to kids. Ari sat in a classroom with other children ranging in age from seven to seventeen, who were encouraged to tell their stories. Gradually, the youngsters opened up, but it wasn't until the evening, when the families came together again, that the parents had their own protective ice broken...by their children.
One after another, with safety in numbers, the youngest voices said what they'd been holding inside. Our brother or sister may be gone, but we're still here. We need to get out of the house, move forward, take a vacation, be normal. Every aspect of life had been put on hold, and these children were suffering for that too. Parents listened, the tears flowed, and acknowledgment was made.
Talking about such things had a profound effect, but it wasn't the only healing tool. In between the talking and listening was what Julie jokingly called the "forced" recreation. These were people who had lost the ability to relax and to feel unencumbered by their grief, or by the appearance they needed to maintain. At Keuka, they were cajoled into waterskiing, swimming and canoeing. There was t'ai chi in the morning for the sedentary adults and counselors who dressed up as clowns for the youngest.
It was a rare adventure for all the children and an even rarer break for the parents. For Julie, the entire Keuka retreat was an experience she would never forget. For the first time in five years, she was spending time with other parents - besides her husband Stan - who had shared the same horror she had, and they were free of media, law-enforcement and other "non" victims. She didn't have to worry what anyone thought of her when she cried over an irrational fear, or more importantly, laughed at a joke.
Both she and Ari also spent time with 18-year-old Steven Stayner and his family. Steven had left his Northern California home in 1972 a freckle-faced seven-year-old, and reappeared eight years later almost a full grown man. Once home, Stayner had struggled to adapt to a life that was free of the abuse he'd suffered in his captor's clutches, but was also bounded by new parental limits. Julie and Ari saw a polite, pleasant young man, and a functioning, reunited family, and were grateful for evidence that it could be done. Of course, Julie knew it wasn't that simple, but it offered hope.
Let's hope that in the future, Jaycee's family will be able to share such experience with other families too. This week's People Magazine story was just a peek to thank her well-wishers. But the whole family could use time away from the rest of the world in the company of others who've been through something similar, even though very few ever have. Being able to feel that shared experience will give them one of the most precious healing tools there is at such a challenging time -- a sense of normalcy.
FOLLOW HUFFPOST