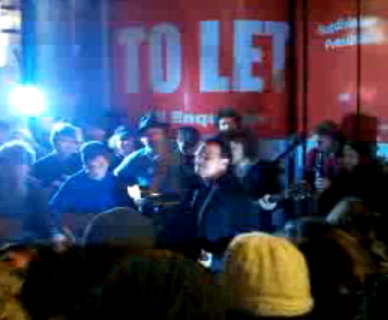 Grafton Street in Dublin is a cobblestone walk in the city center with some of the fanciest and funkiest stores in the capital, and lively street culture featuring everyone from opera singers and folkies performing for spare change. I had a great time strolling there just a few weeks ago when I was in Dublin for the Horslips reunion
On Christmas Eve Grafton Street shoppers got a rare thrill -- Bono joined songwriters Damien Rice, Mundy and Glen Hansard to busk for the Dublin Simon Community, which benefits the homeless.
U2 will will be benefiting their country in other ways. New legislation which recently passed makes a set tax mandatory for Irish citizens domiciled elsewhere with significant assets in Ireland. The bands members, like many wealthy, have been living outside Ireland as tax exiles.