THE BLOG
Bristol Speaks as Sarah Spins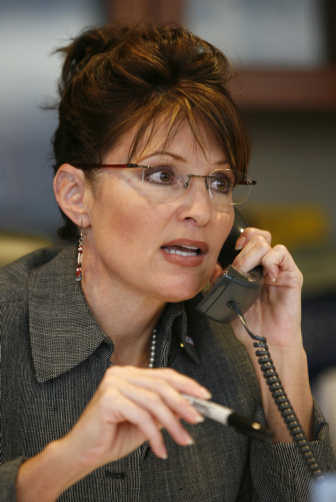 Gov. GILF spent the last day of the year emailing the Associated Press and theAnchorage Daily News and calling People magazine to counter the impression that Bristol Palin and Levi Johnston, Tripp's 18 year old father, are high school drop-outs. In October, Johnston told the AP he had "left" high school to work as an apprentice oil field electrician. Previously Palin had said Bristol had taken high school correspondence courses as well as attending high school.
As part of the statement issued by the Frost Lady of Alaska's office in an transparent attempt to make Mommy Dearest look good, Bristol Palin said that she "obviously" discourages teen pregnancy. But whoa, check out the pro-contraception message:
Teenagers need to prevent pregnancy to begin with -- this isn't ideal. But I'm fortunate to have a supportive family which is dealing with this together. Tripp is so perfectly precious; we love him with all our hearts. I can't imagine life without him now.
Read Sarah Palin's statement on Levi and Bristol's school status, and how she feels about Tripp here.
Lisa Derrick is LaFiga at Firedoglake.com