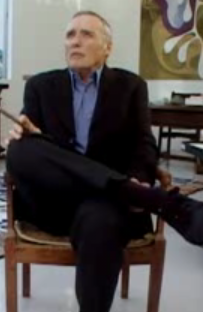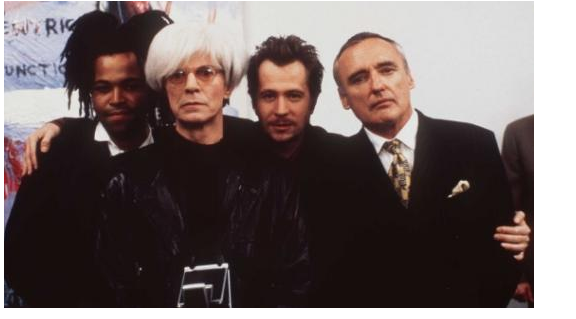 Friday, Dennis Hopper got his star on Hollywood Boulevard. The Hollywood Chamber of Commerce had tried for years to give him one, but he declined the honor until now, in what are obviously his last few weeks of life. Much has been very well written about Hopper the actor, the crazy man, the resurrection tale -- oh how we love a redemption and resurrection!
At the very foundation of Hopper's soul, the grain that forms him, the cell that sprung him forth, is the artistic craving to Create, the passion of the Demiurge, his own and others. And to that end, Hopper embraced art and artists in a self-immolating autophagy of constant creation and re-creation. The through line in his life is Art, life as art, art as life's blood.
Hopper collected works of art that contributed to his artistic life, that moved the nerve that runs from eye to spirit. As a young actor in Hollywood in the 1950s and 60s, while others were skiing or surfing, he bummed around in galleries, taking photographs of the artists and their patron. He bought Warhol's first soup can, Man Ray photos, and much more; some of his collection was created out of trade, like the Julian Schnabel's portrait of Hopper which was partial payment for the actor appearing in the first film Schnabel directed, Basquiat. (Hopper 's collection includes at least one Basquiat as well as works by Keith Haring and Kenny Scharf and dozens and dozens of others from Gehry to Graham). Hopper collected what moved him, inspired him, saying
I collect things I wish I'd made...I don't care what the artist's intention is. I don't care about his intention at all. I either get it or I don't. Generally I get it.
Hopper's democratic non-elitist view of art, collecting what he loved carried over into his interactions with others involved in art at all levels, embracing gallery rats and young artists. Pop Surrealist Anthony Ausgang, who before his career ascended, made ends meet moving and installing art for wealthy collectors, recalled for us Hopper from the mid-80s.
When I worked as an art installer/delivery boy I went to Dennis Hopper's place a few times. A week or two after "Blue Velvet" opened I saw him at an art opening and he was very loquacious and interested to hear about the other collections that we had attended to. He wasn't jealous, just really into art collecting. When I told him that we had been moving the Vincent Price collection, he was completely stoked. He was a good guy and didn't treat us art movers like shit, unlike some other collectors.
Hopper's first collection burned up in the Bel Air fire of 1961; undeterred he kept collecting. For him, collecting was about being a custodian for art that would live beyond one's lifetime, as evidenced by his curation of a show at the Harwood Museum in Taos, NM last year.
SUBSCRIBE AND FOLLOW
Get top stories and blog posts emailed to me each day. Newsletters may offer personalized content or advertisements.
Learn more