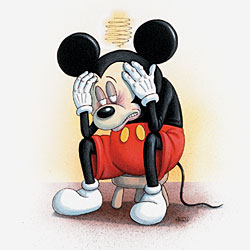 Bats' Day in the Fun Park (aka Goth Day at Disneyland) is going to be little different this year. No only is it in May rather than in August to take advantage of the (relatively) cooler weather, but there will be fewer staff, uh "cast members," obsessively scraping gum off the streets and arguing with us if we can get Dee Monn or Draculette stitched on our Mickey ear hats; and fewer characters in costume.
The recession has hit the Happiest Place on Earth, and Disneyland Anaheim is losing 300 cast members, Disney corporate offices 200, with the biggest loss at Disney World in Orlando where 1,400 people will be getting an e-ticket ride to the unemployment line. In January 600 executives were offered buyout packages--something cast members--won't be getting.
The park employs so many people of all ages and for many in Southern California, working at Disneyland was there a dream summer job, until they got stuck in a Chip or Dale costume in August and kicked in the shins by a cotton candy fueled kid. And seriously no gum is to be seen on the streets. It must be removed. Disneyland must stay perfect. That kind of pristine, sanitized environment is going to be hard to maintain with a scaled back staff, so it will be educational, and a little sad to see what that park is like this Bats Day with a reduced crew.
Lisa Derrick is La Figa at Firedoglake.com