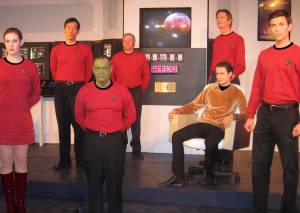 I am a sucker for Gilbert & Sullivan's HMS Pinafore with its diagramming of Victorian class/caste system and rollicking score. Plus the musical was featured in The Good Shepherd, with Matt Damon singing "Buttercup" in drag just before he's tapped for Skull and Bones. Very weird.
And then there's Star Trek, the original, the series that spawned a thousand costumed conferences and Klingon conjugations, and made nerds really sexy. Put them together -- adding a strong dose of self-aware humor and spot on repurposed lyrics (adapted by Jon Mullich) -- and you have USS Pinafore, the latest offering from Crown City Theatre Company in North Hollywood, which Nichelle Nichols, (Lt. Uhura from the original Trek cast) called "brilliant."
I don't want to spoil any jokes or gags because they are so lovely and lively and fresh. Suffice to say you don't need to be a fan of both or either genres -- just someone who like to laugh -- in order enjoy this silly, sexy romp with a polished cast who make up the right good crew, the passengers and guests as they boldly go on an extended run through July 11.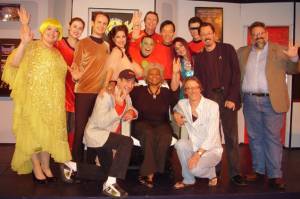 Crown City Theatre Co.
11031 Camarillo Street
just west of Lankershim/Vineland intersection
North Hollywood, CA 91602
818-605-5685
FOLLOW HUFFPOST