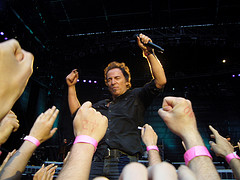 There're a number of reasons Springsteen's move to sell exclusively through the mega-retailer is, um really confusing, if not down right contradictory to the Springsteen hagiography: The small businesses forced to closed when Wal-Mart comes to town; Wal-Mart's low wages and high employee health care which place a significant percentage of "sales associates" and their children on public assistance; and Wal-Mart's labor history in the US and abroad-including child labor, violations of state labor laws and anti-union practices in the US, and use of sweatshops abroad all seem to be things that fly in the face of Springsteen's caring public image.
SUBSCRIBE AND FOLLOW
Get top stories and blog posts emailed to me each day. Newsletters may offer personalized content or advertisements.
Learn more