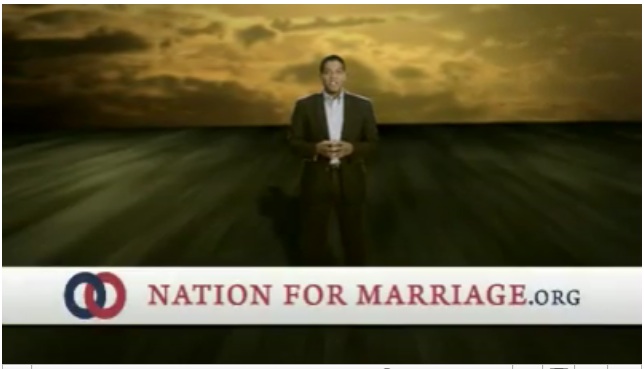 This video, brought to you by the homophobic National Organization for Marriage, shows a what appears to be a group of very (wrongly) concerned everyday people freaking out over same sex marriage. But it's a trick. And where's there's a trick there's usually a whore.
These people expressing their ludicrous, poisonous, misguided views about equal marriage rights are actors reading lines. And there's no scroll across the screen to inform the viewer the alleged doctors, church members and parents are paid shills.
You'll get to see lots of real actors telling the same "personal" story over and over and over. These people are pathetic. If there are so many "real" people hurt by our civil rights, then why do they have to hire actors at all? Because it's all a big lie, brought to you during Holy Week, of all things. Amazing.
I spoke to three working actors about taking parts in political commercials and asked if they would take a role in a political commercial if they did not believe in the cause. Here's what they had to say:
Michael Des Barres:
Absolutely not. Every word, every syllable every voice counts now more than ever. I've been a whore for the machine. Those days are gone...
If I am doing well, I would be able to pick and choose the gigs I take. If it was a political ad that I didn't agree with, I would say no. f I needed work badly...bad gig here I come. That's why we get called 'whores'. I don't like it but it is a reality.
When Rist saw the NOM ad he firmly stated:
No. Not that one. It's on a gig by gig basis.
I was offered the part of a "real person" (concerned mom), endorsing a candidate who I found personally repulsive. As a working actor, I don't have the luxury of turning commercials down. I made a decision early on that I would never cheapen myself THIS much. I'm not a snob. I've voiced garbage bags and crotch cream, but I won't say words that are the opposite of me.
SUBSCRIBE AND FOLLOW
Get top stories and blog posts emailed to me each day. Newsletters may offer personalized content or advertisements.
Learn more