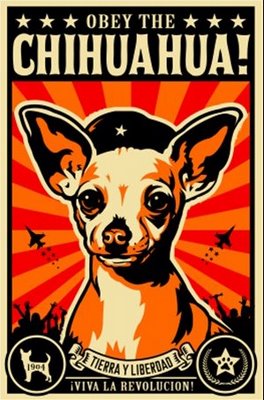 Put on your tin foil hat and heat up a bag of microwave popcorn. The cinematic geniuses who brought you An American Carol are convinced that a Vast Leftwing Conspiracy is behind the not-so-hot box office debut of their conservative yuk fest.
Other movies playing last weekend? Along with liberal sex symbols Pitt, Mortensen and Gere, new movies wrassled Carol for B.O. supremacy: The docucomedy Religulous and Beverly Hills Chihuahua, a capitalist family comedy with a far more sinister agenda -- La Raza for small yappy dogs!
If making movies people want to see isn't enough of a celebrity-studded plot to corrupt American small town values -- and based on Palin's family, I'd say those are drug addiction, drug dealing, underage drinking, unprotected sex, and pre-marital pregnancy -- there seems to be a more nefarious scheme afoot!
Mpower pictures and Vivendi are starting to hear complaints about unorthodox treatment of An American Carol by employees of theaters that are carrying the movie. So far, ten theaters have been implicated in irregularities regarding the handling of this movie in cineplexes and other theaters--particularly as regards ticket sales...document everything you can. Put those cell-phone cameras to use whenever possible...
If [the tickets] have the wrong movie title on them, please take a picture of them and send them to the investigative team at An American Carol: complaints -- AT -- AnAmericanCarol -- DOT -- com . Please place the original tickets in a safe place and fill out the info on the AAC complaint site. They may need your ticket as evidence, should this turn out to be part of a larger pattern.
Could this be happening? Armies of pinko theater managers and their teen minions meeting in butter scented back rooms to destroy the rightwing feel-good comedy of the year?
Well, according to an anonymous source who works at an 18-screen multiplex in conservative Southern California city, it'd be pretty darn hard to rig such a vast conspiracy at the box office:
All tickets are barcoded. If a newbie at the box office prints out the wrong ticket, we'll catch it when we direct customers to the screen. Then they'll be sent back for a reprinted ticket. Or if the customer notices and cares they can go back and get a reprinted ticket. If this happens or than once or twice in a shift, the manager is gonna find out and the box office staff is gonna catch sh*t.
"Catch sh*t" is code for being put on bathroom clean up duty. Or getting fired.
So today in the interest of investigative journalism, I will be going to a multiplex, seeing An American Carol, and interrogating, uh... chatting with the staff. And I'll scan my actual ticket stub just to prove it.
SUBSCRIBE TO & FOLLOW ENTERTAINMENT
HuffPost Entertainment is your one-stop shop for celebrity news, hilarious late-night bits, industry and awards coverage and more — sent right to your inbox six days a week. Learn more