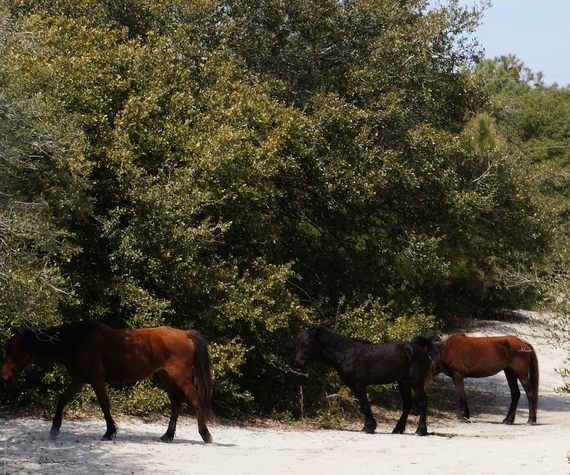 Wild Horses in the Outer Banks, NC
The Outer Banks is a wonderful vacation spot for people who enjoy unique and sometimes extreme, activities on land and in the water. These adventures include:
Hang Gliding
I tried hang gliding for the first time ever in the Outer Banks. It was a lot of fun, especially the lesson portion when I achieved "flight" under my own power. To read about my experience in detail, click here.
Dolphin Tours
Big surprise. I love dolphins. Someone who adores animals and the ocean as much as I do is pretty much guaranteed to love dolphins. There are a surprisingly large number of Atlantic bottlenose dolphins in the sounds surrounding the Outer Banks. Dolphin tours are a great opportunity to view the animals up close in their natural habitat.
Wild Horse Tours
One of my favorite books growing up was Misty of Chincoteague, a novel about a foal and the real-life roundup of wild horses on Assateague Island. Because of my childhood love of the book, one of my goals is to see Assateague Island's wild horses for myself. I've yet to get there, but imagine my delight when I learned that there are also wild horses in the Northern Outer Banks near Corolla. In addition to the thrill of seeing the wild horses, you get to drive on the beach in a 4x4 with the choice of driving your own vehicle or riding with a guide.
Kayaking
The Outer Banks is an excellent place to kayak because most of the near shore water along the Outer Banks is protected from the open ocean and there are many things you can only see from a boat. You have your choice of wildlife refuge, sunset, history and lighthouse tours.
Kiteboarding
Kiteboarding is an exciting sport that combines aspects of windsurfing and parasailing. The winds that make the Outer Banks so conducive to flight also make it an excellent spot to kiteboard. So good, in fact, that Kitty Hawk Kites even has a kiteboarding destination resort on Hatteras Island.
Parasailing
Parasailing is a thrilling way to get an incredible and unique "birds-eye" view of the area. Alone or with a friend, you can see the Outer Banks in all its beauty from a new perspective.
Stand Up Paddleboarding (SUP)
Stand up paddleboarding combines many of the qualities of surfing and kayaking. I'm an avid kayaker who has tried stand up paddleboarding. I found that even though I'm not particularly athletic and didn't take any lessons, it's easy if you are in calm water.
Sailing
Unless you're prone to seasickness, you can never go wrong with sailing. It can be alternately relaxing or invigorating depending on your desires. It's also a wonderful way to explore out of the way destinations.
Air Tours
Take flight in a Cessna or biplane in the place where the Wright brothers gave birth to modern flight in 1903.
Jet Skiing
Love the water, but don't want to exert too much energy? Then jet skiing may be for you. You can either rent one to explore on your own or take a guided tour.
Surfing
Okay. It's not a world-renowned surfing destination, but there are waves and if you've always wanted to learn to surf, don't wait. Take a lesson in the Outer Banks.
JetPak Adventure
What the hell's a jet pack? It looks like something out of a sci-fi or James Bond movie, but now real people like you and me can use one. So, what exactly is it? It's a backpack-like device that is propelled by jets of escaping gases (or in some cases water) that allows a single user to fly. Pretty cool, huh.
Segway Tours
Take an off-road Segway safari or an in-town Segway tour. It's more intimate than driving and easier on the legs and joints than walking.
With all these options, get out there and enjoy your Outer Banks, NC vacation.
SUBSCRIBE TO & FOLLOW LIFESTYLE
Get top stories and blog posts emailed to me each day. Newsletters may offer personalized content or advertisements. Learn more