For everything there is a season. In some parts of the world, Fall means bringing in the crops and returning to the abundance of the harvest. In urban cities across America, though, it's time to attend conferences, workshops and symposiums! Last month, I even participated in two different NYC events in one day, the WIE Symposium (Women: Inspiration & Enterprise) and the Women's Leadership Summit. Both conferences brought together dynamic women speakers that inspired the attendees to embrace their power and be forward-thinking leaders. While these goals were surely met, I heard another message as well: gender equality is stagnating.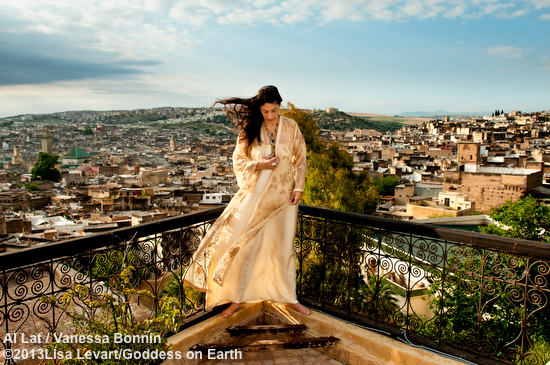 According to a recent study by the International Monetary Fund and the topic of an article in Al Jazeera America, "gender equality around the globe has stalled in recent years, with women still holding fewer salaried jobs than men and receiving lower wages for their work."
Why is gender parity so hard to achieve? The writer Tabby Biddle addressed this question in the United Nations Dispatch with her column "UN Leaders: Are You Thinking Enough About Gender Equality?" Tabby wrote: "As a global culture, so many of us have internalized the maleness of God, or Allah, or Buddha, that we have undervalued or dismissed our feminine nature... If we don't nurture the fullness of life within us -- the feminine and the masculine -- this will stunt our growth not only as individual human beings, but also collectively as a global civilization".
The belief that God is male has underscored human civilization for thousands of years, and we see evidence of that in the countless images of God the Father and in language that describes God as "He" and humankind as "Man." I believe that as long as our society focuses primarily on male images of the divine, humanity's imbalance will continue unresolved. This is why I am driven to create photographs of contemporary women portraying the Divine Feminine: to restore to public consciousness images of women in their power, diversity and undeniable embodiment of what is sacred.
While traveling in Morocco this past summer, I met Vanessa Bonnin, a journalist and photographer living in the ancient city of Fez. Although born in Australia, Vanessa has worked in Morocco for many years. For Goddess on Earth, she chose to embody the pre-Islamic earth Goddess Al-Lat. Known as "the Mother of the Gods," Al-Lat represents the earth and its bountiful fruits. One of the three chief Goddesses of Mecca, her shrine and temple in the city of Taif was destroyed on the orders of Mohammad in 630 AD.
On choosing to portray Al-Lat, Vanessa wrote:
Living in Fes, the religious heart of Morocco, I see the daily evidence of female subjugation by men and Al-Lat is essentially the first female who was subjugated by Islam. I connect with her spirit on a number of levels, the primary one as an Earth Mother who represents fertility. I feel that being in tune with the earth -- which gives birth to all that sustains us -- is vital to life, well-being and our collective future.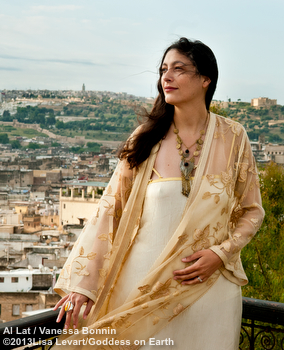 style="float: right; margin:10px">
If we can all look at the Divine through both a feminine and masculine lens, contemporary women will be one step closer to reclaiming an internal sense of personal power, for indeed to everything there is a season: a time to plant, and a time to uproot what has been planted. In restoring the female vision to our modern conception of the sacred, I hope we can uproot from our collective consciousness the idea that access to the Divine only comes through masculine channels -- and in doing so, we may plant the seeds of political, social, and spiritual equality for future generations.
The book 'Goddess on Earth' is available at: www.goddessonearth.com. Please join the Goddess on Earth community on Facebook.