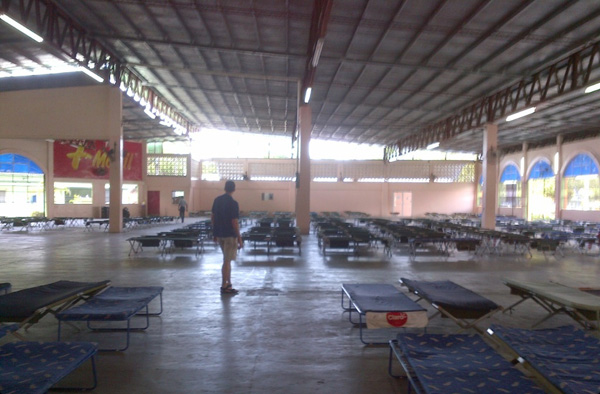 Sleeping arrangements for patients and families for the week in Panama
We are tired. A long, bumpy flight yesterday and a short but early morning flight today. We are on the first day of our first mission with Operation Smile in David, Panama and the day has gone much as I had envisioned it would be. We have met many kind and generous people both from Panama and the U.S. here donating their time to help others in need. Whole families have come from around the country via bus, some traveling 7 or 8 hours to be screened for a possible life changing surgery for their child. Approximately 220 Panamanian children will receive life changing cleft palate, lip or facial surgery this week.
And then it happens. We are speaking with a small group of supporters and organizers of the mission when a woman, her 2 month old daughter, her cousin and another family member come to meet Dr. Bill Magee, founder of Operation Smile and pediatric plastic surgeon. They ask him to look at her child. Before he even begins, he asks Gene Altieri, who runs Operation Smile's Panama efforts to translate for him. The mother speaks no English, so Gene graciously interprets for her with the help of her cousin. The first thing Dr. Magee tells her is how important it is that she is strong for her child and that she will need to push and push and keep pushing for her well being. He stops and asks her cousin to tell her that.
She does not know it yet but this singular piece of advice will make all the difference in her and her child's life. I am inadvertently sitting next to her because my husband has given her his seat. Next to me is my childhood friend Kathy who has taken this journey with my husband and our oldest son Zachary. I am not looking at Kathy but I can feel her heart beating next to me as we try not to cry and absorb what Dr. Magee is telling her so sensitively. It is complicated, we can't help you at this moment but we are going to try and get you the help you need. It is intimate and gentle, and yet, and I can feel the weight of the freight train coming at her. I know all too well the words of a doctor telling me,'it is complicated, we can't help you right now, you will need to be their advocate.'
She does not live in the United States, have access to Western medicine. Her case is very complicated -- she is hearing this for the first time in 90 degree heat with a ring of strangers hearing it as well. She is brave and beautiful and through it all she listens and asks her first question. 'What is the priority?' She has just been dealt the unluckiest of blows but she is already focused, already making her list.
Later I see her cry, later I see her getting names and information from specialists. Kathy, my husband and I all feel the weight of the moment. Her whole life and the lives of people who love her has just changed. I look back at her and Dr. Magee's human angels are comforting her, they are writing down information and getting to work. These volunteers, who have dedicated their lives to making people smile are experts in comfort, they are no longer strangers to her but intimates who she will never forget gave her hope instead of doom, kindness instead of pity and a lifeline instead of the door.
I suspected something like this would happen. That I would become involved emotionally with the people here. I didn't know I would share it with my friend and husband at the same moment, at the same time. In a week of catastrophe, the human spirit lives.
It's just the first day. Let's see what tomorrow will bring.
FOLLOW HUFFPOST