The "Handless Maiden" of the Grimm's fairy tale... can be seen as representing a feminine being -in-the-world that is psychically so bedeviled by the patriarchal attitude that the emblematic hands of self-expression are rendered passive. Or, alternately, the story points to a need for inner reflection, rather than active handling in the world.
-- The Book of Symbols, p. 280.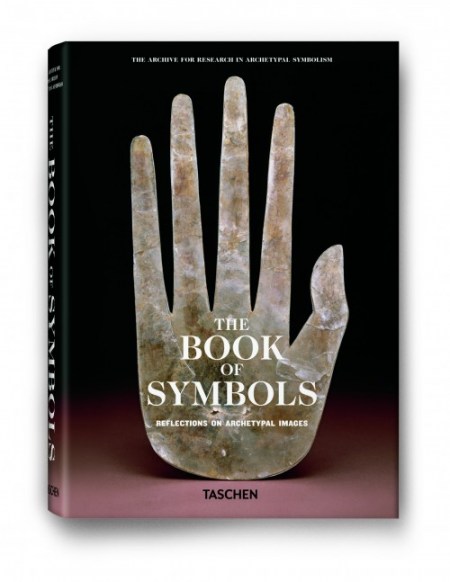 The hand-shaped cutout of the American Woodland Indians (Middle Woodland period, 200 B.C.E.-400 C.E.) on the cover of The Book of Symbols: Reflections on Archetypal Images
After it arrived in the mail, the package stood in the corner for a few days, like a sage that had come to visit and was patiently re-organizing the energy in the room. I was overwhelmed by the symbol of fate on its cover. How was this book fated to change my life? Was I ready to absorb the teaching? Would I ever be ready?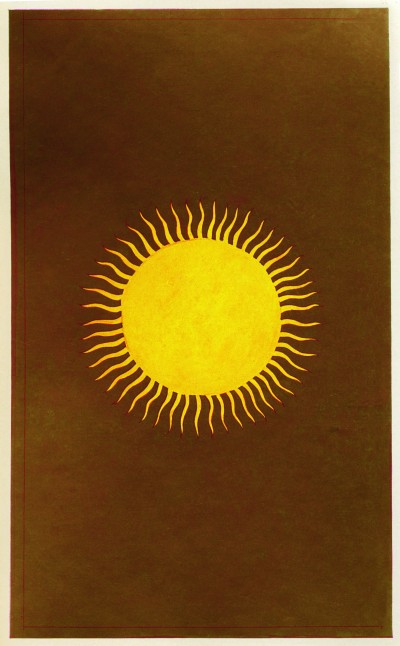 Sun, Tempera painting with gold, ca. 18th century, India
Fate made conscious is destiny. I cleared a large space in my head and brought the book into bed with me. Placing it on my chest, I felt my heart stop. I'm not simply referring to the poundage. Yes, the 807 page book is a doorstop. But it is also a stairway to heaven. The amazing gift is not its weight or its cover, but what lies between: a tangible (r)evolution in consciousness.
Each chapter -- grouping one or more images with an original essay -- is self-contained, yet seamlessly interwoven into the whole. The chapters themselves are grouped into five volumes -- "Creation and Cosmos," "Animal World," "Plant World," "Human World" and "Spirit World" -- with sub-genres ranging from the sacred (angels) to the mundane (subway). Composed by writers in the comparative fields of psychology, art, religion, literature and comparative myth, the 350 essays reflecting on 800 images are luminous in their interweaving of fact, poetry, and myth. Who could have envisioned such an intricate manifestation of such a daunting topic?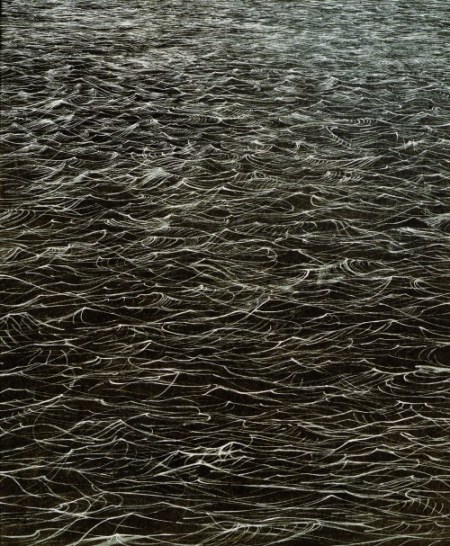 Karen Arm, Untitled (Ocean no. 1), detail, painting on paper, 1994, United States
Coiled Mountain, a copy of a sandpainting of the Navajo Shooting Chant, one of the most important healing ceremonies, by Franc J. Newcomb, U.S.
In her preface, editor-in-chief Ami Ronnberg writes that Jung advised not to do a book of symbols, because each would require a separate book. Yet, now that her 14 year undertaking is firmly between two solid covers, the binary approach to image interpretation in making a book of symbols is now self-evident: "The image both limits and opens up: it is this particular image, it grounds this symbol in this experience, and yet, with the right image, the archetypal reality is evoked."
Symbols and images are intertwined in the language of the collective unconscious. If we are so cut off from this reality in our corporate-dominated celebrity-obsessed culture, it is because we have become commercial cattle prodded by branding. And what are brands but symbols devoid of image?
"What fascinated these women about symbols?" Ronnberg marveled recent presentation where she uncovered the fascinating history behind ARAS, the organization that she directs. "We are surrounded by images everywhere but these days something is missing: the meaning we get from archetypal images, the change that happens through our experience with them."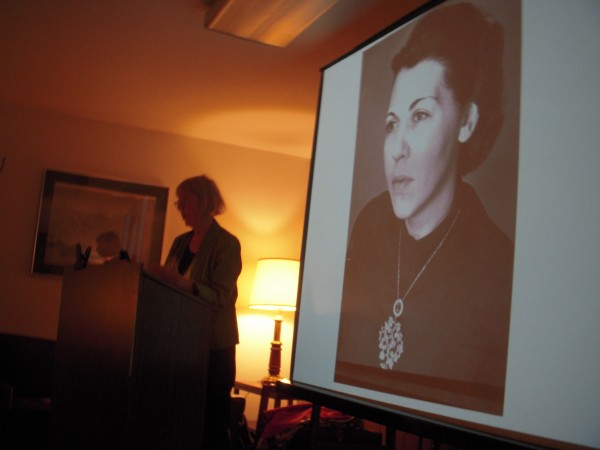 Spiritualist Olga Froebe-Kapteyn collected images to illustrate the papers at the annual meetings at her Eranos (which means "shared feast") Society. Established in Switzerland in 1933, the organization was dedicated to bringing scholars from the East and West together to explore a universal dialogue reaching across cultural and academic discplines.
When people got stuck in analysis they would come to Olga and something would happen. "Olga was the moving force of images. Did they move her?" says Ronnberg, explaining that movement in the image decides whether it is archetypal. "Something moves within us and we change through images."
The archive originating with Olga storing images in a shoe box under her bed now contains 17,000 images spanning 50,000 years of human history available through its website, wwwaras.org.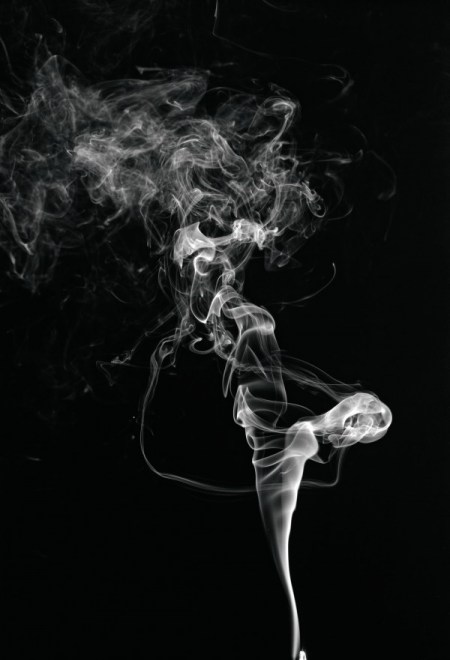 Karen Arm, "Smoke Rises From a Burning Stick of Incense" 1999, U.S.
Symbols have been repressed in painting ever since the critic Clement Greenberg outlawed them as impurities impeding the essential flatness of "art as art".
This is because symbols are never flat; they are multi-dimensional, the universal language of the collective unconscious.
Immersed in Jungian therapy at the time he met his partner Lee Krasner, the painter Jackson Pollock was coming up with imagery of symbols pertaining to the sacred marriage. Yet, his painterly excavation of a symbolic language for a 21st century archetype, the hieros gamos, was forbidden by the critic who was to catalyze the polarization in the art dialectic of the latter half of the 21st century: abstraction vs figurative, objective vs. non-objective.
Since then, symbols -- which have historically been the foundation of art going back to bloodied hands on the walls of caves -- have been repressed. I once asked an art museum curator why, and she replied: "Because symbols have such power!" True enough. Surrealism, a movement devoted to mining the unconscious for symbols, was encapsulated by suicide. Yet, The Book of Symbols provides a intuitive, feminine approach...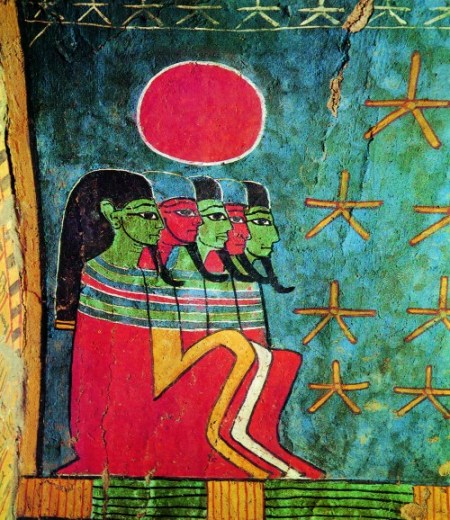 Five-pointed stars as emblem of gods and immortal souls. Painting from the tomb of Irynufer, 1305-1200 B.C.E., Theban Necropolis, Egypt
...accessing the unconscious from the aperspectival (Gebser's ever-present origin) because it draws the power of words from the power of the image. Our connection to symbols is from the back of the brain, thereby uniting the opposites into an interconnected whole. Thus, we hold a new paradigm in our lap as we absorb its contents, an unimaginable process of selections from the ARAS storehouse of images spanning 50,000 years of human history - making the book an essential work of art of the 21st century.
"People asked me why are you doing a book of symbols when there are so many?" Ronnberg told the packed audience at the Rubin Museum of Art book launch in Manhattan in December. "But there has never been one with images before."
As if to prove her point, RMA events producer TIm McHenry collaborated with ARAS to pioneer a most innovative program exploring the symbolic meaning of cross-cultural images: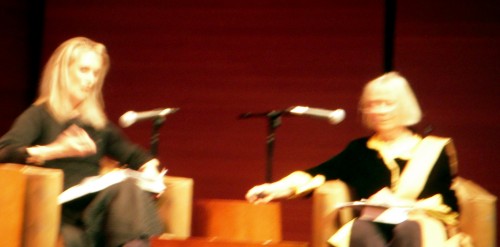 Multimedia artist Leslie Dill discussed the symbol of "weaving" with Ronnberg.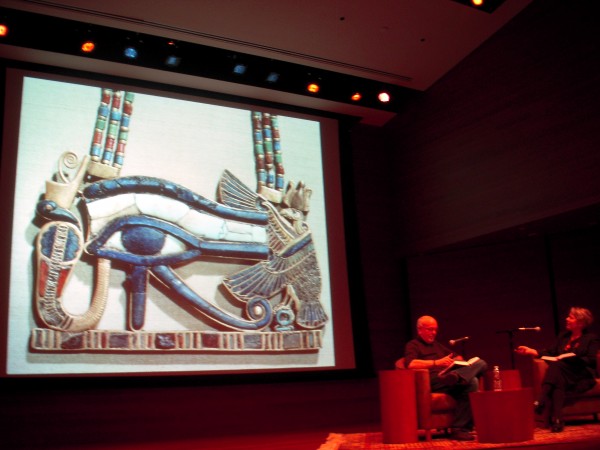 Puppeter Dan Hurlin discussed "the eye" with Priscilla Rodgers.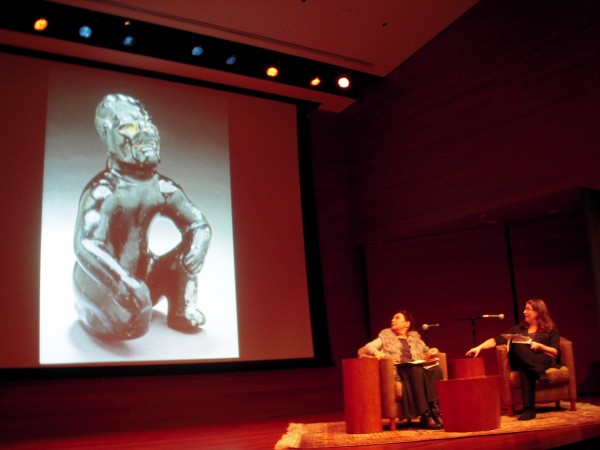 Painter Pat Steir discussed her suspicion of the "trickster," calling the archetype a con, with Jungian analyst Sherry Salman.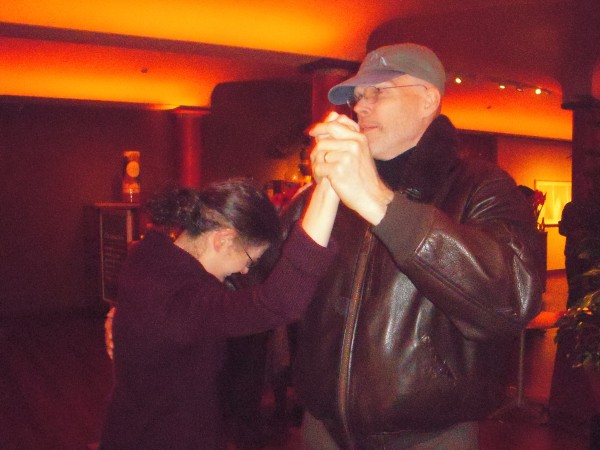 The launch of The Book of Symbols inside an art museum took the form of a celebratory ritual honoring the East-West marriage of Eranos while replacing the symbol back into the center of art.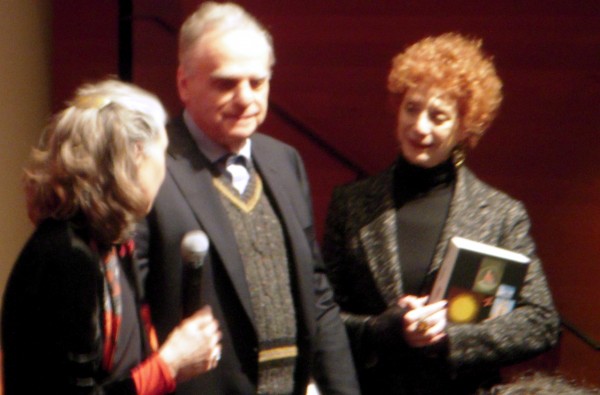 Museum founder Donald Rubin reminisced about meeting Joseph Campbell(who drew on ARAS for his Masks of God) after he and his wife, Shelley, were presented with a book.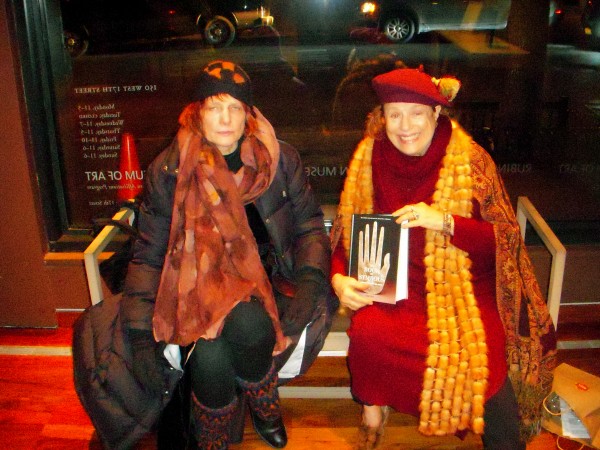 An apt association: this book has the Heroine's Journey for the 21st century woven into its fabric!
McHenry states the personal/collective mission as a drawing from the past to find the future, using imagery as a way to something else. He points out that the symbol is a natural topic for a museum with a Buddhist foundation. "We think of ourselves as a museum of ideas," he told me at the reception. "We live by the symbol. All these paintings are tools."
McHenry has been doing some of the most original and inspired programs on the arts and consciousness in New York City. During the museum's exhibition of Jung's Red Book, he hosted an unprecedented event pairing Jungian analysis with the dreams of such notable figures as David Byrne. The Mandala Concert collaboration between composer/conductor Joel Thome and artist Harry Doolittle delivered an aperspectival structure to musical composition, launching a new paradigm of holistic sound married with visual art by harmonic structure.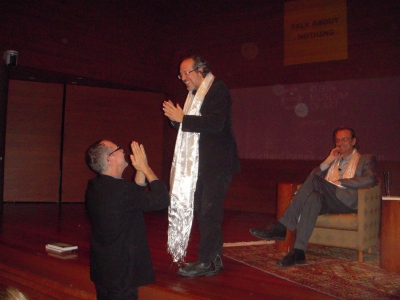 McHenry presents a gift to science writer James Panek after his discussion about the 97 percent unknown universe with physicist Lee Smolin for RMA's TALK ABOUT NOTHING series.
This is McHenry's brand of magic to follow up a program on symbols with another this spring about dreaming. By giving a human contemporary form to a pictorial language arising at the dawn of civilization, The Book of Symbols is quite literally a dream come to life.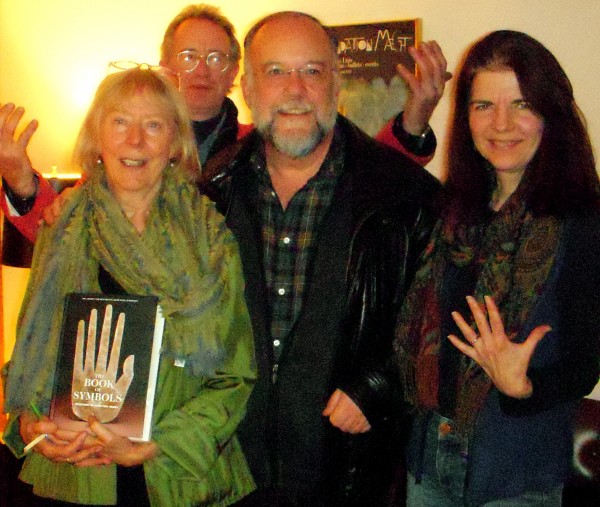 Ami Ronnberg (left at Temenos Institute in Westport, CT with her husband Bert Kupferman) will speak on with the Cretan painter Margaret Tsirantonakis (here with her husband, the collector Hugh Bareiss) about the symbols in her art on February 25 at 7 pm at the Loft Artists' Gallery, 845 Canal Street in Stamford, Connecticut.
This Blogger's Books and Other Items from...
SUBSCRIBE AND FOLLOW
Get top stories and blog posts emailed to me each day. Newsletters may offer personalized content or advertisements.
Learn more