Last night I was slated to attend a Surrealist-themed "Art Chic" party to celebrate the launch of my dear friend Lesley M.M. Blume's book Let's Bring Back. The dress code called for emulating Schiaparelli's famous "hat shaped like a shoe" or Dali's "hand-painted lobster dress." What to wear? I was at a loss and stalled until the last moment for inspiration to strike. At the final hour in the Lulu Frost studio, it luckily did.
I began to gather all of my most amazing vintage Art Deco pins that I have collected in whimsical shapes, including peacocks, parrots and other birds, frogs, turtles and a dolphin, and many the bug and spider bejeweled brooch. I grabbed two fabric-like sheets of a brass mesh that we use to create bracelets, necklaces and earrings and began playing with it to see what I could create on the fly. It's fluid quality led me to realize I could make a tunic-style top out of two sheets of the mesh if they were affixed together with shoulder straps made of chain. Once the cut of the top was finalized, my whole team and I gathered round our wonderful Production Director and model of the moment Amy and we got to pinning! We used over 30 of the vintage brooches, including deco and nouveau floral enameled pieces and a veritable zoo of creatures.
I arrived at Lesley's house prior to the party wearing the top like an excited child hoping to impress her momma. When the lady of the house approved, I knew we had a hit! While the dress only stayed on for a few hours due to the workout it gave me, it was a great forray into surrealism, and perhaps a potential future "jewelry-apparel" endeavor was born. Now I just need to lighten the load a bit!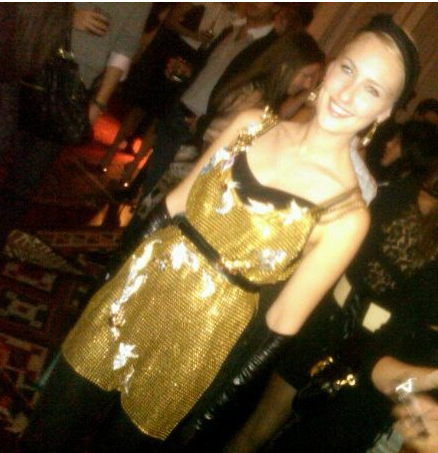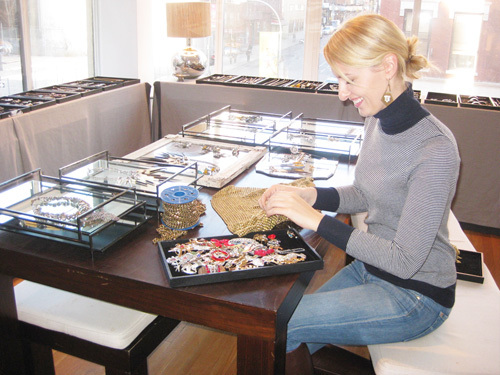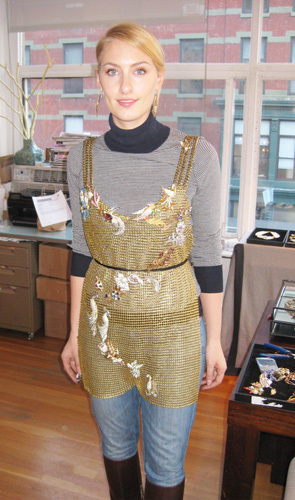 SUBSCRIBE TO & FOLLOW LIFESTYLE
HuffPost Lifestyle is a daily newsletter that will make you happier and healthier — one email at a time. Learn more