Last weekend, I took a few days off from the real world and went on vacation. And like any good web-addicted millenial, photos of my getaway quickly made their way to the Internet.
First, I tweeted and instagrammed this obligatory feet and pool pic:
The next thing I knew, friends were texting me with envious vacation wishes and curious questions about where in the world I was.
"How'd you have the time to jet-set off to somewhere for the weekend?" a friend asked.
The easy answer: I didn't. This vacation involved no jets, no airport lines, no baggage claim and no hotel shuttles. Instead, paradise was just a four and a half hour car ride (filled with snacks, tunes and some maybe a few sing-alongs) away.
The trip was an easy escape from urban everyday life, but had none of the stress that comes with getting on an airplane.
So, where was I?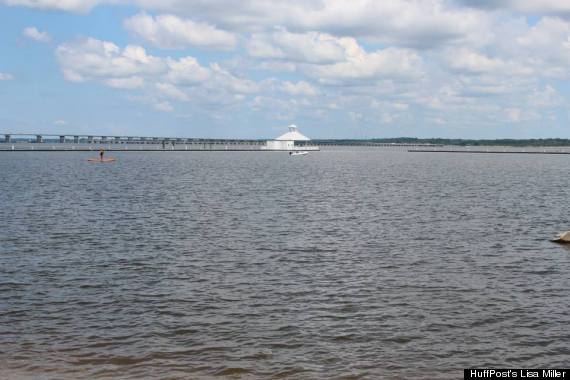 This is not a riddle. I was in Cambridge, Maryland, on the Chesapeake Bay side of the Delmarva peninsula -- a region often referred to as the Eastern Shore, a popular getaway spot for Marylanders, Delawareans and other East Coast denizens.



During our four-day stay at the Hyatt Regency Chesapeake Bay Resort, it certainly didn't feel like we were in Maryland.
Between the steel-drum players jamming poolside, the abundance of activity (jet skiing! sand volleyball! tennis! infinity pool! waterslide!) and the beachy, well-appointed facilities, it was an easy slip from a fast-paced quotidian mindset to a carefree vacation one.
And the best part was, that rejuvenated vacation attitude made an easy shift back to the real world. There was no stressful airport experience on the way home -- just a little bit of traffic on the Jersey Turnpike, easily remedied by a bag of Old Bay chips and an iPod car dock.
With airfares and fees higher than ever, the road trip has gained increasing popularity over the past few years, particularly for a family vacation or a one-day getaway.
Interested in a quick escape? Click through the slideshow below for some airplane-free getaways near your hometown.
You've got a lot of options. You could head out to the end of Long Island and catch some waves in the Hamptons or Montauk. You could drive down to one of the many shoreside retreats along the Jersey Shore. Or you can make your way upstate toward the Adirondack, Catskill or Berkshire mountains. For easy beach access and a variety of activity for both kids and adults, the Ocean Place Resort and Spa in Long Branch, NJ, makes a great shore-escape.

Or, a serene mountain retreat is more your scene, the Cranwell Resort in Lenox, MA, is luxurious yet understated and puts guests in close proximity to outdoor activity -- include the beautiful Berkshire Mountains and lakes -- and nearby cultural experiences like Tanglewood and museums.

An hour and a half from Boston, the Hyatt Regency on Goat Island offers a refreshing getaway with plenty to do on-site, breathtaking scenes of the Narragansett bay and lots to see in the historic town of Newport, RI.

Bostonians also luck out when it comes to location -- they've got all of bucolic New England at their doorstep, including Coastal Maine. For a luxe getaway that will erase the stress from your body and mind, the Grand Harbor Inn in Camden, Maine is a perfect seaside retreat.

Chances are, if you live near Los Angeles you already live in what the rest of the country considers paradise -- sunny and beautiful almost year-round... what's not to like? But we understand that you still need an escape. Luckily, escapes abound all along coast of Southern California. The whole family will transport to temporary bliss at the Montage Laguna Beach, just over 50 miles from Los Angeles.

For something a bit more removed from Los Angeles, try heading north to Ojai. The Ojai Valley Inn and Spa knows how to do romance, relaxation and rejuvenation and will transport you to an otherworldly state of mind.

You've already heard about the Hyatt Regency Chesapeake, on the west coast (Bay side) of the Delmarva Peninsula. On the east coast of the peninsula are a number of beach towns that welcome swarms of beachgoers and vacationers, including Rehoboth Beach, Delaware. For a quiet escape with access to all that bustling beach towns have to offer, check out The Bellmoor Inn & Spa.

An easy hour-and-a-half drive from the Windy City sits Lake Geneva, Wisc., a serene and historic town. Luxury and lakeside relaxation meet at the Grand Geneva Resort and Spa. The Grand Geneva is a great place to retreat to year-round, with winter ski packages during cold months, and outdoor activity and golf during warmer months.
Follow Lisa_Miller on Twitter: www.twitter.com/lisapaigemiller