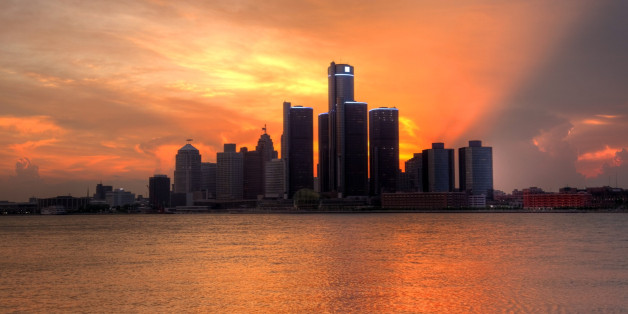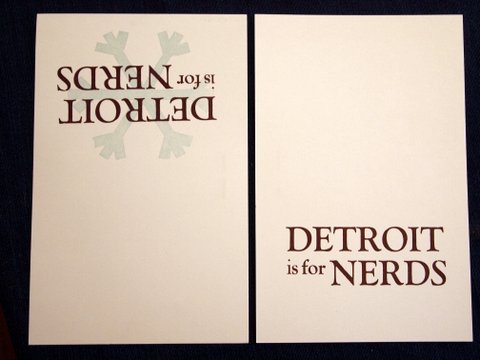 Made by Nathan Hughes at Signal Return.
Really, it is. Detroit's got groups for all types of nerds, including computer, history, science, art, law, math, engineering, and the list goes on ad infinitum. One thing that I think that Detroit's nerds can really benefit from is an informal, informative, and interdisciplinary space where nerds of all types can congregate and learn. Why? Because learning is per se awesome, making new friends is fun, and we should have even more vehicles for people to share their knowledge and passions.
Enter Nerd Nite, which is basically "The Discovery Channel with Beer!" Nerd Nite started about a decade ago in Boston, and the basic idea is to find a few local nerds to give 20-minute talks about their nerdy activity or research while the audience learns and drinks along. Other shenanigans often ensue. Nerd Nite is in over 50 cities across the world, and both Ann Arbor and Detroit are now a part of Nerd Nite's quest for global domination. That's no joke -- the inaugural Global Fest is in August.
Nerd Nite debuted in the 313 last month, and we had presenters talk about circus and aerial yoga, Detroit during prohibition, and arachnids. In Ann Arbor, we've had talks about nanoparticles, H. H. Holmes, and whiskey, to name a few. I'm still floored by how fantastic of a device Nerd Nite is to learn a little about practically anything. At 313's debut, over 130 nerds came out to listen to these talks and had a blast. I've had the chance to make friends in totally different disciplines than mine (for example, I'm a law student and my Detroit co-bosses are programmers at Detroit Labs.)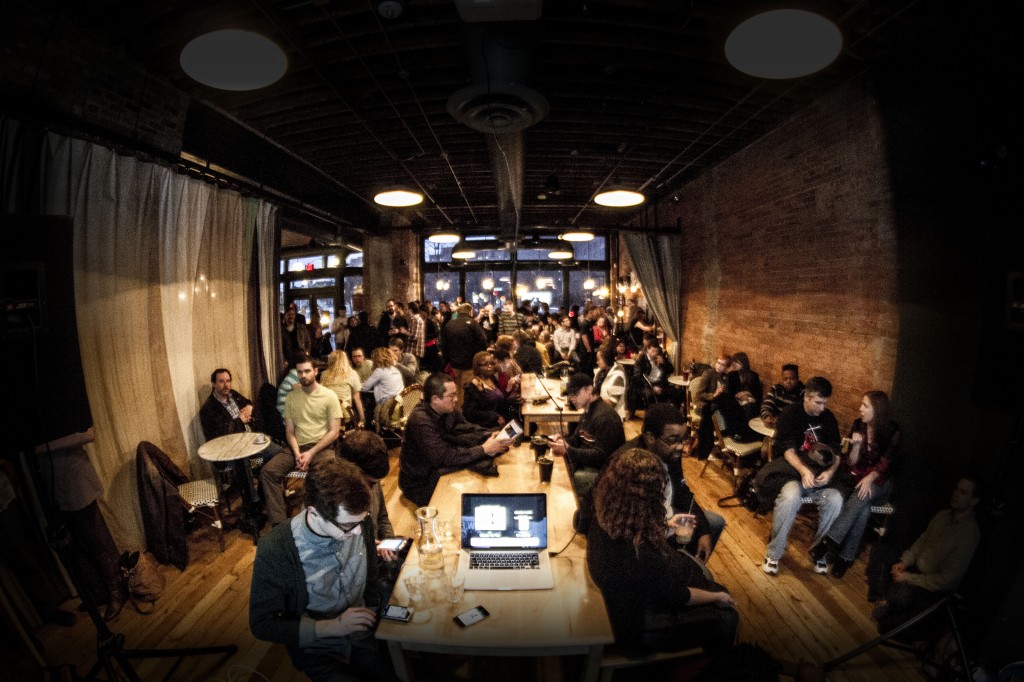 Photo by Jeff Wegner.
As activists, innovators, and hard-workers move and shake to rebuild Detroit, I often think about the kind of culture and vibe I want Detroit and the region to have. Personally, I want a place where it's easy for people from different disciplines and walks of life to befriend, learn from, and collaborate with each other. I hope that Nerd Nite can make a contribution, however small, to that dynamic.
Who knows? Maybe Nerd Nite will inspire an attendee to pick up a new hobby and ultimately become an aficionado, or maybe some audience members will strike up a conversation and decide to work together on an epic project. Even if those things don't happen, at least event-goers will support a local venue and pick up some new factoids along the way.
So come talk nerdy with us. We'll be leveling up at Tangent Gallery at 7:00 p.m. on Thursday, April 25th. We'll have a talk about Dr. Seuss and social media, a talk about human birth, and you'll just have to show up to find out the third. I recommend that you get your ticket in advance because we might sell out, but we do accommodate both planners and procrastinators. Be there and be square.
SUBSCRIBE TO & FOLLOW THE MORNING EMAIL
Start your workday the right way with the news that matters most. Learn more