This past Saturday I dragged myself off the beach in Montauk, to throw on a suitably Hamptons outfit and attend the annual Parrish Art Museum Midsummer Party. This year's party honored the Founding Partners of the museum, individuals and foundations largely responsible for funding the highly anticipated new Herzog & de Meruon-designed home for its significant permanent collection of local artists. This being the Hamptons, local means William Merritt Chase, Willem de Kooning and Fairfield Porter, among others. I personally will be very excited to see this work for the first time and in the new building, which is designed around capturing the specific light for which the east end is known.
The first person I saw upon entering was Bill Cunningham, the beloved New York Times on-the-street and event photographer. Perhaps a little jacked up from the Coke and Peanut M&M's I used to combat sun fatigue, I ran up to him and proclaimed my love for him. He smiled and blushed as he beautifully finessed a duck-and-turn to get away from me. After taking about a hundred pics of him and then him and Patrick McMullen together, I turned my attention to the vibrant Dorothea Rockburne retrospective, "In My Mind's Eye". Rockburne attended Black Mountain College alongside Robert Rauschenberg, Cy Twombly, and John Chamberlain and with Twombly on my mind, I once again mused about what stars were in alignment over there to produce not only such seminal, but also diverse art practices.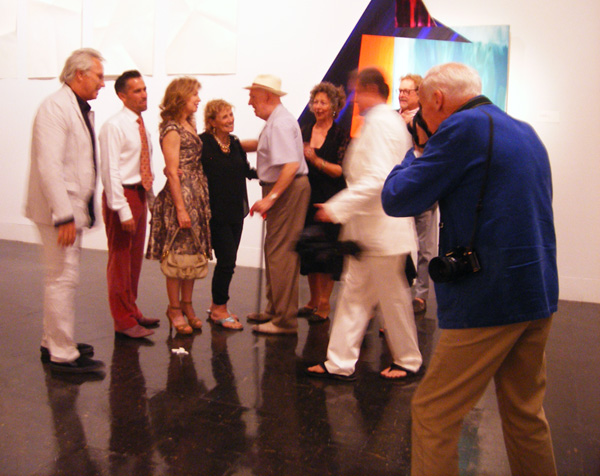 Bill Cunningham and Patrick McMullan shooting Eric Fischl, April Gornik and friends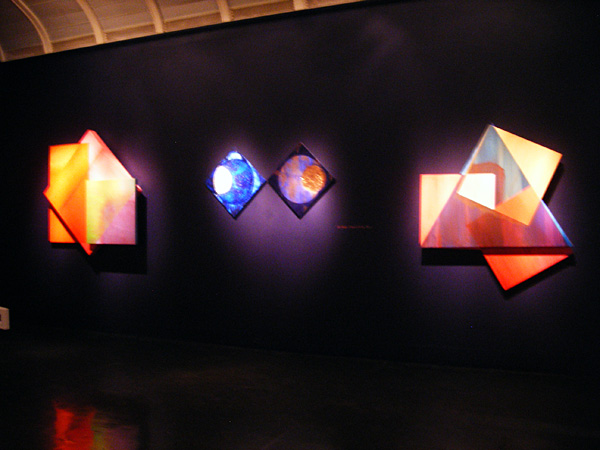 Rockburne paintings
Leaving the museum for the party tents, I ran into artist and Hamptons resident Steve Miller and his date, the beautiful Toni Ross, who promptly introduced me to Sherry Dobbin, the director of the Watermill Center, who is busy planning her own annual summer party. The massive cocktails tent was centered around a lush garden and filled with a tony east end set.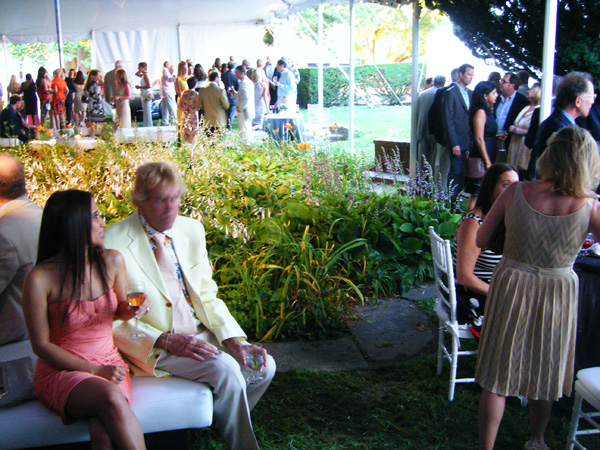 Cocktails
Off to the dinner tent, I had the pleasure of being seated with Herzog & de Meuron senior architect, Nils Sanderson as well as local artists, Michael Combs, Matthew Satz and Frank Wemberly, whom I promptly charged with pointing out who's who for me at the party. Because honestly, other than oft-photograhed Eric Fischl, April Gornik, Ross Bleckner, and Donald Sultan, I confess, it's hard to recognize art world people. Thus, I can tell you that we were surrounded by Malcom Morely, Alice Aycock, Bryan Hunt, Michelle Stuart (a note here: Stuart was one of the original Earthworks artists in the 60's alongside Smithson and de Maria. How strange that I'd never heard of the female member of the group, she said, dripping with sarcasm), Will Cotton, Ilya Kabakov, Mel Kendrick, Joe Zucker and Rachel Lehmann of Lehmann Maupin, Nicole Miller and Morgan Le Fay founder, Liliana Casabal, among many others.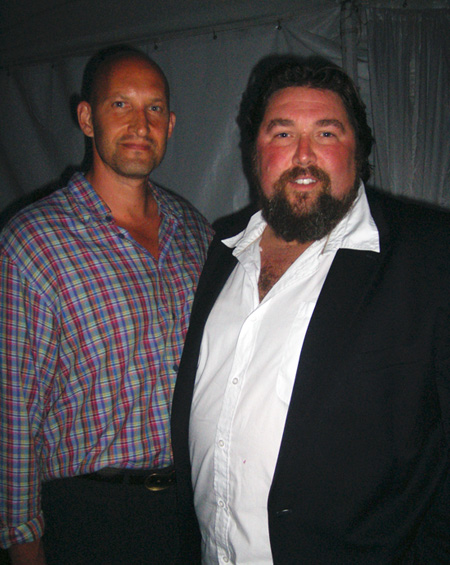 Local artists Matthew Satz and Michael Combs

It was fairly magical to sit under the white tent that encompassed a huge old tree, with vases of branches hung with electric tea candles flickering against the be-jeweled guests. After Parrish director Terrie Sultan briefly thanked the Founding Partners, Trustees and Benefit Committee members, guests were swift to down their appetizers and hit the dance floor even before dinner could be served.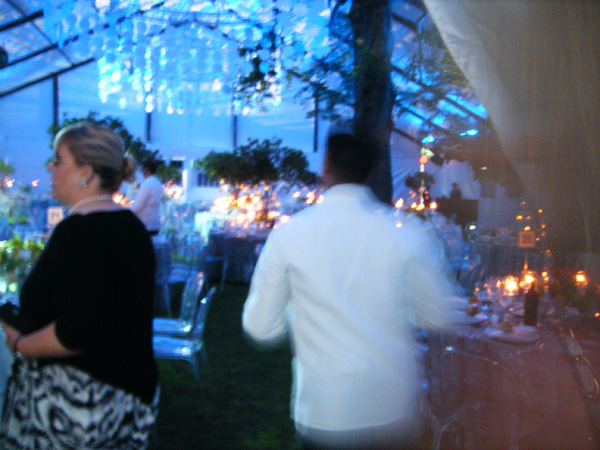 Dinner under the big top
Post the best blueberry pie I've ever had, guests filtered back into the cocktails tent for the after party where I had the pleasure of meeting Shail Upadhya, a retired U.N. official from Nepal, whom you may recall as the stand out fashion guru from the Bill Cunningham documentary. Also making the scene was surfer, curator and up-and-coming gallerist, Tripoli Patterson, of Tripoli gallery, located across the street from the Parrish.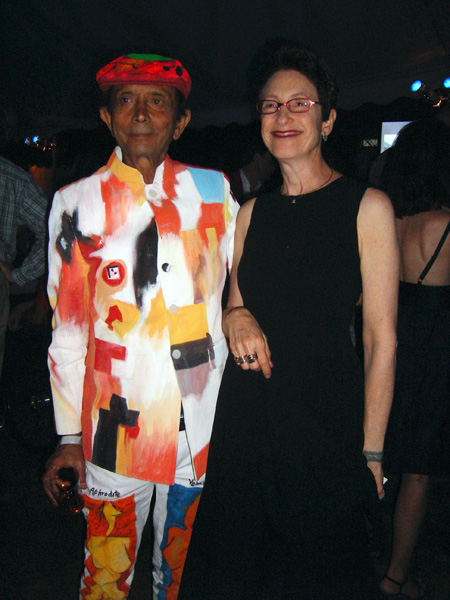 Stylist Shail Upadhya and Parrish Director Terrie Sultan

For me, the salient feature of the evening was seeing how the local artists are embraced by the museum. They truly are significant members of the Parrish community, helping to support and shape the institution as it grows into a world-class museum. As Ms. Sultan puts it, "One of the guiding principles of the Parrish is the celebration of the East End's enduring legacy as a vibrant art colony, telling the story of our area, our 'sense of place,' and its impact on the world of art. Artists who live and work in our region are the cornerstone of this legacy."
And so, after a dazzling night of famous artists, Page Six regulars and big white tents, and with swag bag in hand, I made my way back to Montauk for another day of dozing on the beach under the hot sun while watching throngs of surfers compete for waves at Ditch Plains.