Had you noticed that the iconic main branch of the New York Public Library at 42nd Street has been wrapped Christo-esque for what seems to be forever? This month, the scaffolding came down as part of an ambitious $1 billion transformation plan, highlighted by a $100 million dollar gift by Stephen Schwarzman, CEO and co-founder of the Blackstone Group.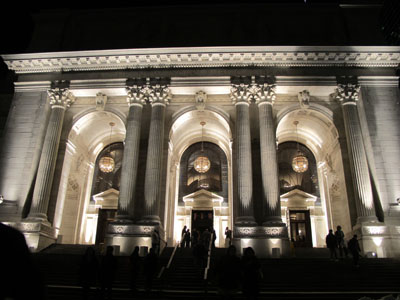 In spite of all this generosity, the Great Recession of '08 put a damper on another source of revenue for the NYPL - events and parties. This month the library's Special Events Team decided to throw a 'Restoration Celebration' when the scaffolding was removed and welcome the world back into the building. Perfect timing as entertaining appears to be rebounding. And when better than the dead of winter to invite event and meeting planners, bridal consultants and caterers to a party.
One catch - instead of hiring a company to provide the meal, all the catering companies on the library's vendor list were invited to participate pro bono by having a table in Astor Hall and showcasing their cuisine. All 11 companies accepted. What a unique situation. A room filled with both buyers and competitors. What pressure to not only present distinctive flavors but to do so in a show stopping way. I looked up synonyms for the word competitive and found: bloodthirsty, ready for action, gung ho, aggressive and cutthroat. Did any of these words capture our sentiments?
I can only speak to the concept development process at Great Performances, as the culinary, sales and style&design teams worked together to craft a presentation that would perfectly capture our passion for food, understanding of trends, and creative presentation while leaving the competition in the dust. We tried to imagine what our competitors would do. If you were going to present a table of food at the world famous New York Public Library to a cast of food professionals, what would you do...what would you serve? We settled on a marrying the global and local nature of food and books, expressed through 2 soups.


We had an internal tasting in December. What would hold its own in a culinary beauty pageant? I have never watched reality TV, but suspected I was living the pilot of Catering Survivor. I was wondering if I liked this party concept at all. For weeks, we obsessed over every single detail.


Fast forward to party night. It wasn't just any old celebration - it was a busman's holiday in a glamorous location, with creative food, and colleagues who have worked together for decades. At the end of 2 years of economic torture (it's been brutal for our industry) this group came, ate, talked, schmoozed, hugged, kissed, partied, drank, danced and celebrated in the hallowed marble halls of literature and knowledge. In an institution known for silence, the walls reverberated with at times, deafening sound and music. Astor Hall, capable of accommodating 750 revelers, was gridlocked.

I loved watching our sales team at work, engaging clients and perspective buyers, chatting with ease and sincerity and pride. Every detail was perfect, down to the Braille runners that covered our tabletop, to the reclaimed wooden plank that supported the soup pots. How many old friends did I see and pledge to follow up with - dozens and dozens. It was our clan - the merry makers, party people and foodies. Surprisingly the competitive sensation vanished.

The food report: An assortment of presentations, some clever, some classic. Just about everyone shared similar performance anxiety. Several variations on salmon, a few interpretations of egg, tempting sweets, a few hearty meats - within 30 minutes the distinctions faded and it was about human connections fortified by food and drink.

The attendees: In the hundreds, many buyers, many guests just along for the ride or industry pros who wrangled an invite, representing law firms, bankers, real estate companies, special event coordinators and bridal consultants. Is corporate catering making a comeback in 2011? Let's hope so.

Was it worth all the angst? Of course it was - we are in a competitive environment where excellence is the only thing that matters. But mixing that with perspective (after all, this is not War and Peace) results in being able to enjoy the moment.

A little library trivia:
1. Do you know the original names given to the 2 lions that guard the library?
2. Although the lions are obviously both males, what were their second names?
3. In 1930's which mayor gave them their current nicknames?
4. Why did he change their names?

Answers:
1. "Leo Astor" and "Leo Lenox" (in honor of the library's founders)
2. Lord Astor and Lady Lenox
3. Mayor Fiorello La Guardia
4. He wanted to inspire New Yorkers to possess these qualities to make it through the depression. Patience is the southern lion; Fortitude is on the northern side.