Happy Birthday America! A superb holiday weekend has come to an end with fireworks, fanfare, family time and ferocious heat. Quick question: what birthday did we celebrate?
Fast math -- 1776 till 2010, or maybe you knew it -- our democracy is 234 years old. (I did not know this offhand. Honestly, did you?) Reflecting on this milestone, I segued into thinking about other distinctive numbers that filled the week.
My 21-year old niece became a first time mother and on the 8th day (Thursday), her newborn son was welcomed into the tribe and circumcised. The day before, we sadly said farewell to a dear friend, Gene Cummings, who at the glorious age of 95, having lived a spectacular life, died. Gene was a man who always smiled, saw the fullness and joy in life, loved his family and always seemed to engage in exploring new experiences. 8 days and 95 years, a life span that is so lengthy that when we look back or ahead and contemplate everything that could fill those years (science & technology; war & peace; youth & love; the endless list of human activity), it is overwhelming. The baton was passed from one generation to the next, the juxtaposition of the lifecycle events never more apparent or close to home.
So now I have begun to think about the other things I am counting:
Shallow yet momentous this week was the countdown to the 3rd Twilight movie -- from years to months to weeks, days, hours and even moments, wishing precious time could somehow move at a faster clip -- as though it were not already racing by. And in this silly indulgence, there were the box office records being tallied by the millions, the assembly of dedicated fans by the thousands and the gathering of a handful of friends.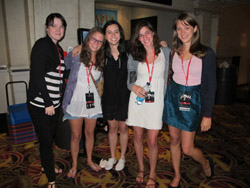 And with the start of July, it is inevitable that we begin the countdown of the days of summer, less than 90 left -- is that even possible? Our favorite season is barely begun, yet the fall looms almost ominously -- raising the question of the vitality of the economic recovery as hard times stretch into yet another year (making it 2 or 3, who is counting?). And part of that equation is the way we count profits; grateful to have any, aware of how hard fought they have become. (Are we watching the numbers on the nation's unemployment rate?).
It is the 4th growing season at Katchkie Farm and we count the days until a vegetable makes its first appearance of the season. This past week, out of nowhere -- or so it seemed to me -- there were eggplants, peppers, onions, and okra. We will start to count the pounds as we cook, process and enjoy this harvest. Counting the hours of the long days, the days without rain, the bunches of produce for the CSA shares -- I do not know all the things a farmer must count but it seems endless.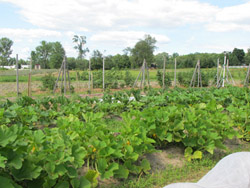 More numbers: counting calories ever mindful of summer's skimpy outfits and swim suits. Counting friends in Facebook as the weekend headlines inform us that Lady Gaga now has more friends than President Obama (who certainly had a lot of friends). Is there any correlation between the number of FB friends and how many friends one has in real life, as true friends is a precious number?
A unique numbers game was enacted on Tuesday as a party with 3,000 guests transformed a festive gathering and turned it into a philanthropic experience. The guests assembled food care packages for hungry and homeless New Yorkers (thank you Target -- title sponsor -- and the National Conference on Volunteering and Service) with a goal of 150,000 by the end of the evening. With every 50,000 boxes completed, a different performer took the main stage. It was an unusual and fabulous evening of counting up and being counted.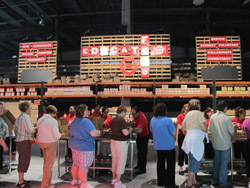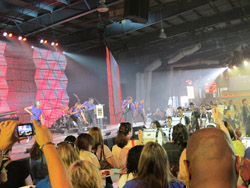 And the 4th itself -- a workday as we helped our client entertain several hundred guests with food and drink, culminating with a massive display of fireworks. How many shells? Countless! How many lbs of ice -- do you really want to know?!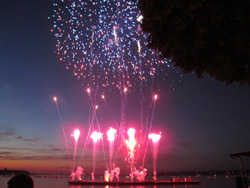 July begins one important personal countdown -- to my mid-month birthday. In the midst of all the work and commitments, it is a small oasis of self-indulgence. (Oh, which birthday you might ask me? Well, that is a number I do not count.)
Counting days, counting deeds.
Marking milestones and miles yet to travel.