Sunday again. Favorite weekend meal of sardines with Katchkie Farm greens and other local vegetables sits in my stomach and I am contented. For the past few days, it felt like we were back in that wonderful prosperity bubble. A long walk this morning to gather perspective on this past week helped to sort things out.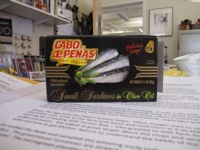 It has been an incredibly busy week with another one ahead. Lots of non-profit entertaining, a very elaborate Plaza wedding, lots of activity in our contracted venues from Apollo Theater to Jazz at Lincoln Center to BAM, and a little bit of corporate work to round things out. The spectrum of organizations is extensive -- from The Brooklyn Children's Museum to Memorial Sloan Kettering, Howard University, Cornell University, law firms and businesses and a fun annual wine and food event "Brooklyn Uncorked".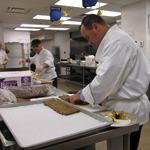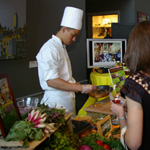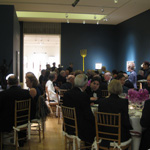 At the Plaza wedding last night, we served a trio of divine culinary treats: Lobster Pudding in a Goose Egg & Tuna Tartare & Yellow and Red Beet Squares with House Cured Salmon wrapped around Chevre. And that was only the first course! The decor was fantastic and the crowd celebrated into the wee hours of the night.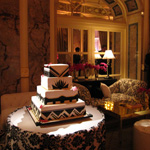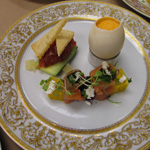 Reality check. Yesterday I ran into a wonderful client from the financial world at a party and she soberly shared her deep concerns about the prospect of economic recovery. Shorthand: the free fall might be over but we are not cleared to go shopping any time soon. (Never mind that I spent hours on Saturday in pursuit of a prom dress for my high school senior.)

An overcast Sunday is the perfect backdrop for thinking. A walk in the park, where thousands of New Yorkers are participating in the Aids Walk is a great touchstone. A visit to the expanded Greenmarket on West 77th Street, offers a soothing farm fix along with ramps, spring greens, absurdly fresh fish/cheese/milk, asparagus and other treats.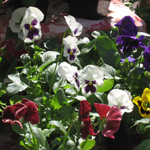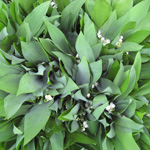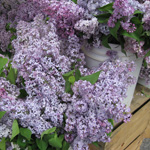 Slowly, the high from the week's activity fades. Other images start to replace the party adrenaline rush. A trip to the farm with Dean and Chef Chris at 4:30 AM Wednesday morning for a meeting with Farmer Bob -- who greeted us with farm fresh fried eggs, coffee and bacon. We talked at great length about the crops and what would be ready when and how to get Mother Nature to understand the needs of the catering world.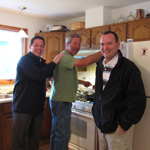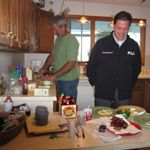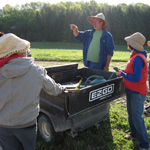 We walked the fields and sampled the amazing icicle radishes and young greens, just perfect. The greenhouse tomatoes are stretching out and a month away from bearing fruit, wow! The microgreen planting/harvest system is falling into place, at last. And there at the Sylvia Center children's garden was a gift of mulch (about 40 yards worth) from our neighbors at Almstead Nursery -- the largest donation they have ever made. We will use it on the pathways in the garden. We were on the road back to NYC by 9 AM.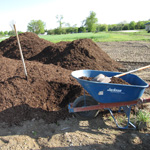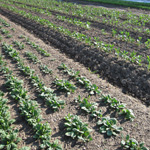 So, you might think the occupational hazard of being a caterer is the risk of overeating; after all, we are surrounded by incredible food. (Figure that egg with lobster pudding was about 800 calories alone. I ate a half.)

No, the hazard is seeing just the parties. They are fun and mesmerizing. They are a delightful reprieve. And the best part -- everyone is happy, well fed, comfortable and safe.

The weekend has ended. We have a full plate of events in the week ahead but will avoid the seductive trap of thinking that the bubble is back. There is still a long and hard road ahead but we will enjoy the good we are accomplishing with our support of non-profit events, lifecycle celebrations and the events that define New York.

Parties are hard work, even harder now for us with tight budgets and for our clients who are challenged as never before to raise funds and grow. Special events are a refuge from our daily grind, with great purposefulness. Maybe that's why we need them more than ever. The recession is not over, but living fully is our best revenge!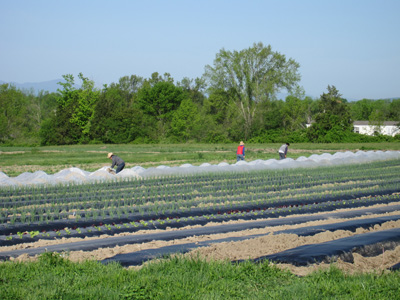 SUBSCRIBE AND FOLLOW
Get top stories and blog posts emailed to me each day. Newsletters may offer personalized content or advertisements.
Learn more