Within less than 24 hours I had two memorable and quite unique food experiences this weekend. And while that might not be a surprising statement for someone in the food business to make, consider this -- one was a holiday party meal for close to 2,000 guests and the other was a cooking class/meal for 14. It was a marvelous juxtaposition of experiences and scale.
So what do you serve 2,000 celebrants with sophisticated palates -- without a real kitchen, within a short window of time -- when hundreds of guests arrive all at one time? Welcome to our world, where expectations run high and every game is an away game. Here are just a few samplings from the buffet!
NOODLE BAR
Mezze Rigatoni with Short Rib Bolognese and Basil Whipped Ricotta
Cavatelli, Wild Roasted Mushrooms and Porcini Cream
Spaetzle with Pulled Sauerbraten and Sage Brown Butter
Wok Fired Tangerine Chicken with Petite Asian Vegetables & Black Forbidden Rice
BISTRO
"Steak Frites" - Sliced Steak on Tater Tot with Béarnaise and Fine Herbs
Seared Diver Scallop with Cauliflower Mousse, Micro Celery and Truffle Vinaigrette
Haricot Vert, Almonds and Shaved Parmesan Salad with Lemon Vinaigrette
Roasted Baby Beet and Chevre Salad with Spiced Candied Walnuts and Mezze Arugula

FIESTA
Pork Carnitas and Chicken Mole with Fresh Corn Tortillas and Charred Salsa Verde
Paella Valenciana
Spinach and Queso Blanco Empanadas
Grilled Mexican Corn Salad with Cotija Cheese and Fresh Ground Chili

SOUL
Miniature Chicken and Waffle Sliders
BBQ Short Ribs on top of Tomato Jalapeño Grit Cakes with Chimichurri
Muffaletta Sliders on Olive Roll
Miniature Three Cheese Mac and Cheese

MOROCCO
Roasted Boneless Organic Chicken Tagine with Golden Plums and Preserved Lemon
Saffron Couscous with Pea Shoots and Pickled Scallions
Pan Seared Spiced Salmon over a Salad of Fennel, Orange, Radishes and Black Olives
Braised Chickpeas with Kale and Cumin

FRITES
Montreal Style Poutine ,Cheese Curds and Gravy
Smoked BBQ Brisket Frites ,Pickled Jalapeno's and Cotija
Buffalo Chicken Frites Old Chatham Ewe's Blue Cheese
Garlic Frites with Parmesan and Oregano
Classic Frites with Trio of Dipping Sauces -Chipotle Ketchup, Green Goddess, Smoked Bacon Aioli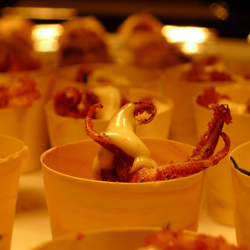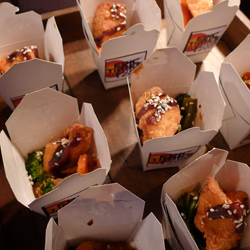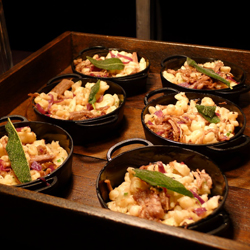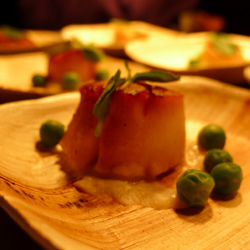 And a lot more, including desserts!
Cooking began early in the week, the AM and PM kitchen crews working diligently on this and other business. The organization of food preparation steps, as we cook from scratch, and attention to detail is quite amazing, and calls to mind watching construction workers build a bridge from each side of the highway and meet in the middle. Or artists who transform blank canvas into vibrant creations. Consider the aspect of loading the trucks -- that too, is choreographed. (Think how hard it is to pack a picnic for a handful of friends -- then multiply it thousands!)
We live for these moments where teamwork and passion make the difference. The complexity of getting over 50 different menu items (each with several components) ready -- from delicate scallops to just-right crispy frites -- takes the attention of 6 lead chefs and 28 on-site cooks.
Home at 3 AM, happy, zonked and surprisingly able to fall asleep within minutes -- the high of a successful evening receding into memory while the threat of an imminent wake up alarm seems crazy. The pain of waking up on a Saturday morning hoarse and ache-y isn't as bad as I thought it would be. I may have partied-hearty, but only by association. I am very able to rally, enjoy a rare cup of Starbucks caffeine and meet my friend Judy for the final of 3 classes I had registered for at Stone Barns. It is also the first one I am actually attending, entitled "Foraging in the Fridge" -- my favorite kind of cooking.
If you were to forage in your fridge today, what would you find? Happily, my ingredients match those on the table, for the most part: Butternut squash, apples, mushrooms, parsnips, Jerusalem artichokes, aromatics (love the way that sounds!), herbs, eggs and usually some chicken. Around the table, 12 other seekers of inspiration have gathered. Within short order we are mesmerized. It is perfect -- being a fly on the wall in a world-class kitchen where the chef is thinking out loud. Adam describes the various potential dishes one could 'whip up' from the assembled collection. We settle on 4 dishes, suitable for the time frame.
Puree of Butternut Squash and Apple with cinnamon, cloves, allspice, maple syrup and cider
Braised Chicken Thighs with Chorizo and Dried Apricots, with onions, garlic, pimento and sherry
Roasted Parsnip Frites, Dijon coated
Sunchoke and Shiitake Mushroom Hash with shallots, thyme, sage and garlic
Adam starts, we watch -- the perfect amount of expendable energy for this particular Saturday morning. Two hours whiz by, I am astonished -- it is engaging, educational, entertaining and thoroughly enjoyable. There is also the promise of a shared meal. After the intense feelings of responsibility for the culinary experience of 2,000 from the night before, it is ticklishly delightful to have no obligations other than to observe an expert in action and anticipate participating in the fruits of his labor. Ah... to be a guest!
The meal is shared, it is delicious and I have learned a lot -- method, flavors and process. In lieu of the braised chicken thigh, I am treated to a slightly larger share of the veggies including 2 of the 3 roasted garlic cloves from the Sunchoke/Shiitake mushroom sauté. I am elated and feeling guilty at the same time, so I share a clove with Judy.
In the back of my mind, I am seeing the GP kitchen one day earlier, where vast quantities of ingredients were prepared, and I think that there are so many ways food gets to the table.