On the list of things to get done this weekend, visiting the Frieze Art Fair on Randall's Island was a must-do. I headed up Lexington Avenue from the East 80's at a brisk pace to get to 126th Street for the yellow school bus to the Island. To my surprise and delight, I stumbled upon the 16th Annual Cinco de Mayo Festival at 116th Street. Ironically (Why is it ironic?), the Frieze Fair and the Cinco de Mayo Festival were directly across the East River from each other. I detoured and plunged into the crowd.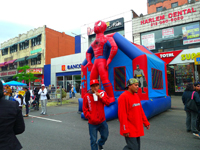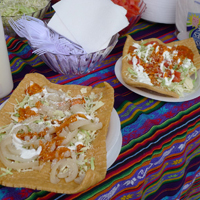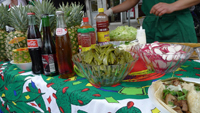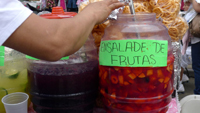 Within a stretch of two avenue blocks, restaurants, food companies and vendors set up makeshift kitchens where a range of ingredients were marinated, chopped, shredded, seared, grilled, stewed, fried, sliced and served. Items ranged from the familiar -- empanadas, burritos, papusa, agua frescas, plantains to dishes and combinations I had not seen before. I may have been an oddity, preferring to photograph the food rather than eat it (though the mostly meat dishes did look very appealing to this vegetarian), but I was greeted warmly and offered a multitude of tastes, poses and engaging smiles.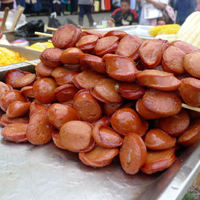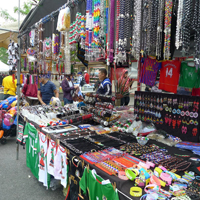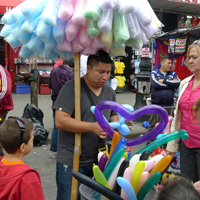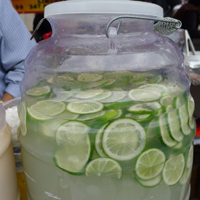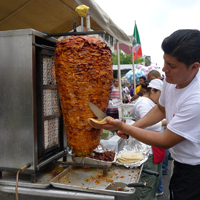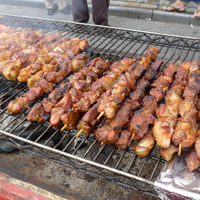 Best choreography was the slicing technique where, after filling the tortilla with meat, a dramatic swipe at a fruit just above the rotisserie, was made and a strategic wedge of pineapple/apple landed on top of the sliced meat. The colors of the different juices in their over-sized ribbed glass barrels captivated me. The different grilling surfaces, variations on the theme, spoke to the experienced vendors, familiar with crowds, crafting solutions for large surfaces and optimal temperatures, and, of course, health codes.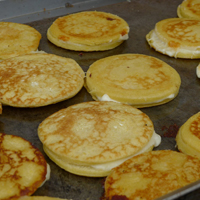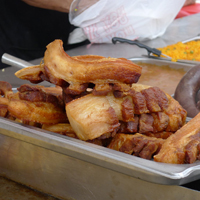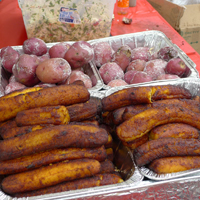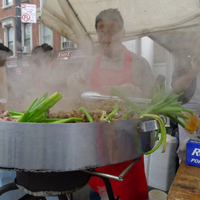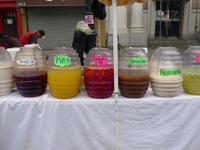 It was a family affair with old and young helping out at the booth or attending the festival. Had the Frieze Show not been looming in my mind, I think I would have spent the day on 116th nibbling and exploring new foods and flavors.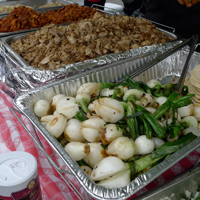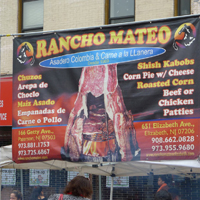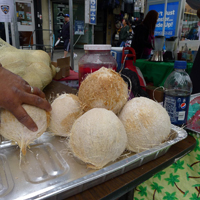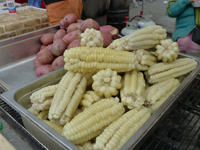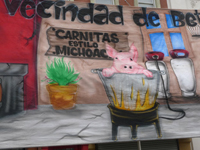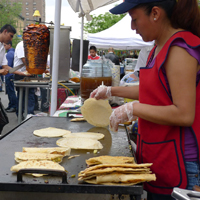 Food at Frieze was familiar to me. Salads, soups, sandwiches -- the stuff of high-brow exhibitions -- with something for everyone and a nice emphasis on local ingredients, healthy options, attractive presentation. t was clean. It was neat. Almost too neat. The website suggested I make a reservation if I wanted to eat at Frankies Spuntino. I did not (make the reservation) yet I managed to be seated at a counter for a bowl of Bean and Escarole Soup (yes, it was possible to get a seat early in the day and find something without meat on their menu.)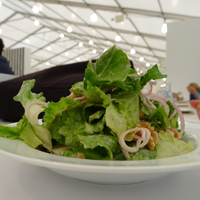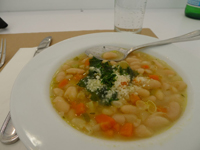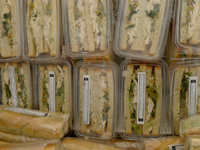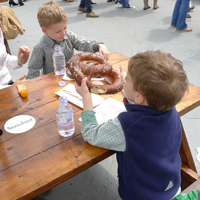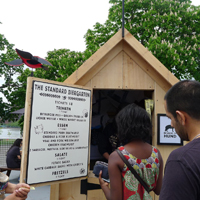 The Fat Radish, Roberta's, Sant Ambroeus, The Standard Biergarten rounded out the culinary offerings with casual dining, well curated. It was artful and hip -- augmented by three food trucks outside where the hungry arrivals waited patiently on long lines for ice cream, kimchi or grilled cheese. Again, very hip. I ate a lovely salad with roasted carrots, seaweed and lettuce. It was beautiful and more visually satisfying than tasty. I bumped into a friend who had come to see the art. In my focus on the food -- its logistics and operational challenges -- I had totally forgotten where I was: at an art show.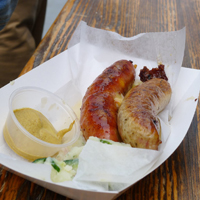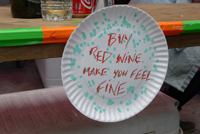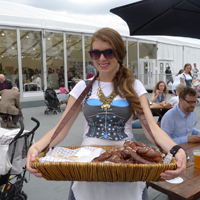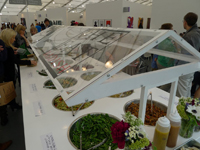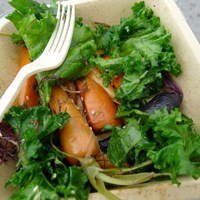 I headed out, eager to get an ice cream cone from the ice cream truck -- but unwilling to wait in line. The school bus back to 126th Street was ready and I longed for a mouthwatering plate of homemade food cooked in front of me with vibrant colors, arousing smells and a real story.