This fall, within the period of a few weeks, I fed Bill Clinton, George W. Bush and Barack Obama. (Okay, maybe not Barack himself, but everyone who paid a LOT of money and got to hear Bruce Springsteen, Billy Joel and Barack Obama.) Goodness, on the periphery of that time period -- early summer, I even fed John McCain.
First thing a good New York foodie will ask is what did they eat. Are political statements embedded within the choice of menu? Who determined what was served? Were the chefs and our purveyors vetted? Would our political figures care about where their food came from? Then there's the party vibe -- who was there, what did they say, anything cool happen, and of course, what about the guest of honor.
So let's get to brass tacks -- what do these guys eat? And can we infer any food platform?
(If you are hungry, this might be a good time to grab a bite.)
Try to match the following items to its eater:
Pan Seared Striped Bass, with caramelized sweet potato hash, served with sautéed leeks and a peak season smoked corn coulis
Country Style Grilled Cheese Sandwiches:
-Brioche with Camembert and Figs
-Sourdough with Grafton Cheddar and Heirloom Tomatoes
-Country White with Port Salut and Wine-Soaked Raisins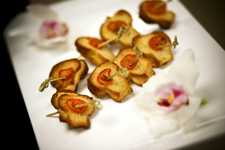 Personal size Free Range Chicken Pot Pies
Organic Turkey Meatloaf with Katchkie Ketchup... gussied up with Wild Mushrooms and Whipped Potatoes
Wild Mushroom Soup with Fresh Herb Oils and Black Pepper Brioche
Seared Tuna with Pepper Relish on a Mandarin Crisp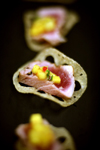 Grilled Polenta Rounds with Roasted Tomato and Sautéed Arugula (is arugula the new broccoli?)
Freshly Popped Organic Popcorn
Tournedos of Porcini Crusted Beef with Thyme Scented Potato Puree and Bundled Haricot Verts with a Bordeaux Demi Glace
Sautéed Branzini served with a Sweet Pea Risotto and Cipollini Onions and Golden Chanterelles garnished with Red and Yellow Teardrop Tomatoes and Patty Pan Squash with a Chive Beurre Blanc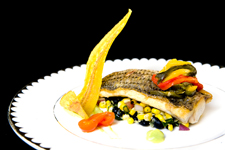 And of course, the just desserts....
Mini Ben and Jerry's Ice Cream Cones
New York Cheesecake Bites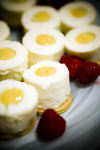 Cinnamon Apple Raisin Dumplings
Good Old Fashioned Cookies: Peanut Butter, Chocolate Chip
Milk Shake Shots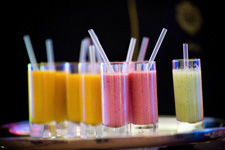 They ate well. Many of us in America eat well. Much of these meals were sourced locally. Some items, not listed here, traveled far to get to the party while some of it was grown on our own organic farm upstate. Food is fashion and while our customers above specifically asked that local, seasonal foods be included, only one went all the way with a pure 100 Mile Menu.
Each event was a success. The men themselves were enchanting, dynamic, witty, engaging, and polite and ate well. The guests were delightful, happy, stimulating and well fed.
Leftovers went to feed the truly hungry who did not care whether or not a political food statement was made.
Can you figure out who ate what? If we are what we eat, are we what they eat? Are they what we eat?
www.greatperformances.com
SUBSCRIBE AND FOLLOW
Get top stories and blog posts emailed to me each day. Newsletters may offer personalized content or advertisements.
Learn more