This week, at Katchkie Farm, we welcomed our last two summer groups to the Sylvia Center.
45 children, ranging in ages from 5 to 17 piled off the bus late Tuesday morning. They were residents of 3 NYC shelters; from Bushwick in Brooklyn and Springfield Gardens and Briarwood shelters in Queens.
The program consisted of a greeting (the do's and don'ts of farm visits), a snack, and a walk into the fields where we have a garden just for kids. Split into 3 groups, we rotated tasting/smelling herbs and vegetables; harvesting; preparing veggies for lunch; and a nature walk.
Enthusiasm and curiosity, laughter and shrieks, intensity and wonderment -- the children noticed every detail and nuance in the garden. Some of the veggies were familiar and others weirdly foreign. For every child who cringed at the site of a bug, there were others befriending Daddy-Long-Legs and Lady Bugs.
But what made the strongest impression on me was how the children embraced the breadth of the fields. They ran and ran -- creating ad hoc goals for races; collecting handful and fistful of rocks to heave into the pond; and returning repeatedly to the garden to forage, experiment and explore.
As they were introduced to flowers, herbs and plants, they stuffed their pockets with treasures to bring home.
Molly Gordy, Public Relations Director for the Salvation Army, worked for 7 months to put this trip together. I share with you her post-visit letter:

Dear Liz,
I don't know where to begin. Can you imagine the effect that
visiting the little slice of Heaven you've created at Katchkie Farm has
meant to our shelter kids? We can never thank you enough. I actually saw two grown men
who run our Bushwick shelter beaming with tears in their eyes as they
watched you shuck corn with a few of our youngest ones. It was beyond
inspiring.
We'll be sending you masses of exuberant photos. But the most indelible images of the excursion are in my mind: The 15-year-old boy with the skull emblazoned on his t-shirt, tenderly picking a bouquet of wildflowers. The kids chasing each other across a meadow, reveling in their first taste of open space. The 8-year-old who proudly displayed the fresh-picked eggplant he'd chopped with a little plastic cleaver, saying, "This is the first food I ever made besides cereal." The 11-year-old, who asked if he could take a worm home as a pet.
I know you witnessed the joy on the children's faces throughout the day.
What you may not have seen was the 5-year-old Denise found crying in a
field. When asked what was wrong, the little girl said, "I don't want to go
back. My mommy doesn't like me. She hits me for no reason."
I wish we could have let her stay! But at least our shelter administrator can look into it now, and thanks to you that little girl has a memory of a golden day to offset some of the gloomy ones.
Please share this e-mail with Karen and everyone at Katchkie Farm who
helped create this miraculous experience. Bless you for showing these children the beauty that's available to them. As our recreation director, Karl said at departure, "They will remember this forever, and one day, they will want it for their own kids."
Molly Gordy
Public Relations Director
The Salvation Army of Greater NY

These are some of the post visit reflections from Molly and the group of Salvation Army and Shelter chaperones:
The kids are ecstatic. Several picked and took home vegetables such as onions that they'd never eat raw, and when I queried that, they gave answers that ranged from "I'm going to give it to the mom of a friend from school who has a kitchen, and she'll cook it for me" or "I don't care, I'm going to keep it as a souvenir." One boy tried to take home a worm as a pet. But here's my favorite story:
There was a 15-year-old boy, Menash, who is 6 feet tall and about 200 pounds, and wore a black t-shirt with a huge skull painted on it. He was a bit of a behavior problem on the way up, and when we arrived he crossed his arms over his chest and said sullenly, "You made me sit on a bus for four hours to visit PLANTS? What kind of trip IS this?"
Well, an hour into the visit, Menash was picking wildflowers to take home to make a dried bouquet. He was quizzing the group leader about the best way to cook eggplant, saying "How many colors of eggplants are there? This is the first time I ever cooked anything besides cereal!" And he talked all the way home about what a great time he'd had and how he'd like to go again.
A lot of the kids mentioned seeing dragonflies and ladybugs as a high point of their trip, as well as the shucking of corn. One boy, Stefan, 6, said his favorite part was picking the little cherry tomatoes because he could fit so many in his hands -- but he didn't like the taste so he gave them away to the chaperones, then went back to pick some more. Richard, 11, was
disappointed that he hadn't seen a snake.
The chance to run across meadows -- more space than they'd ever seen in their lives -- with no one to tell them to stop, slow down or be careful -- was something very precious to them, and they used it at every opportunity, whether it was to the port-a-potty, or the lunch area, or to the pond to learn about cattails (which they decided look more like Corn Dogs). We had
to teach them quickly about wetlands to prevent them from wading in to pick some.
The kids got such a kick out of chopping their own vegetables for their own meal, using the little plastic cleavers. They were VERY serious and focused about it, and proudly showed off their results and compared to see who had done the neatest slice and dice. I could find only one child who had ever spent time in a kitchen before.
The shelters don't have any programming about food or nutrition. Although most turned their noses up at the lettuce salad, I'd say 80 percent of them wolfed down the vegetable stir-fry tacos, which I attribute to a combination of factors: the inclusion of the familiar tortillas and black beans as ingredients, and the excitement of eating something they had
picked and helped prepare.
In fact, I was surprised by how fearless the children were generally about tasting the food from the fields. They got a tremendous kick out of seeing things come out of their shells or pods and popping it into their mouths. And every single one of them tried eating a nasturtium flower -- perhaps because they were so colorful and lovely -- despite having been warned that
there was a spicy taste.
Shelter populations are fluid, so it's hard to say which of these kids were with us to take advantage of the two other field trips offered this summer. One was to see the musical STOMP and the other was to a WNBA basketball game. Both were enthusiastically received, but as Karl O'Brien, recreation director at Bushwick, put it, "Neither of those other trips expanded their
world. They'll remember this (trip to Katchkie Farm) their whole lives, and one day, they'll want this for their own kids."
As social worker Paul DiZoppola said, "They not only had fun, they felt really empowered."

Eyewitness News came to the farm and filmed a segment on the visit. At first, several of the teens objected -- not wanting to be identified as homeless children. Eventually, they relented when assured it would be a positive/upbeat story. We shared the clip with our co-workers. Albert Lovelace, a chef in the kitchen had a poignant comment:
"Yes, it really does jerk a tear reading that thank you letter, especially the note about the little girl in the field crying and also watching the video. Like I said I can't figure out why we get put in these places in life. I guess that's why we should always pray for what we have and always think about the people who don't have and give something back in some way to help support our blessings."

For me, several thoughts: Clearly it reinforces our commitment of bringing children to the farm and the value of these visits on many levels.
But the most powerful impression I am left with -- it is not what you have or accumulate, but who you are inside that defines who you are. These children, who have so little in the way of possessions, were filled with light, kindness, intelligence, humor and optimism. I will treasure the gift they gave me.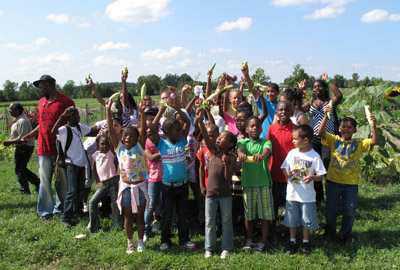 For more about the programs of the Salvation Army: www.salvationarmy.org
Click here for the Eyewitness Film Clip of the visit.

SUBSCRIBE TO & FOLLOW THE MORNING EMAIL
Start your workday the right way with the news that matters most. Learn more