Forget the pumpkin into coach image. Pumpkin as smart car is what came to mind when GP planned the arrival of City Harvest's 1426 lb giant beast on our Hudson Square loading dock. The Pumpkin that Would Feed New York, a media feast. Alice Walton, our Katchkie Farm to City girl, described it in perfect detail:
***
The story is truly a culinary fairy tale: magical seeds, a giant pumpkin and fairy godfathers (read: chefs). But this pumpkin will be transformed into more than just a carriage for the needy. This morning, at Great Performances, ten of New York City's top chefs took a chainsaw to an 1,426 pound pumpkin, that had been donated to the hunger organization City Harvest by farmer Andy Wolf of Little Valley, New York. Each chef took between 50 and 100 pounds of the pumpkin and will create a unique dish to donate to City Harvest to help feed the hungry in New York City.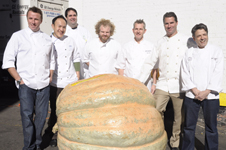 Shockingly enough, the 1,426 pound pumpkin is NOT the largest pumpkin ever; that prize went to an 1,810.5 pound pumpkin in Minnesota this October. Andy Wolf's pumpkin came in fourth this year among the New York Giant Pumpkin Grower's Association. It then traveled to Central Park for their annual Pumpkin Festival. There the pumpkin was "rescued," when Wolf chose to donate the pumpkin to City Harvest.
The chefs were thrilled with the size (and novelty) of the pumpkin when they arrived at Great Performances this morning. Chefs Marc Spooner and Matthew Riznyk of Great Performances cut the first piece and then turned over the mini-chainsaw to Francois Payard of Francois Payard Bakery who slowly made his way through the rest.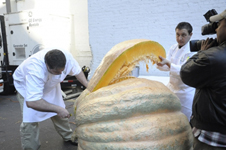 The blade of the small saw was too short to slice all the way through the meat of the pumpkin. At times it took three chefs to rip a slice off of the frame of the pumpkin and most of the white chef coats were splattered with orange pumpkin by the time each had their slice. City Harvest employees were on hand to make sure every seed was saved for the farmer as the seeds are very valuable for next year's crop of giant pumpkins.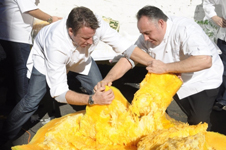 Pumpkins raised for their size are not traditionally bred for flavor. Cooking a pumpkin like this will be an experiment, many of the chefs admitted. Wayne Harley Brachman of Porterhouse Restaurant predicted that the pumpkin would be a bit more watery than most, and would reduce by half when cooked. For the pumpkin bread pudding he will create for 50 people, he predicted he would need about 15 pounds of pumpkin.
Most of the chefs planned to create dessert dishes out of their pumpkin. Kerry Heffernan of SouthGate will base his dish on a roasted squash flan served at their restaurant. He is curious to see how this pumpkin compares to the blend of squash in the custard dish. Marc Aumont of The Modern was excited for his caramel mousse and pumpkin confit.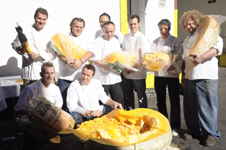 Great Performances' Marc Spooner will be making two dishes--one sweet, one savory--to play on the flavor profile of the pumpkin. Check here for his recipes for a Pumpkin Ginger Soup and classic Pumpkin Pie.
Later that night, the West Side Campaign Against Hunger held is second annual dinner. There is always a slight disconnect for me about lovely dinners dedicated to ending hunger. WSCAH has solved that conundrum with good taste on multiple levels. The dinner was held in their facility - a basement on West End Avenue and 86 Street, that is pantry/program space/headquarters. Local CSA farmers donated parts of the meal, which was prepared by WSCAH chef Mark D'Alessandro and his chef training staff. A motivated neighborhood volunteer staff served the meal. It was an elegant, seasonal meal.
The evening provided the opportunity to highlight the vital services the organization provides. In addition to offering food through their supermarket style food pantry (a concept they pioneered), WSCAH offers exercise classes, nutrition workshops and chef training and cooking education. "We don't merely give good food, we help people live healthier lives."
Anti-hunger organizations are working harder than ever to get attention, raise money and feed the hungry. The pumpkin story grabbed the headlines - a new twist that will promote the efforts of City Harvest, a tireless group of dedicated professionals who will oversee the collection and distribution of 28 million pounds of food in 2010. WSCAH, active in the community for over 30 year, will provide 35,000 households with food for 850,000 meals this year - and at the same time, must work on creating special events that promote its mission.
It is not for nothing that we work so hard to make raising money (and awareness) for feeding the hungry a inviting and rewarding. Hunger is not sexy and it is a persistent and growing problem that impacts lives in ways I cannot begin to imagine. It is an indictment of our society and culture where in the midst of the greatest bounty, our children and families are hungry; obesity and hunger are collaborators; and chronic disease is the by-product afflicting young and old alike.
And so we begin the season of giving thanks for what we have by giving to others. We try to reconcile our abundance with those far less fortunate. We give thanks but it feels hollow because of the deep inequity that is impossible to ignore.
SUBSCRIBE AND FOLLOW
Get top stories and blog posts emailed to me each day. Newsletters may offer personalized content or advertisements.
Learn more