Heroes; Singing and Unsung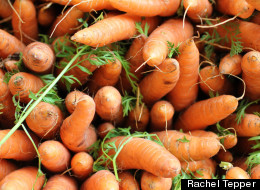 It's Saturday morning and I could have had a lazy start, puttering around the apartment after a busy week, but like a moth to a candle, the call of the Union Square Farmers Market drives me out the door.
No more chamomile or asparagus. Loads of lettuce, young beets and carrots, a surprisingly broad selection of tomatoes (wow), herbs, the first cherries and even some yellow peppers are part of the bounty. And as a sure sign of growing season, I see Betsey Ryder from Ryder Farm back in the market. As I try to understand my attraction to and passion for farm fresh produce (and the impulse that propelled me to buy a farm) I remember that it was at Ryder Farm where I made the first deep connection to local agriculture.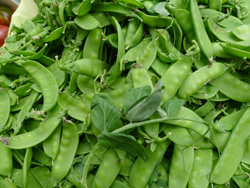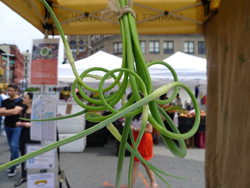 Fuad Aziz was farming the land for Hal Ryder -- 200 acres in Putnam County that had been in the family for decades. I joined their CSA in 2000 and loved the surprise that waited for me each week in the giant blue bag. I learned about vegetables I never knew before, from weird braising greens to kohlrabi. Fuad had the greenest thumb and could make anything grow. We hit it off almost instantly and every spring he would take me to the rhubarb patch to indulge my rhubarb cravings. It was in the flavors of his garlic and potatoes that I first understood the complexity and intensity of organically grown, freshly harvested produce. I will never forget how different the potato was with the true taste of the earth. The garlic was like a sweet fruit -- complex, mysterious and deeply satisfying, unlike any garlic I had ever eaten. A seed was planted and nurtured by our friendship. Years later, Fuad was responsible for identifying the 60 acres that became Katchkie Farm.
Today, Farm Manager Fuad works with Betsey, Hal's cousin, on a portion of the Ryder property. He is a master grower -- and his interns beam when they talk about what they are learning. The farm stand at Union Square is beautiful with delicate flowers, fragrant herbs, perfect vegetables and wonderful karma, which reflects the spirit and peacefulness of Ryder Farm. For me, that is where it began.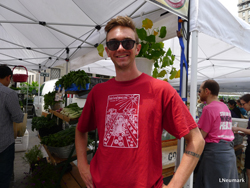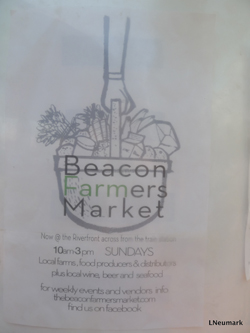 The next market of the weekend was on Sunday in Beacon, NY, where the staff from The Sylvia Center at Katchkie Farm launched their first market of the summer. The Beacon market is a perfect spot alongside the Hudson River with breezes and beautiful views. And while it is a small market, it has everything you could possibly need from a pickle vendor, to a baker or two, a coffee maker, a handful of other fruit and vegetable growers and us -- the sole organic producer. Our immediate neighbor is a gelato guy. If you go, try the carrot/raspberry sorbet, it is outstanding!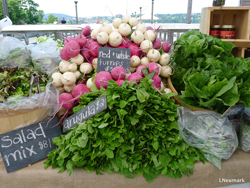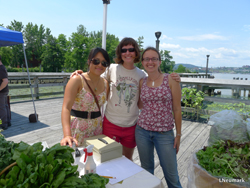 It was also the Annual Strawberry Festival to benefit the Beacon Sloop Club. Food offerings fell into two broad categories: Strawberry-based treats like Strawberry Shortcake, Chocolate Dipped Berries or Strawberry Smoothies and everything else (which ranged from respectable options like tamales, barbeque and watermelon gazpacho to the obscene like deep fried bacon, fried Oreo's/Snickers/Twinkies/Ring Dings and so on.)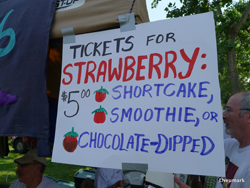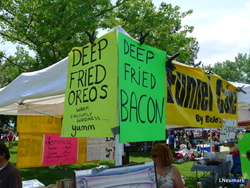 A local ensemble of kids performed, celebrating the river, earth and life. The club works to raise awareness of environmental and social obligations. As they sang, one voice stood out from the rest -- it was Pete Seeger. I grew up listening to Pete Seeger as part of The Weavers and now as he continues to perform and compose collaboratively and solo. I loved the folk songs about life, equality, protest and justice. Some of his most impactful compositions include "Where Have All the Flowers Gone," "If I Had a Hammer," and "Turn, Turn, Turn". He was amongst the group of folk singers responsible for popularizing "We Shall Overcome." Last year, at the age of 92, Pete Seeger marched with the Occupy Wall Street protesters. Was he any different from the young man who was blacklisted in the McCarthy era?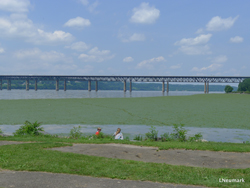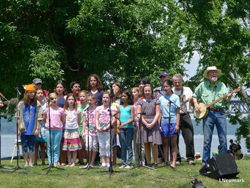 He stepped to the mike, guitar in hand for a solo -- "Down by the Riverside."
Gonna lay down my sword and shield
Down by the riverside...
Ain't gonna study war no more...
I ain't gonna study war no more,
Study war no more.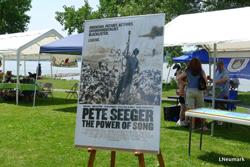 I listened with deep respect and affection for this man whose voice and message have always resonated within me. If there were to be a soundtrack for the food movement it would be his words, guitar and soul that would speak to the hard work of farmers, the empty bellies of the hungry, the politics of the Farm Bill battle in Congress with all the competing special interests and the faces of the children as they discover the difference between the food of poverty and food of plenty.
One weekend and two heroes who have inspired me -- now that is true bounty.
Follow Liz Neumark on Twitter: www.twitter.com/GPfood