I am certainly not celebrating my own effort or hard work, as this summer was a complete bust in terms of the annual summer office clean out and organization in preparation for the fall/back to school. If anything, the piles grew these past three months and the collections multiplied. And the work, though modestly tended, remains undone.


As I caught a cap nap this Labor Day afternoon, in the field next to the Sylvia Center Garden at Katchkie Farm, I reflected on the farm managers and workers I had met this weekend up in Portland, Maine, and of course, of the beloved farm manager (and crew) who tend to these 60 acres in Columbia County. This was a magnificent weekend to behold the glory of the farmscape. As my tired body sunk into the earth, I hoped no one was watching yet another example of my NOT getting the work done (unless of course, I get credit for making the dawn drive solo from Maine to Kinderhook.) Daughter safely delivered back to college, car emptied of a small mountain of clothing, bedding, equipment and essential 'stuff,' I somehow managed to refill it almost completely with the fruit of farm laborers of the 5 states I traveled to Lewiston and back again.

A bushel of peaches (I want to can them), apples (to dip in honey, to make apple sauce and then dehydrate for apple roll ups), tomatoes (for eating, sharing, making sauce, dehydrating for winter time), cabbage (for kimchi, holiday slaw or perhaps stuffed cabbage), eggplant (to pickle, make lasagna and parmegian), carrots (for sister and for soup), cucumbers (for salad with onions), zucchini (quiche, roasted and steamed), onions (for everything), pears (to stare at in disbelief), corn (for sharing and eating and freezing - and hopefully to make that incredible corn soufflé), kale (to shrink when I roast it - a fast yet delicious method to dispose of it), melons (yum - so juicy), eggs (from our lovely flock - thank you girls....did you notice the little piggy trying to sneak his way up the ramp into the hen house?), a green apple eggplant (R&D - gave it to farmer Bob)...not to mention the peach/blackberry pie and the dozen varieties of artisanal honey just in time for the New Years wishes of sweetness. And it seems that everyone everywhere has a pickle to sell. I acquired several homegrown varieties of pickles - hot/sweet/sour/mustard/garlic/mixed with veggies/pickled Brussels sprouts/chow chow/cucumbers and as well as a locally produced Catsup to analyze. And just for good measure, 10 lbs of renowned Maine potatoes and a pumpkin. (It was amusing to see a sign in the Portland Whole Foods promoting New York Tomatoes! So much for 'local'.)


Portland has a marvelous farmers market - and thankfully, I was not able to shop and schlep. I ate what I could and photographed the rest. The farmers were passionate and creative. The produce was picture perfect, the atmosphere, small town-like and energetic. I met new farmers who were native to Maine and new farmers who were native lands are far away - a program called Fresh Start Farms, for immigrant and refugee farmers. I met seed savers with beautiful heirloom varieties Old Ocean House Farms. When I mentioned the upcoming Heirloom Vegetable Auction at Sotheby's, they were thoroughly mystified and delighted and slightly amused.

South Paw Farm was no less curated than museum show, only here, you were encouraged to touch, taste and buy affordably.


Green Spark Farm, another local gem featuring "Rare & Heirloom Vegetables Ecologically Grown in Cape Elizabeth, Maine" captivated me. A little morsel from their website: "They (our mentors) taught us that sustainable agriculture is as much about community building and ecological responsibility as it is about economic sustainability.... In fall of 2009 we broke new ground in fields that were fallow for at least 25 years. We named Green Spark Farm after the wonders of the vegetable world ".


Freedom Farm, Fish Bowl Farm, Rippling Waters (with their upcoming Soil Supper next Sunday), Snell Family Farm (selling bushels of tomatoes for canning - ah, my Achilles heel!), Meadowood Farm (a pioneer - since 1975), and the farms with pork and chicken, sustainably grown - a long stretch of tents creating a timeless market with buyers and sellers, entertainers, side-line artisans, pets, children - a vibrant cross section of people in a multitude of shapes and sizes.
Thank you to all those farmers who were oblivious to Labor Day and more attentive to Hurricane Earle who cleared out early morning leaving sunny skies and delightful temperatures in his wake, for the love they pour into their farms and produce. The connections between farmers and local restaurants rivals the one we see in NYC, the local food movement is proud and strong in Maine, based on my dining and market experience. From the obvious and timeless local hero - the lobster, to the new agricultural stars, I would reaffirm what has been said before - Portland is an incredible food town.



And when I got to Katchkie Farm midday, Bob was in the nursery, getting ready to start up the micro-green seeding operation again now that the peak of summer has passed and the greenhouse is cooler. The piggies, oblivious to the civilized world, were busy eating and patrolling their newly expanded universe which they now share with the chickens and Rosy the Goat. The hens were busy laying eggs, thankfully, no day off here.
I will go back to work tomorrow, grateful today for the labor of others, my heroes and heroines of the weekend - the small-scale farmer.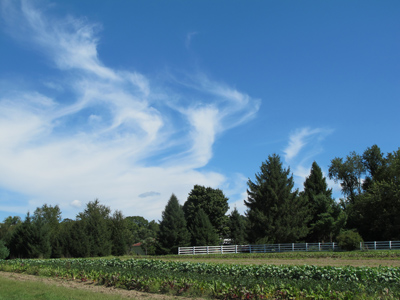 FOLLOW HUFFPOST