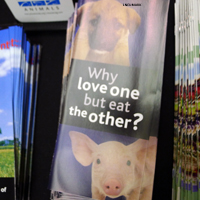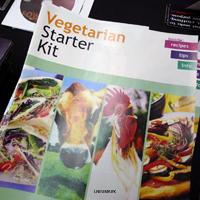 The expo featured vegetarian and vegan food products as well as animal rights organizations and lifestyle activities.  Politics with every bite.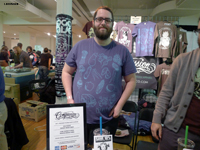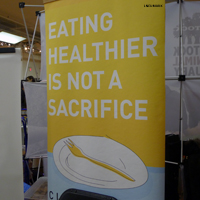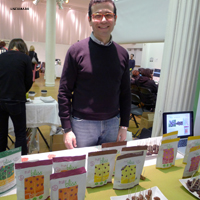 I met Kim Karona, a young woman in her 20s, who has been a vegetarian since 16 and a vegan since 20.  Though she was volunteering for
Mercy for Animals
, her passion is teaching.  She works for
HEART
, an organization that goes into public schools to raise awareness and build connections between animal and human rights, environmental protection and ethics.  She stressed that they do NOT tell students what to think, but attempt to stimulate thinking and brainstorm solutions:  Writing letters to elected officials, buying secondhand clothing, eating less meat, supporting local farms, signing petitions.  With younger children, they discuss treatment of pets (cats and dogs) and the intelligence of animals.  Kim and her husband came from Michigan where they were volunteers for Mercy for Animals, putting up billboards.  They are now New Yorkers and productive activists.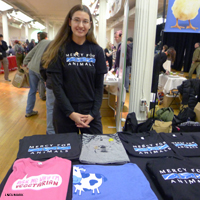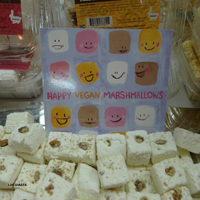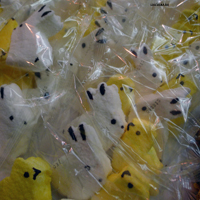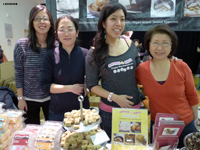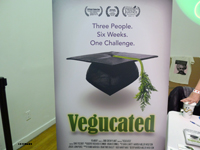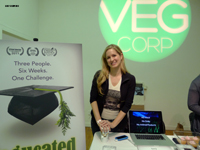 I then met
Bad Ass Organics
-- Raw Slaws and Kombucha along with volunteers Rose and Jimmy.  Mike Schwartz started the company three years ago in a search for integrity and health in the food world.  Perhaps being a father to two sons was his motivation.  The product he offers is delicious and his business model is equally appealing.  In a kitchen in Queens, he offers incubation space to six other food start-ups, without state or city economic incentives.  And let me tell you about Rose and Jimmy who almost stole the show -- both ICE students volunteering at the show.  Rose has always loved cooking and working with BAO is part of her plan to build a career in catering.  She is smart and sharp and passionate.  Jimmy, first generation West Coast Vietnamese, has yet to tell his parents that he gave up a promising tech job to pursue a food career.  They know he is in NY for graduate work.... but that's it.  As far as the difference between BAO fermented products and traditional Vietnamese dishes -- his have longer fermentation and are more acidic and less pungent.   Should he tell his parents?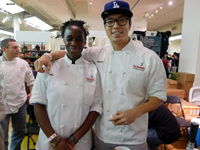 Briefly, other highlights: Alison, of
Perelandra
-- a 36-year-old store in Brooklyn (where else?) with a dedicated following.  She is involved with the store over 11 years -- and politics is on the table.  No Naked Juice or Vitamin Water; they are owned by industrial food (Coca-Cola) and are not welcome.  She became a vegetarian at 10 years old, inspired by both her older sister and
Diet for a New America
by
John Robbins
.   
Cavi-Art
-- a vegetable based 'caviar'-like product.  Thoughtful and delicious, this is fish-friendly product conceived in Denmark.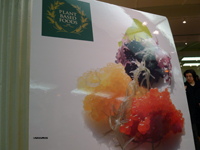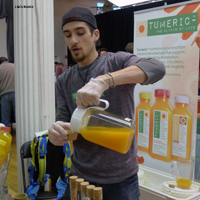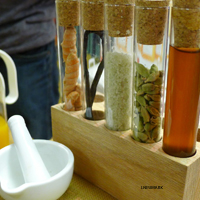 Beyond Sushi
was all vegetarian, organic sushi that tasted as appealing as it looked. Event the rice was different -- six-grain and black rice with toppings including chili and mango, tofu and miso and more. I had an amazing afternoon.  The passion was in the food and the people.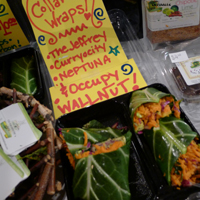 FOLLOW HUFFPOST