Vacation is over and time to end the travel logs and market meanderings. It's back to work, catching up and a trip to Katchkie Farm.
It's a 90-degree day in late April - a little unusual to say the least. Up in Columbia County, it has been a dry spring. A few rain showers here and there, but nothing much. The lack of rain now hits closer to home. The fields look parched, more like August than April. Spring, though joyful and beautiful beyond description, holds bigger message if we can see it.
The images of the drought in California pass through my mind, as do the scenes from Atlanta in '08. The lack of rain in both places was extremely relevant but also very far away. It worried me, but it was someone else's experience.

Katchkie Farm is fortunate to have a 2-acre pond, fed by multiple sources. It has a rich fish- and healthy plant-life. It cares for frogs, geese, herons and other local visitors and now, us. It feeds our new irrigation system - a plan Farmer Bob began working on several weeks ago perhaps not realizing the timeliness of the project.
The early drought we are experiencing at Katchkie Farm and in parts of our county becomes a metaphor for the shortage of food and economic opportunity in our city. It is random and painful. It is undeserved.

Everything feels different firsthand. While on vacation, the grimness of the economic situation receded slightly, not an unpleasant escape. Coming home, the reality of our neighbors struggling to make due with less reasserts itself quickly and almost silently. The specter of not really feeling someone else's experience till it becomes your own story is haunting.
One of the greenhouses is filled with spinach and arugula and ready for harvest today. It is our largest harvest of the new growing season. The spinach will be made into an incredible array of dishes and the arugula into pesto for sale at the Greenmarket and salads at our cafes.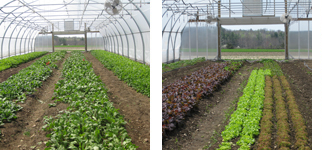 Several dishes we cook with spinach: Spinach flan; Pan roasted black cod with baby beets and sautéed spinach; Maple glazed pork tenderloin with sautéed spinach; and Gemelli pasta with roasted tomatoes, spinach and sweet peas. Our favorite spinach seasonings include roasted garlic oil, fresh thyme, sea salt and mustard seeds.

But several hundred pounds will not be used by us and will be set aside and find their way to a local food pantry run by the Yorkville Common Pantry. Their recipes are far simpler but will be equally delicious.
We reaffirm our commitment to put innovate and tasty food on the plates of our customers AND to share our bounty with our truly hungry neighbors. The drought elsewhere is the drought at home and serves to remind us that we are all connected. My co-worker, whose family lives in Atlanta shared that the trees whose roots moved closer to the surface during the weeks of their drought, are now falling over because of the rain. Survival is never simple.