I met an intelligent, artistic woman last night. In the course of our conversation we compared notes about our experiences in Barcelona. We both loved the city but saw it through 2 very different lenses. For me, food and wine permeated the 4 days I spent there. She barely noticed the food. I did not know how to understand this surprising difference. Surely this did not make her a bad person, nor did it cause me to wonder what kind of an artist she really is.... or did it?
For us in the hospitality industry, the connection to food is a powerful force. It drives us daily and living any other way just seems less interesting. Food - in its many manifestations, is a fundamental part of sharing, loving, talking and being.
It is the thrill of seeing straight green rows in the field (farm trip tomorrow morning), or the feeling of anticipation when you study a menu for the first time (dinner at Minetta Tavern with Marcy Blum on Thursday), or the joyful challenge of discovering that 11 people are arriving for dinner in an hour/what am I going to serve (last night), or the process of wandering in a farmers market that is moving from winter into high spring (no better Saturday activity).
I arrived at the Great Performances' kitchen this morning to be greeted by the most enthusiastic group of 19 men and women ever to come for a cooking class. This De Gustibus group left their mostly suburban homes in the early morning to come to Manhattan as they do about 10 times a year. Our kitchen, a 4,000 sq ft catering commissary is a mind-boggling departure from the typical restaurant kitchen they visit.
Executive Chef Chris Harkness walked them through the final production schedule, which today included 2 weddings, 1 bar mitzvah, and a gala dinner for 700 and several other small events. The kitchen was humming, the warehouse was buzzing, the trucks were loading but it was calm, organized and happy.
Our 19 guests worked in small teams with 5 chefs; our Executive Chef Christopher, Production Chef Marc Spooner (our resident culinary Tweeter), Pastry Chef Newton Pryce, Sous Chef Dan Obusan and venue chef Nima Khansari (from Dizzy's Club Coca-Cola). They worked alongside the professional chefs without skipping a beat. Their skills were apparent and their energy was infectious.

The menu was ambitious and thoroughly seasonal.
Tuna Cruda Pizza with Sriracha Ailoi
Snapper Ceviche on Plantain Chip
Ricotta and English Pea Frittata with Fried Zucchini Blossoms and Mint Coulis, Watercress Salad with Dancing Ewe's Blue Cheese Crackers, Candied Walnuts and Warm Bacon Vinaigrette
Seared Scallops with Morels, Fava Beans, Pea Tendrils and Parsley Coulis
Fried Rabbit with Shaved Asparagus, Cobalt Carrots and Micro Mustard Green Salad
Pineapple Beignets with Crème Anglaise
Lemon Curd Tartlets
The laughter, smiles, occasional giggles and respect for each other, the chefs and the products made watching this group an exhilarating experience. They inspired our chefs, whose busy day was somehow made easier by their presence. Their unabashed admiration for our crazy lifestyle pleased us. It made me think about my dinner guest from last night who sees the world without that food filter through which we experience family, friends, travel and more.

When the De Gustibus teams finished their cooking, they headed off to a civilized lunch in the Mae Mae Café plated up by the culinary team. Another conquest for this itinerant group and another day of passions realized.
That's how it is in catering. We thrive on challenge and unpredictable days. We love the crescendo of mixers, blenders, fryers, clanging pots and conversation. It's the food and it's the experience. How people enjoy working side by side even if the task is mundane and repetitive. Engaging the senses - taste and smell - and experiencing a new flavor. It is teamwork every day -beginning in the kitchen where on any given day, 200-300 different items are being produced; to the delivery teams who navigate Manhattan streets; to the service staff at the event who create a new platform with each engagement.
As I write, the crews are at Ellis Island, Caramoor, Wave Hill, Skylight Studio, Jazz at Lincoln Center and Brooklyn Academy of Music where the curtain is going up on a new (and unrehearsed) event - creating food experiences and bringing the world a little closer together.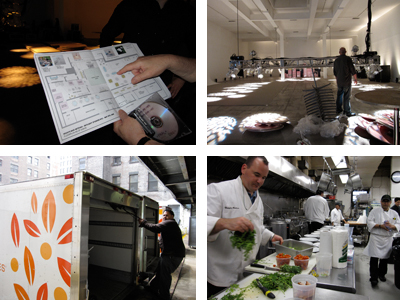 SUBSCRIBE AND FOLLOW
Get top stories and blog posts emailed to me each day. Newsletters may offer personalized content or advertisements.
Learn more