The week culminated with the Red Bull Air Show; Saturday was day one at Liberty State Park. Quite amazing and possibly the most complex two-day event I have been involved with. The focal point: the flights of 12 pilots, racing at 230 miles an hour, 30 feet over the water, performing stunts and maneuvers that left me speechless and my heart racing in tandem with the flyers. The air show took place in the shadow of the Statue of Liberty and Ellis Island in NY Harbor, almost imbuing the festivities with a sense of patriotism.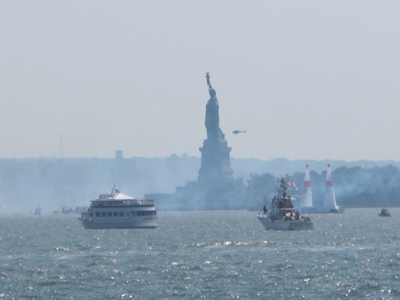 A week ago and a week from now, the parkland was and will be again, open field. But for a little over 10 days, an amazing complex compound was constructed - literally a mini-city complete with power, technology, hospitality, security, healthcare and media; miles of cables, generators, infrastructure, and countless vehicles. Crew feeding dished up over a thousand meals daily.


For the race, a control tower was constructed, grandstands, concession tents, back of house kitchens, and exclusive clubs for VIP ticket holders. This is a formula repeated around the world as the Air Show travels to cities such as Abu Dhabi, Windsor, Budapest, Porto, Rio, Perth, Barcelona and Lausitz. The buildings are assembled, deconstructed, packed up and shipped from event to event. In fact, there are duplicate structures as some shows overlap. It is a feat of organization and single-minded purpose. A giant jigsaw puzzle that is assembled over and over again.
And as amazing as that is, what is more astonishing is the reason for all this: the promotion of Red Bull, a product I have never tasted (as many involved confessed) and its domination of the world energy drink market (almost 3/4's of sales in that category). And it does make complete sense that a high-energy drink be manifested by a physically demanding, high risk, and adrenalin pumping sport.


A little background on the drink itself. According to Wikipedia: "Red Bull is the most popular energy drink in the world, according to market share. Red Bull is an adaptation of the Thai energy drink Krating Daeng, which means 'Red Bull'....Red Bull's slogan is "it gives you wings" and the product is aggressively marketed through advertising, tournament sponsorship (Red Bull Air Race, Red Bull Crashed Ice), sports team ownerships (Red Bull Racing, Red Bull New York) and celebrity endorsements."
It's main ingredient, Taurine, is controversial to say the least. The Red Bull website provides an amusing FAQ section, including:
WHEN SHOULD RED BULL ENERGY DRINK BE CONSUMED?
IS RED BULL ENERGY DRINK SUITABLE FOR VEGETARIANS?
IS RED BULL ENERGY DRINK KOSHER?/ IS RED BULL ENERGY DRINK HALAL?
IS TAURINE MADE FROM BULLS' TESTICLES? IS TAURINE A DERIVATIVE OF BULLS' TESTICLES OR SEMEN?
And the Red Bull website has this to say about the drink:
- increases performance
- increases concentration and reaction speed
- improves vigilance
- improves the emotional status
- stimulates metabolism
Red Bull's effects are appreciated throughout the world by top athletes, busy professionals, active students and drivers on long journeys."
Isn't this the formula we are all secretly waiting to discover - a mix of key ingredients that come together in an astonishing combination that makes a ton of money? Like the Coke formula. Great Performances Chef de Cuisine Marc Spooner and I plan on inventing the greatest, juiciest, life changing veggie burger. What promotional show will manifest that product? The Magic Mushroom/Green Goddess Garden Fest? (And yes, I am a little envious and awestruck by their incredible success.)
The wonderment for me: The scale of the production relative to the cause; the impressiveness of the organization; the passion for and interest in the sport (not unlike Nascar, another legendary event outside of my personal experience or interest). Live and learn. Live and let live. It was a great opportunity to be a part of a world-class effort, learn from a crew of seasoned experts and provide our staff with a challenging work experience. And of course, we are always delighted to create and serve food we can be proud of to new guests.


The weekend ended with some quiet green time upstate, far from the massive grills and the crowds of thousands. I roasted a solitary chicken and grilled 4 hot dogs for Sam and his friend and some prototype veggie burgers for me.
Best part of being here - a morning visit to the local community garden where my brilliant yet self -effacing friend Judy (by day - an accomplished doctor, by dream - a gifted gardener; a grower and healer, the perfect combination) tended her little piece of heaven in Putnam County.

It was the perfect antidote to the large scale feeding of thousands. No crowds, nothing mass-produced, no slogans, no marketing. No chemicals, no machinery (just an old fashioned well with a hand pump), no air show - just the sound of very loud birds.


And this is what is playing out in backyards, urban plots and communities across the country - feed your family and a neighbor, find time to connect with nature, celebrate the seed and the earth, empathize with the backbreaking labor required to haul the water, till the soil, battle the bugs - so that when you pull that carrot out of the earth, not only is it good for you, but it tastes better than all the magically formulated food and beverage in the world.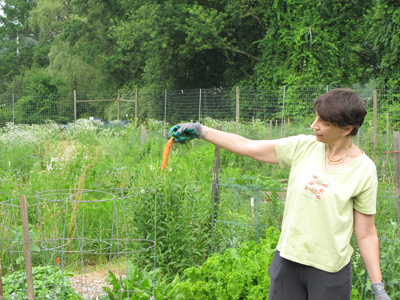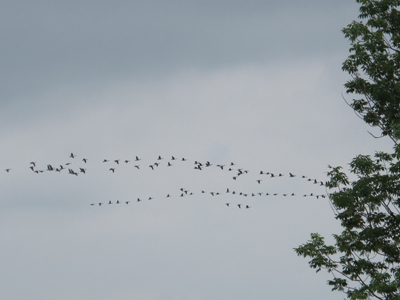 The Original Air Show

SUBSCRIBE TO & FOLLOW THE MORNING EMAIL
Start your workday the right way with the news that matters most. Learn more