Weeks ago, Great Performances said yes to Stephen Grimaldi, Executive Director of the Yorkville Common Pantry.
Yes - to being the honoree for the Yorkville Common Pantry Spring Gala dinner last week, in spite of always declining to be honored.
Yes - because this is an organization we are committed to supporting in their efforts to serve over 2 million meals a year while providing food and support services to over 100,00 New Yorkers in need.
Yes - because in catering to the hundreds of people we serve each week, we feel obligated to care about those who are less fortunate in our city.
Yes - because anything we can do to raise the profile around the issue of hunger is vitally important to us.
So, we agreed - because to accomplish our goal of helping to fight hunger takes the commitment of the entire culinary team, operations group and management staff. Almost every day, we participate in 'food rescue' - which means that production overage, party leftovers, or simply raw product that is not getting used - is packaged for pick up by YCP. In each of our venues (from Wave Hill Café in Riverdale, out to BAMcafe in Brooklyn and the places in between) excess food product is brought to shelters and pantries. Leftover food at parties is either picked up by City Harvest or returned to our commissary where Chef Albert and crew prepare it for its next stop - the Yorkville Common Pantry.
Food rescue seems like an easy thing to do - but in a busy commercial food environment, it is not. At the end of the night, the crew wants to get home. It is easier to toss than to take the time to carefully evaluate and pack remaining food. It has been an educational process of sharing the mission with others. And we have seen some remarkable acts of giving. Often, it is the venue managers at the end of a long day or week who hand deliver leftovers to nearby shelters or churches. There is no shortage of waitresses or waiters, who have giant hearts and sometimes a special empathy for struggling neighbors, who volunteer to make a midnight delivery of the filet of beef or rack of lamb or roasted vegetables.
The other contribution we are fortunate to make is a portion of our Katchkie Farm harvest. Drawing on biblical inspiration, we dedicate 5% of the vegetables we grow to anti-hunger programs, and for the past 2 years, this has gone to the YCP. What can I say - it is just feels good knowing that a portion of our bounty ends up on the plates of those most in need of healthy fresh food.
Wednesday night, a wonderful cross section of the company, along with dear friends and family, attended the dinner. The evening was a high for all of us. Typically, we are the ones facilitating the honoring of others at our events. But tonight, the shoe was on the other foot and the pride was palpable. It was truly moving to witness the response from our suppliers and industry professionals who honored us by supporting YCP.
Work is hard and at times, difficult and overwhelming, especially in the past 2 years of economic upheaval. But by infusing what we do with a mission impacts how we operate. And working together as a family also makes a difference. On Wednesday night, we were a true family, united in our professionalism but also in our perspective and values. It is not just be about accumulation of stuff or success measured by wealth; the measurement is in doing for others and for each other.
Here is what Sous Chef Albert Lovelace shared with all of us at the dinner:
"This is nothing less than honor to be noticed for what we do, knowing what we do is only the right thing to do since we have such great resources at our fingertips.
To be in this field of Culinary Arts for as long as I've been the only way to describe how I feel about it is that is a passion not only a job. This passion goes further beyond dazzling clients at tasting or events, friends and family with food they haven't tried or heard of, to me it's about simply feeding people working with great food and seeing the enjoyment of people after a wonderful meal.
As a chef in a kitchen as big as Great Performances I over see thousands of pounds of food daily, with the leftovers and unused items, I'm glad I have YCP on my team to ship it off to with the assurance it's going to reach another family's table.
I want to thank Daniels Reyes, his immediate response and confirming that his best driver Tommy is on the way reassures me our product won't spoil and turn in to compost either rain, sleet or snow they arrive without fail.
Helping Marc managing a kitchen of 50 cooks I feel isn't really my most challenging task. I have Ardelia, who is 12yrs old in the 6th grade and Alijah who is 7yrs old in the 1st grade. I make them aware we don't waste food because so many others don't have - I'm confident that they understand this from the news on television as well as the people outside our doors we all see every day.
One thing I always ponder why we are in the places that we are, how did we wind up here this evening, why are some people in other places starving, how did I become so blessed. I thank God and my family for all the support they have always given me."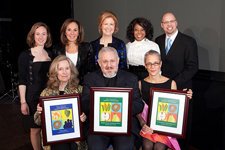 FOLLOW HUFFPOST