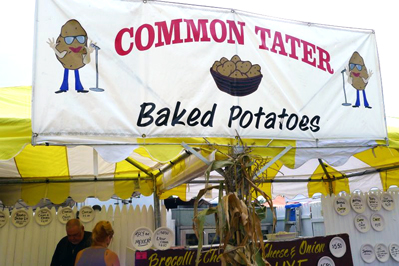 The third weekend in September is always busy at Great Performances, so for years I have deferred my dream of going to the Common Ground Fair in Maine. But this year two daughters in New England colleges was all the excuse I needed to make the trip.
The dense fog and rain on I-95 somewhere outside Augusta late Thursday night and the BEWARE OF MOOSE ON THE HIGHWAY sign reminded me how far I was from home. Another hour the next morning over fog shrouded hills and the elusive goal was in reach as I was on line with the first arrivals.
The Common Ground Fair is a celebration of agriculture, organic methods, livestock, crafts, and old ways with an abiding respect for the earth and humanity. Sounds like a lot, but when you get there it all makes sense. If you bike to the fair, you can save $2 from the $10 admission price (and about 600 of the 60,000 attendees do exactly that!) From the parking lot, it's a walk through the woods (an education in itself) or a tractor ride, to get to the gate.
What you won't find are typical county fair scream-inducing rides or rip-off games or a bottle of water for sale. You will find alternative energy exhibits, canoe-making instruction, political activity tents and lots of fountains with fresh drinking water to sip or refill your non-disposable/earth friendly water bottle. There are book vendors, dozens of craftspeople, a hill for rolling and livestock. There are Native Americans demonstrating their basket weaving techniques, which begin with transforming tree trunks into manipulative strips of wood. There are instructional classes on wilderness survival. A parade of vegetables and bug-like costumed children included signs with slogans like "No Sprays on Me," "Maine Grown Saves Energy," and even "Manure Happens."
The MOFA fields, tended to year round, include an heirloom apple orchard and gardens. Sheep Dog demonstrations, large livestock activities and small animals (rabbits, goats, sheep, chicken) all have their moments on the stage. But in the 5 hours I had to spend, I decided to forgo the animals and many of the unique programs and concentrate on what I realized is the true highlight -- food.
Food heaven. As a vegetarian and a veteran of numerous fairs, I didn't expect much in the way of healthy or appealing choices but this fair is anything but typical. From the farmers markets set up at both entrances, to the robust food villages, the offerings were as colorful and inventive as the men and women serving them. The reason I drove to Maine was to be able to load my truck with Maine potatoes, apples, peaches, dried beans and any other fruit or veggie that could survive the next 2 days in a car.
What do we say at GP? Life Happens Around Food. And so it did at the CGF, where a collection of passionate, creative, funky foodies stole the show. From the bumper stickered radical coffee cart at the front gate, grinding coffee bean by hand (Hope is Hip; FOOD NOT BOMBS) to the irresistible pizza, custom drink makers and dozens of other food merchants - well, let the pictures tell the story.
And BTW, the fair is always on the 3rd weekend in September. I will look for you there next year.
Uncommon Fare at Common Ground Fair